Tour Details
About the Tour
Duration

7 days / 6 nights
Photos & Highlights
Expertly-planned 7 day, 6 night itinerary in Venice. Tours lead by Context local guides, with evening lectures presented by Dr. Madden
Small group size (10-18 participants)
Basilica dei Frari, Scuola Grande di San Rocco, Venice Jewish Synagogue, Basilica San Marco, Doge's Palace, Murano Glass Museum, Grand Canal, Cathedral of Torcello Island, and Burano Island
Tour Description
Venice Through the Ages with Dr. Thomas Madden
Departure: October 15-21, 2022
Get in touch
about this Journey
Trip Highlights:
Explore: Traverse the enchanting lagoons of Venice with the city's best local guides and in the company of Dr. Madden
Learn: Private tours to encompass Piazza San Marco, Murano's glass-making studios, and more!
Connect: Exclusive opportunity to learn from a top-class expert, and create memories alongside fellow curious travelers, in a small group of 10-18 participants
Unwind: Our team of experts on the ground has managed all the details, so guests can relax and enjoy carefree travel


Venice is a place of contradictions – a city without land, an empire without territory. While the rest of medieval Europe groaned under kings and landed magnates, the Venetians formed a free republic – one that would last for a thousand years. Led by Dr. Thomas F. Madden, a leading scholar on the history of the Venetian Empire, we'll marvel at the many must-see sights like Doge's Palace and step off the beaten path to explore the ecology and artisanal traditions of this beautiful, ancient city.
We will enjoy 7 days and 6 nights of luxury accommodation in the heart of the city, Piazza San Marco. Our days will be spent traversing the waterways with the city's top guides and in the evenings we will converse with Dr. Madden as we contextualize the days' experiences. Together these lectures and private tours will tell the story of this remarkable city at the crossroads of the medieval world.
Guided by your Context experts, we'll balance visits to major sites with explorations of more intimate daily life and refer to Dr. Madden's nightly lectures for context.
*Final Itinerary Subject to Change Based on Venue Availability*

DAY 1: Arrival & Getting Settled
Upon our arrival in Venice, we'll enjoy an aperitivo in the hotel and an evening lecture led by Dr. Madden to orient ourselves within the city.
At a Glance:
Arrive from the airport and check in to the hotel in central Venice
Meet your fellow travelers and Dr. Madden for an evening presentation at the hotel
Welcome dinner together as a group

DAY 2: Introduction to Venice and St Mark's Basilica
On our first full day together, we'll enjoy a tour of St Mark's Basilica, followed by a walking tour of the Rialto neighborhood, and experience the bustling Grand Canal.
At a Glance:
Breakfast at the hotel
Deep dive into the history of Venice and the iconic St Mark's Basilica
Walking tour of St Mark's area to the Rialto Bridge
Lunch will be included, we'll dine together near the famous Rialto Market
Free afternoon for exploring on our own
An evening lecture led by Dr. Madden
Dinner on our own – tailored recommendations will be provided by Context

DAY 3: Versions of Venice, from the Past to the Present
We'll learn about the Doges of Venice and later discover first-hand the impacts of climate change on Venetian daily life.
At a Glance:
An in-depth tour of the Doge's Palace with a local expert
Guests will enjoy lunch at leisure
Led by an expert marine scientist, we'll enjoy an afternoon walking tour to explore the impacts of climate change on the city of Venice
A guided Aperitivo tasting with a Context Expert and evening lecture with Dr. Madden
Dinner on our own – tailored recommendations will be provided by Context
DAY 4: Excursion by Boat to the Islands of Venice
Together we'll enjoy a private cruise and tour of Murano, Burano, and Torcello islands
At a Glance:
Leave Venice by boat to explore the islands in the nearby lagoon - Murano, Burano, and Torcello
Stunning views of Venice from the water
Glass Museum tour on Murano Island
Medieval Cathedral of Torcello
Free time before dinner to rest or explore independently
Evening Lecture with Dr. Madden
Dinner on our own - tailored recommendations will be provided by Context
DAY 5: Artisan Workshops and the Venetian Scuole
We'll explore the artistic traditions of Venice at The Frari Church and Scuola Grande di San Rocco and a tour of artisan workshops
At a Glance:
After breakfast at the hotel, walk through the characteristic alleyways of Venice to arrive at the Frari Church and the Scuola Grande di San Rocco
Artwork of Titian and Tintoretto
Understand the "Scuole" or Confraternities of Venice and their role in Venetian life and society
Lunch together as a group in a local spot
Afternoon tour of artisan workshops and atelier to understand the rich heritage of craft and design in Venice with a local expert.
Evening lecture with Dr. Madden
Dinner on our own - tailored recommendations will be provided by Context
DAY 6: Christian and Jewish Legacy in Venice
Together we'll take in the beauty of Santa Maria della Salute, Santissimo Redentore, the Jewish Ghetto neighborhood, and additional Synagogues open to public viewing.
At a Glance:
Visit the votive plague churches of Venice - La Salute and Il Redentore
Understand the impact of plagues in Venice throughout its history and learn how the city coped with pandemics
Local lunch en route is included
Afternoon visit to the Jewish Ghetto neighborhood
Evening lecture with Dr. Madden
Farewell Annotated Dinner to explore local Venetian cuisine with a Context expert
DAY 7: Departure
Travelers depart for flights home – or their next adventure!
For more information, we invite you to
explore our FAQ Page
or
get in touch
about this journey. To reserve a spot on this tour, you can either place an order from this page or email us. We will charge a $1000 non-refundable deposit to reserve your place, with the balance due 3 months before travel. A single supplement will apply to individual travelers who wish to have a private room.
Where You'll Start
Tour Experts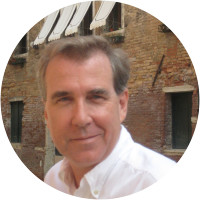 Thomas F Madden is a Professor of History and Director of the Center for Medieval and Renaissance Studies at Saint Louis University. As the author of the book Istanbul: City of Majesty at the Crossroads of the World and historical consultant, he has appeared in such venues as The New York Times, Washington Post, Wall Street Journal, CNN, and The History Channel. He is a Fellow of the John Simon Guggenheim Foundation, the American Council of Learned Societies, the Medieval Academy of America, and he is a National Endowment for the Humanities Public Scholar.