Tour Details
About the Tour
Duration

From 1 Day to 6+ Days
Tour Description
Whether on land or by water, we can design a wide variety of Venice private tours for people with special interests, lasting from 2 hours to 3 days, and starting at 285 Euro. Drawing on our network of Venice tour guides and range of other services, the limits of a custom-itinerary—focusing on everything from food to philosophy—are circumscribed only by the bounds of our collective imagination.
Venice Tour Guide
This generic reservation form is primarily intended for use by people with whom we've been in communication previously and for whom we are designing a custom itinerary; and for you, this form is a tool for using our secure server to input your payment and travel details into our system.
For clients with whom we have not corresponded previously,
we ask that you spend some time perusing our
Venice Tours
. Be it our
Venice Boat Tour
,
Venice Wine Tour and Tasting
, or
Accademia Gallery Tour
, we offer a range of walks to suit most travelers. If you find nothing there to suit your needs, if you have a specialized request for visiting sites that lie outside the touristic norm, or if you would like to enlist the services of a specific docent in our network, then we invite you to use this form to begin your reservation request. Please keep in mind that
our private itineraries generally start at 295 Euros for two hours.
How to Book
When requesting a custom walk, please provide the following details in the Notes section when adding the walk to your shopping cart:
How many hours would you like the walk to be?
What are your main goals for the walk?
Which sites and museums would you like to prioritize? Do you want to just pass by or explore inside as well?
Give us one or two words to describe your group.
If you've corresponded with someone from our office, it might be a good idea to paste some of that conversation into the "special interests" box provided on the right.


Once we receive your custom walk request, we'll review these details and follow up with you by email to refine your itinerary and give you final pricing.


If we are designing something very special or complicated or lasting over several days, we will keep you updated on the costs and get your approval before charging anything to your card.
Tour Experts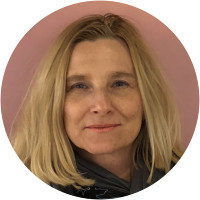 Lorenza is a native of Venice who received her Master in Art History through Cà Foscari University, Venice. For the past 25 years, she has divided her time between Venice and New York. In New York she teaches various courses on art history at the Fashion Institute of Technology, State University of New York, where she designed the course Art and Architecture of the Venetian Republic 1100-1800. For FIT she also developed and leads the Short-Term Study Abroad in Venice. She is lecturer at the Museum of Modern Art in New York and contributor to the Khan Academy with art history essays. Lorenza has authored and contributed to numerous books and publications on Venice, including "Venezia. La città, l'arte, la storia" (Arsenale 2011), "Arts and Crafts in Venice" (Koneman, Koln, 1999) and "Handbook of Painting Techniques" (NYU in Venice, 1999). In the past she taught history of art and architecture in Venice at the New York University, and in Venice worked for the Venice Bureau for the Protection of Architectural, Historical and Artistic Heritage for 13 years, cataloging, documenting, and researching the collection at the Palazzo Reale. Lorenza is an esteemed scholar with decades of international experience. She will lead you through her city with fun, passion, and knowledge.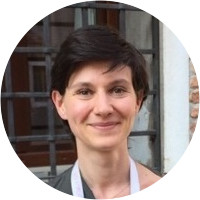 Originally from Genoa, Erika moved to Venice ten years ago to study Oriental languages at Ca' Foscari University, where she graduated with a thesis on Japanese art and architecture. She has a keen interest in the art and history of Venice and worked for some important cultural institutions, such as the Peggy Guggenheim Collection, where she was in charge of special events, and the National Oriental Museum at Ca' Pesaro, where she studied and cataloged part of the collection. Her time at the Guggenheim collection sharpened her knowledge of contemporary art, which she continues to study. She is now a licensed tourist guide for the city of Venice.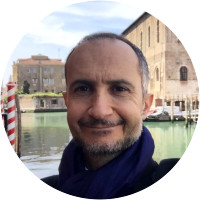 Originally from Venetian mainland, Matteo has lived in different countries, which sparked his interest in art history and archaeology. He holds a B.A. in Cultural Heritage Preservation and an M.A. in Archaeology - specializing in Islamic Archaeology - from the University Ca' Foscari, Venezia. Matteo chose to specialize in Islamic Archaeology, due to his personal passion and curiosity for the Islamic World: this particular interest was developed after several travels and stays in different Middle Eastern countries. He has worked as a freelance archaeologist following projects in different locations of the Veneto Region in Italy and in Cairo, Egypt. Matteo became a qualified tourist guide for the City of Venice in 2009, and he has been collaborating with Context since then.
Reviews can only be left by Context customers after they have completed a tour. For more information about our reviews, please see our FAQ.
Matteo was very well versed in the subject matter and took time to not only explain the sites in Venice, but put it all in context of Venetian history and the history of the region. He adjusted the tour to meet the groups needs and was very friendly.
Jun. 30, 2019
Erika was able to tailor our walk to our interests and shared with us a deep understanding of Venezian history. It was fantastic! Although the meeting place is a major piazza it is still a little hard to find, as GPS does not always work in Venice.
Jun. 27, 2019
Elena was great - tour was great - even in the rain - strongly recommend!
Apr. 28, 2019