Tour Details
Tour Description
During this three-hour Venice Art Tour, we'll dive into the high Renaissance in the city and examine the work of Titian, Tintoretto, and other masters as they reflect this pivotal period in Venetian art. Along the way we'll visit two major monuments in Venice—the Scuola di San Rocco and the Basilica dei Frari. This is an excellent, in-depth tour for art lovers.
Venice Art Tour
Part of the beauty of Venice is its wealth of art still in-situ—or, in place—rather than displayed in a museum. This allows us the opportunity to understand more fully the role and purpose of original works an opportunity we'll take advantage of on this Venice Art Tour, starting with the churches and scuole of the San Polo sestiere. The great scuole of Venice dominated public life, participating in lavish processions to proclaim the glory of the Republic and decorating their meeting halls with works by Venetian masters. The Scuola of San Rocco is no exception, with over 50 canvases painted by the 16th century master Tintoretto. His distinct style, most notable for his dramatic use of light, makes him him stand apart from many other Italian artists. We will spend a significant amount of time examining the art of Tintoretto, both in terms of style and in the context of the confraternity.


Not just satisfied to expound the glory of Venice through art, confraternities were also essential in performing charitable works, especially in times of plague. The Scuola of San Giovanni Evangelist, the second oldest confraternity in Venice, provides an architectural contrast to that of San Rocco, and one can still view a plaque describing the plague of 1348.
Commissioning Masterpieces
Proceeding just next door on our Venice Art Tour, the Chiesa dei Frari, built by the Franciscans, again reminds us of the importance of artistic commissions in the life of Renaissance Venetians and provides a microcosm of Venetian art and history from the 14th century onwards. The two important altarpieces by Titian contained in this church, The Assumption of Mary and the Madonna of Ca' Pesaro, would be reason enough to explore, and its further works by Bellini and Donatello only add to its value. Here we will be able to compare and contrast the work of Titian to his forefather, Giovanni Bellini, and with his successor, keeping in mind the work of Tintoretto
Take Aways
While focusing on the specific art viewed, we will also explore themes of social history, such as the role of the scuole in Venetian life, the effects of the plague, and the competition between artists for important commissions on our Venice Art Tour.
Where You'll Start
Tour Experts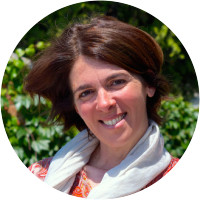 Born in Venice, Giovanna has a degree in History of Art from the University of Padua. She lived in Brussels and then in Vienna for several years working in international contexts and dealing with different cultural environments. She earned a Master's degree in Marketing and Advertising at the Ecole de Commerce Solvay writing a final paper on a project for a new Museum of Contemporary Art in Venice. While working for the Museum of the Belvedere in Vienna she developed a passion for cultural guiding. Her experience in the tourism grew on her return to Italy, where with a friend she took over a 4 star Hotel. Fascinated by the power of communication of art she became a licensed guide of the city of Venice and enjoys the beauty of her native city every day.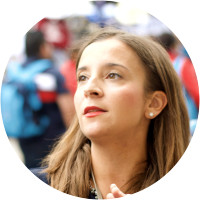 After her postgraduate studies in Art History at the Ca' Foscari University of Venice and at the University of Padua, Sara took up the charming road of restoration, getting her professional license at the Venetian Institute for Cultural Heritage (IVBC), again in Venice. This dual path between Art History and Art Conservation enabled her to deepen her expertise in the artistic techniques and the modern conservation methodologies of the cultural heritage. She owns a restoration laboratory where she operates on oil paintings on canvas and polychromed wood sculptures. The passion for her country and for the city of Venice has prompted her to research on particular themes, such as the Venetian painting of the XVIII century and the Venetian villas in the mainland countryside. She is authentically fond of museums and churches, too. Spending some time with her in Venice means getting to know the magnificent artistic heritage that is spread throughout the city. Guests are generally fascinated by her descriptions about how Venetians were able to mount a huge gilded ceiling, to stretch the largest paintings in the world, to move monumental columns from one side to the other of the Mediterranean Sea, to patiently position thousands of mosaic tiles. She is mother of two young children, and she does know that each family member has different needs. She boasts more than 10-year-long experience in museum education. Therefore, she accompanies with pleasure families that visit Venice, who are for her a stimulating challenge.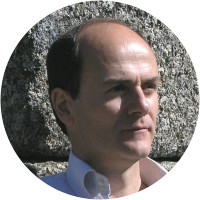 I was born in Padua, 25 miles away from Venice, into a family of architects, and I have been living in the Venetian historical centre for many years with my family. My culture is deeply Venetian because of my mother, who was born in Dalmatia - formerly part of the Venetian empire - and grew up in Venice. But I also have Roman roots, through my father. My parents' origins and profession and my subsequent education gave me the best background to understand the classical and medieval basis of Italian and Venetian building culture. I received my bachelor's degree in architecture in Venice, and also my PhD. My favourite subjects were Architectural history and the shape of interior spaces; thus both my final thesis and most of my publications have been focused on the evolution of interior spaces throughout history. Therefore my knowledge of architecture allows me to have a unique view on the buildings, not only in terms of recognizing their different styles but also understanding their history and the reasons behind their different spaces. I use the same approach with every work of art, trying to clarify both the context and the conditions that allowed a specific painting, sculpture, or any other artefact, to be created in that time and place. I have been teaching for about twenty years in various Italian universities - Venice, Trieste and Ferrara - and I have been called to give lectures and conferences in various foreign universities such as Oxford, Madrid and Valencia. I still lecture for foreign students in summer courses at the Venetian university Ca' Foscari. I think that my origins, my knowledge and my long experience in teaching have been extremely important in maintaining and keeping alive the interest of those listeners who - following my tours - wish to understand the evolution and the life of a city as singular and amazing as Venice is.
Reviews can only be left by Context customers after they have completed a tour. For more information about our reviews, please see our FAQ.
Nadia was fabulous. This is the second private art tour I have done with her. Nadia is very knowledgeable, and also has such positive energy and obvious love of art.
May. 28, 2019
Sara was very engaging and really knows her stuff. I would link to have spent more time on Titian.
Feb. 17, 2019
The tour was fabulous. Guide was excellent. Very knowledgeable with great personality. Best tour I ever had. The art was beautiful beyond description.
Oct. 23, 2018