Tour Details
Tour Description
Venice is a magical floating city, offering a plethora of sites for the curious traveler to discover. We've carefully crafted two itineraries (one with a boat, one without) that allow for an enchanting look at Venetian squares, grand palaces, and Eastern-influenced architecture. Together with a local expert, we'll spend 7 hours discovering the cultural, historical, and aquatic heart of Venice. We'll spend the majority of our day on our feet in this highly walkable city (if we choose itinerary A), or floating down canals (if we choose itinerary B). Both itinerary options offer a fantastic day-dive into one of our favorite Italian cities.
Full-day private tour of Venice
Expert local guide or scholar
Visit St. Mark's and Doge Palace
Optional private canal boat
Choice of itinerary A or B
Itinerary A - Highlights by Foot
Includes a short Venice briefing, an early St. Mark's visit (skip-the-line), Doge's Palace, Rialto Market food tour and a historic city center tour. Local Italian lunch (at own expense).
We'll meet for our 'Venice in a Day' tour, starting with a tour of Piazza San Marco, or St. Mark's Square as it's known in English. We'll spend some time here discussing Venice's ascension to power and its link with the Eastern empires. We will visit the Basilica of Saint Mark, built in the early 9th century with many motifs, emblems, and influences from the East. Almost entirely encrusted with splendid gold mosaics and marbles, St Mark's combines Greek-Byzantine nuances with local artistic expertise, standing as a symbol of power and opulence. From here, we will move inside Doge's Palace as we learn more about the figure of the Doge and the unique and complicated nature of the Venetian Republic's political structure. We will continue our tour with a visit to Rialto Market as our expert guide explains various gastronomical curiosities. We may decide to stop for lunch in the market, or at a local restaurant or cafe (lunch at own expense). We'll continue our afternoon tour (on foot) with a comprehensive introduction to a couple of neighborhoods in Venice. This may involve dipping into churches boasting artwork from Titian or Tintoretto, or soaking up public spaces and quaint bridges. We'll use the remainder of the afternoon to discuss anything from trading routes to the rise of the Venetian Republic to today's ties with the East. We'll leave one another with a deeper understanding of this charming city through a solid full-day introduction.
Please write 'Option A' in your client notes at checkout. You do NOT need to tick the 'Venice in a Day, 2 hour Private Boat' box.
Itinerary B - Highlights by Boat
Includes a short Venice briefing, an early St. Mark's visit (skip-the-line), Doge's Palace, Rialto Market food tour and a 2-hour private canal boat tour. Local Italian lunch (at own expense).

Please note that Itinerary B will not be available August 28 - September 7, 2019
Similar to itinerary A, we will begin with a walk through St. Mark's Square as our expert guide introduces various themes that we will hear throughout our full-day tour. We'll discuss Venice's rise to power, its connection with the East, and the power of the Doges. In the company of our local expert, we will spend some time inside the bejeweled basilica of Saint Mark discussing the symbolism of this Greek-Byzantine-influenced church. We'll then move to another spectacular architectural feat: Doge's Palace. Who was the Doge? What power did they have? How long could they rule? We will begin to answer questions such as these as we tour this impressive building and discuss the complex histories that happened behind its walls. Fuelled on a morning of history, we'll head to Rialto Market to taste some local delicacies and learn more about Venetian gastronomy. We may have lunch here or at a nearby restaurant/cafe, depending on our taste buds (lunch at own expense). After lunch, we will move to the best vantage point in Venice: the water. Inseparable from the city itself, the winding waterways help weave a narrative of Venice which is difficult to appreciate on land. From our private boat, we'll spend two hours discussing the architecture and design of Venice and the impact these canals have had on the city's evolution. Cruising down smaller canals and Venice's main artery (the iconic Grand Canal), we will gain an eye-opening perspective of this magical city. As we wrap up our time together, we'll return to shore and get our bearings once more. We'll emerge with an understanding and perspective of the city from both land and water.
Please write 'Option B' in your client notes at checkout and tick the 'Venice in a Day, 2 hour Private Boat' box.
Takeaways


At the end of either itinerary, we will emerge with a deeper knowledge of how Venice grew from an amalgamation of fishing villages to a powerful republic. We'll have walked (and perhaps boated) across the city to sites and buildings relevant to the historic, cultural, artistic, political, and aquatic identity of the Venetians. Hopefully, our 'Venice in a Day' tour will set us up for the remainder of our travels in Italy and beyond.


FAQ
What is a private tour?
Our private tours are limited exclusively to travelers in your party. They are designed to provide a learning experience that is completely tailored to you and your traveling companions. Private tours give you more flexibility with scheduling (you decide when the walk best fits in your trip), the ability to tailor your itinerary (we'll work to match the itinerary to the interests and dynamics of your group), and more personalized time with your guide.


What is a small group tour?
Our small group tours cover many of the same itineraries as our private tours, but they place you with other travelers in groups of 6 or less. They operate on a pre-scheduled calendar, and are designed to provide an opportunity to engage with and learn from other travelers. Most of our small group tours require at least three (3) participants to run, although there is some variation from walk to walk. However, there is some variation from walk to walk. As you sign up for a tentative walk we display the minimum number required in order to confirm.


Where You'll Start
Tour Experts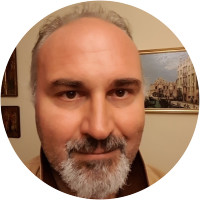 Davide was born in Venice he graduated from Ca' Foscari University with a degree focusing on the history of architecture and medieval history. After a specialization course in Innovative Tourism Marketing his interests in sustainable tourism began. He also has a special research interest in Venetian military architecture and military art theory. As a coordinator of a European NGO he organized cultural seminars in many European universities. He also spent time teaching the history of Italian art at the University of Turku in Finland. A passion for Venice, was what brought him back to his hometown, where his cultural interests developed into a profession, applying concepts of sustainable tourism crucial to preserving his city.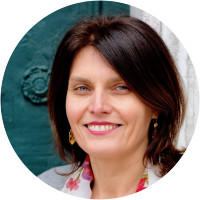 Nadia has a degree in art history from the Ca' Foscari University in Venice and wrote her thesis on the painter Francis Bacon. After various work experiences, both in public and private sectors, she collaborated in drafting the online magazine "Engramma," which dealt with the study of the classical tradition in Western culture and the mechanisms of transmitting ancient culture in our contemporary age. The magazine was created in conjunction with the Department of Architectural History at I.U.A.V University. Nadia has also spent time in France working at the "Les Abattoirs" center for contemporary art in Toulouse. In 2009 she obtained a guiding license, and through this work is able to share her passion and knowledge of art history, literature, and the history of Italian and Venice with others. Nadia enjoys approaching artworks as a lens through which to investigate and reconstruct historical contexts.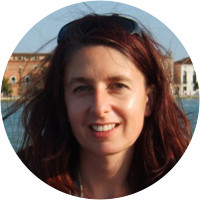 Monica was born in Venice. She earned her degree in Italian Literature and History from Art at Ca' Foscari University in Venice and she has developed a wide experience in the museums of the city. For many years she worked as a curator and archivist before moving into the field of museum education where she worked mainly with groups of children. She also worked at the Jewish Museum in Venice as a guide. She qualified as a guide for Venice and its province in 2009. Monica is continuing to study Venice and she often gives lectures on history and art for associations and public libraries. She is co-author of a series of guidebook for children and families about the Venetian churches.
Reviews can only be left by Context customers after they have completed a tour. For more information about our reviews, please see our FAQ.