Occasionally, our team of full-time trip planners—all travelers and regional experts in their own right—comes across an itinerary so special that it becomes office daydream fodder for weeks. Our Inspired Itinerary series is meant to do just that: inspire future cultural journeys. All of our inspired itineraries are bookable—either in part or in whole—just get in touch with us at info@contexttravel.com.
From its days as the center of the Aztec Empire to the sprawling modern metropolis it is today,
Mexico City
is a maze of history. Alongside a Context scholar specializing in art history and Mexican culture, our week in Mexico City aims to understand the contemporary Mexican identity, from the city's pre-Columbian roots, to its European history, through the shaping of modern Mexico with figures like Diego Rivera and Frida Kahlo:


A Week in Mexico City
Duration: 6 hours
Nowhere captures the architectural splendor and variety of Mexico City quite like the energetic enclaves of Roma and Condesa. In the company of a local historian, you'll encounter Mexico's most celebrated Art Deco, Art Nouveau and Modernist buildings and stroll throughcharming green parks, galleries and even former indigenous settlements. Wrap up the evening getting over a traditional dinner at one of Mexico's best local spots.
Day 2: Old Mexico
Duration: 8 hours
We'll spend our second day exploring the older sections of the city, starting with sites in the city center like the Metropolitan Cathedral, the Zócalo, and the Bellas Artes Museum. We'll also take in some famous Mexican murals created by Diego Rivera and his contemporaries—depictions of the events that have shaped the city that are integral to understanding the contemporary Mexican identity.
Day 3: Mexican Food and Drink
Duration: 6 hours
By measure of steps taken, our third day will be our lightest: by measure of food consumed, decidedly the opposite. We'll start our culinary explorations at the
Mercado Jamaica
, one of the city's most historic and popular markets. Originally a trading post for the Aztecs, we'll discuss the history of the space while sampling traditional Mexican fare like
posole
, tortillas, and mole. We'll conclude our touring with an evening delving into Mexico's most famous expressions of merry-making: mariachi and tequila, including stops in the legendary
Garibaldi Square
and the city's
Tequila Museum
.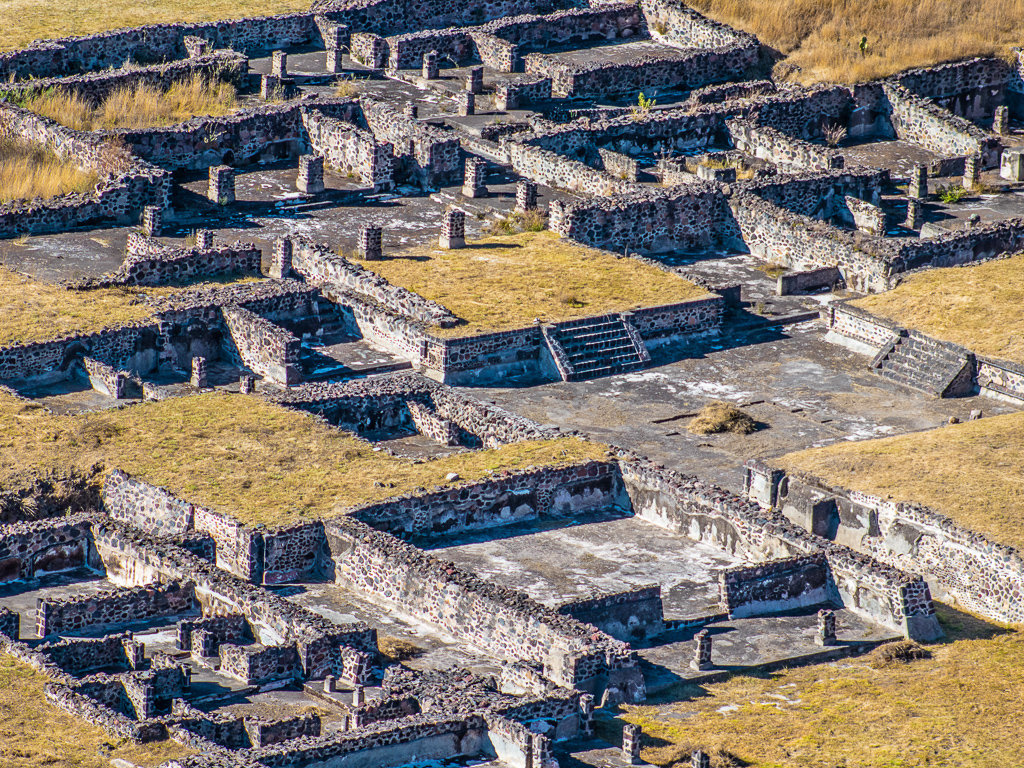 Day 4: Life Outside the City
Duration: 8 hours
On a day trip from the city, we'll visit the
Teotihuacan pyramids
with an archaeologist. An hour by van from Mexico City, this ancient metropolis is home to three important pyramids (Sun, Moon and Feathered Serpent), along with a host of palaces and murals. As we admire structures dating back to 100 B.C, we'll discuss the history and importance of this site in the pre-Columbian history of the Americas.
Duration: 8 hours
Frida Kahlo and Diego Rivera—two of Mexico's most important artists—helped to define Mexican modernism while engaged in a tumultuous romance. Our visit will take us to the Frida Kahlo Museum, or Casa Azul, her former abode and where many of her self-portraits and most enduring works were created. After lunch at Coyoacan market, we'll visit the Casa Estudio Diego Rivera y Frida Kahlo to see where this compelling and colorful couple worked at their craft.
Intrigued by Mexico City? Any of the tours above can be swapped, stitched, or substituted to build an itinerary that's exactly suited to you—start planning with us at info@contexttravel.com.