Tour Details
Tour Description
Discover the Old City of Jerusalem in a day, with Context. This full day tour of Jerusalem focuses on the intersection of Christianity, Judaism, and Islam in the most significant of religious world centers. Together with a local expert, we'll explore the turbulent history and conquest of Jerusalem over the centuries with visits to some of the city's most notable sites (as well as a local lunch). Broad and in-depth, this 7-hour tour is designed for the traveler wishing for a foundational understanding of this fascinating mecca, as well as a glimpse into how these various religions cohabit in Jerusalem.
Full Day Private Tour of Jerusalem
We'll meet at Jaffa Gate, one of the city's original gates from the Ottoman era. Once inside the city walls, we'll be immersed in history, diverse architectural styles, and multicultural neighborhoods. In the Christian Quarter, we'll visit the Church of the Holy Sepulchre, where Jesus was crucified, buried, and resurrected. Continuing on through part of the route of the Via Dolorosa, we'll retrace Jesus' carrying of the cross following his condemnation by Pontius Pilate.
Once in the Jewish Quarter, we'll visit the former Roman Cardo and see the archaeological layers of the site (dating back to the 6th century B.C.) before moving on to the Western Wall Plaza. A central monument to the Jewish faith, the Western Wall is the outer wall of the second Jewish Temple built by King Herod two thousand years ago, and subsequently destroyed by the Romans.
Security allowing, we may visit the Dome of the Rock, a 7th-century Islamic shrine at the Temple Mount. Of utmost significance for both Muslims and Jews, our local expert will delve further into the narrative behind one of the holiest spots in the world. We'll then take some time to walk through the Arab Shuk, a winding market with a distinctly Arabian feel and characterful buzz. At a suitable point in our day, we'll stop for a local lunch, using the time to talk about typical Israeli dishes or the intricacies behind hummus recipes. Our day may also take us to tour lesser-known sites in the Jewish, Christian, Muslim or Armenian quarters, adding to our foundational knowledge of the Old City.
At the close of our Jerusalem in a Day tour, we will leave one another with a more coherent background on this multifaceted, complicated Israeli city, and perhaps with an altered perspective on its interlacing histories, constant reinvention, and remarkable coexistence of cultures and religions.
Please note: Our route may take a number of different directions depending on the day and the groups' interests. In particular, on Saturdays or Jewish holidays, there will be closures in the Jewish Quarter and we will be unable to visit the interior of these venues.

FAQs About the Jerusalem in a Day Tour

What is a private tour?
Our private tours are limited exclusively to travelers in your party. They are designed to provide a learning experience that is completely tailored to you and your traveling companions. Private tours give you more flexibility with scheduling (you decide when the walk best fits in your trip), the ability to tailor your itinerary (we'll work to match the itinerary to the interests and dynamics of your group), and more personalized time with your guide.
What happens if it's raining?
Our tours happen rain or shine. Our guides are great at adapting their route during changes of weather. Please bring an umbrella.


I would like to start later. Is this possible?
It is, although we recommend an earlier to make the most of cooler temperatures.


Is this walk suitable for families?
We have designed a specific family walk. You can see it here.


What's included in the tour?
The tour includes a local snack/refreshment and your entrances. Clients are expected to cover the cost of their own lunch.


Will we visit the Dome of the Rock?
Visiting the Dome of the Rock will depend on the security that day. Sometimes, there are instances that are out of our control which means that no visitors can enter.
Can you arrange a car service for the day?
No. We will be spending our time inside the Old City, which is mainly pedestrian.

Is this tour possible for reduced mobility?
Yes, we can certainly adapt this tour for those with reduced mobility. Please let us know what your needs are in your client notes.


Where You'll Start
Tour Experts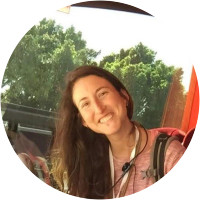 A native-born Israeli, Noga is a true expert on all things Tel Aviv, where she currently lives and works. With a background as a youth-movement teen leader, Noga served the IDF (Israel Defense Forces) in the education core, guiding soldiers on trips and tours throughout the country. After obtaining a BA with Honors in Education, Sociology, and Anthropology from the Hebrew University of Jerusalem, Noga gained additional experience as a preschool teacher and also as a mentor to underprivileged youth at a boarding school. In 2014, Noga decided to get a tour guide certification, a combination of two of her biggest passions: her love for people from all backgrounds, and her passion for her country's history, society, religious background, culture, and cuisine. A true Tel Avivian, Noga loves telling stories about the city's glorious past as well as its contemporary hustle and bustle. She guides in Hebrew, English, and Spanish, and divides her time guiding tours in her home city, as well as all over the country. When not working, Noga loves traveling the world herself and, of course, enjoys city life in Tel Aviv, where she goes to the beach way too often.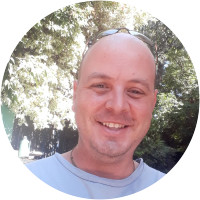 Ronen always loved traveling and the outdoors as he was growing up in Israel. After graduating high school, he volunteered on a kibbutz in the south of the country for a year. Once drafted into the IDF (Israel Defense Forces), he served in an airborne infantry unit; Ronen is still active in the reserves. A native-born Israeli, Ronen has always been passionate about the rich, complex history the country has to offer. He focused his education on Israel studies at Haifa University. Ronen has been working as a guide since 2006, with the exception of a six-month break for a solo backpacking trip across Southeast Asia. When he returned from his adventures, he realized that traveling and guiding were his true passions and decided to turn his hobbies into a career. To further his passion, he guides in eastern Europe as well. His primary interests, shaped by the region in which he grew up, are religion, geopolitics, history, agro-tech, and business. In his free time, he enjoys playing drums, cycling, and hiking.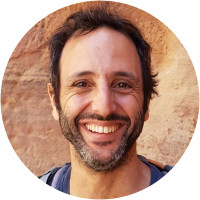 After completing military service, Elisha decided to pursue his passion for travel and backpacked around the world. He then lived for three years in Spain, where he learned Spanish. After coming back to Israel, he started his study of reflexology. Elisha has been working as a tour guide for the past four years all over Israel and his greatest passions are history, religions and politics. He currently lives in Israel with his two children.
Reviews can only be left by Context customers after they have completed a tour. For more information about our reviews, please see our FAQ.
Olga was amazing. She is not only incredibly knowledgeable but also warm, energetic and always smiling. We couldn't have asked for a better experience. Also thank you for the frequent emails and alerts to get us ready for the day. It was very helpful. Here's what you could improve: recognize loyalty a bit better. We have taken context trips for over a decade. Did you know that? If you knew it, then tell me you know me :) somehow acknowledge it. It helps put a smile on your loyal customers face.
Feb. 17, 2020
Hila knew her history and was able to put Jerusalem into context! She was knowledgeable and really helped us understand the importance of this amazing city. Seven hours flew by. So glad we had this private tour!
Nov. 29, 2019
Segev was an excellent guide. He was knowledgeable, personable, very interested in providing me with the tour I wanted and made every extra effort to ensure that I not only got an insider's tour, his historical wealth of knowledge combined with his ability to relate it to current conditions and issues made it all that much more meaningful. I think Segev might be the most perfect Context guide I have ever had. I feel like I made a new friend. I would recommend, however, suggest providing the local cell number. The crowds are and gates are a bit overwhelming in Jerusalem, so it would be helpful.
Nov. 11, 2019