Tour Details
Photos & Highlights
A comprehensive view into interlacing histories and religions of the holy city — includes a visit to the Christian, Jewish, and Muslim sites of Old City
Led by an local expert specializing in history or religion
Church of Holy Sepulchre, Temple Mount, Western Wall, Arab Shuk, Cardo, Jewish Quarter, and Christian Quarter
Tour Description
This full-day tour will provide you an in-depth overview of the historic Old City of Jerusalem. Together with a local expert, you'll explore the turbulent and complex history of this religious world center with visits to its most important sites. Meant for any traveler wanting to gain a foundational understanding of this fascinating mecca, you will learn both about the layout and culture of this incredible city as well as what it represents as the intersection of Christianity, Judaism, and Islam.
Sites Visited
Jaffa Gate
Church of Holy Sepulcher
Roman Cardo
Western Wall
Dome of the Rock (security permitting)
Arab Shuk
Please note: Our route may take a number of different directions depending on the day and the groups' interests. In particular, on Saturdays or Jewish holidays, there will be closures in the Jewish Quarter and we will be unable to visit the interior of these venues, so your guide will tailor your explorations accordingly.
Itinerary Details
Your day of historical explorations begins in the Old City at Jaffa Gate, one of the city's original gates from the Ottoman era, before you begin a deep dive into the incredible historic and holy sites found within. Starting in the Christian Quarter, you'll visit the Church of the Holy Sepulcher, one of the most important sites in Christianity, where Jesus was crucified, buried, and resurrected. You will trace the Via Dolorosa, a processional route representing the path upon which Jesus would have carried the cross.
In the Jewish Quarter, you'll visit the former Roman Cardo, the main street during the Ancient Roman era dating back to the 6th century B.C. You'll continue to the Western Wall, one of Judaism's holiest sites before visiting the most sacred Second Jewish Temple behind it.
Security allowing, you may visit the Dome of the Rock, a beautiful 7th-century Islamic shrine at the Temple Mount. Here your expert guide will reflect on the significance for both Muslims and Jews and delve further into the history of one of the holiest places in the world. Your tour will then continue through the Arab Shuk, a winding market with a distinctly Arabian feel and vibrant buzz.
Your tour will also include a stop for a delicious local lunch (at your own expense), learning from your expert about typical Israeli dishes and delicacies. Depending on your specific interests and preferences, your day may also take you to lesser-known sites in the Jewish, Christian, Muslim or Armenian quarters, adding to your foundational knowledge of the Old City. At the end of this fascinating full-day tour, visiting the most important sites in one of the most historic cities in the world, you will come out with a deeper appreciation and understanding of the city's interlacing histories, constant reinvention, and modern culture..
FAQ
For more information
about Context tours, please visit
our FAQs
.
Book with confidence
— see Context's flexible cancellation policy
here
.
Where do we meet?
You will meet your expert just outside the main city walls, by Jaffa Gate. Your confirmation email will have the exact meeting point details along with a map.
Can this tour be booked for later?
It can, although we highly recommend an earlier start to make the most of cooler temperatures.
Is this a good tour for children and families?
It's a walking intensive tour, so we recommend taking a look at our
Jerusalem Tour for Kids.
However, we can accommodate this tour and make it kid-friendly - let us know in the notes!
What costs will I need to cover on the day?
You are pre-paid for entrance fees. You are expected to cover the cost of your own lunch.
Can I book a car service?
No, as we will be spending our time inside the Old City, which is mainly pedestrian.
​Will we visit the Dome of the Rock?
Visiting the Dome of the Rock will depend on the security that day. Sometimes, there are instances that are out of our control which means that no visitors can enter.
Is this tour possible for reduced mobility?
This tour is quite walking intensive and we are unable to book a car. We recommend clients inform us of their exact mobility issues and we can make a recommendation.
Can we run this tour on Saturday?
Because the atmosphere is much quieter than usual and all the venues in the Jewish Quarter are closed, we do not offer this tour on Saturdays.
Can we visit the western wall tunnels?
This tour doesn't include the Western Wall tunnels.
Where You'll Start
Tour Experts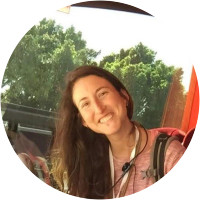 A native-born Israeli, Noga is a true expert on all things Tel Aviv, where she currently lives and works. With a background as a youth-movement teen leader, Noga served the IDF (Israel Defense Forces) in the education core, guiding soldiers on trips and tours throughout the country. After obtaining a BA with Honors in Education, Sociology, and Anthropology from the Hebrew University of Jerusalem, Noga gained additional experience as a preschool teacher and also as a mentor to underprivileged youth at a boarding school. In 2014, Noga decided to get a tour guide certification, a combination of two of her biggest passions: her love for people from all backgrounds, and her passion for her country's history, society, religious background, culture, and cuisine. A true Tel Avivian, Noga loves telling stories about the city's glorious past as well as its contemporary hustle and bustle. She guides in Hebrew, English, and Spanish, and divides her time guiding tours in her home city, as well as all over the country. When not working, Noga loves traveling the world herself and, of course, enjoys city life in Tel Aviv, where she goes to the beach way too often.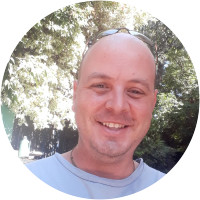 Ronen always loved traveling and the outdoors as he was growing up in Israel. After graduating high school, he volunteered on a kibbutz in the south of the country for a year. Once drafted into the IDF (Israel Defense Forces), he served in an airborne infantry unit; Ronen is still active in the reserves. A native-born Israeli, Ronen has always been passionate about the rich, complex history the country has to offer. He focused his education on Israel studies at Haifa University. Ronen has been working as a guide since 2006, with the exception of a six-month break for a solo backpacking trip across Southeast Asia. When he returned from his adventures, he realized that traveling and guiding were his true passions and decided to turn his hobbies into a career. To further his passion, he guides in eastern Europe as well. His primary interests, shaped by the region in which he grew up, are religion, geopolitics, history, agro-tech, and business. In his free time, he enjoys playing drums, cycling, and hiking.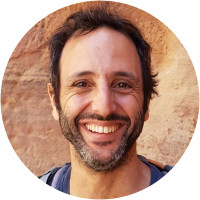 After completing military service, Elisha decided to pursue his passion for travel and backpacked around the world. He then lived for three years in Spain, where he learned Spanish. After coming back to Israel, he started his study of reflexology. Elisha has been working as a tour guide for the past four years all over Israel and his greatest passions are history, religions and politics. He currently lives in Israel with his two children.
Reviews can only be left by Context customers after they have completed a tour. For more information about our reviews, please see our FAQ.
Elchi was incredible. So knowledgable and made the tour incredibly fun!
Oct. 24, 2022
I can't speak highly enough about Context tours. Our experience in Jerusalem was so special and informative thanks to Hilik. He was so knowledgeable and explained the history and significance of The Old City to us in such a lively, engrossing way. We had a great time. Thank you Hilik! We also had a great tour of Bethlehem with Kamal. He was so kind and gave us a great tour of the Church of Nativity. He was very engaging and a great story teller of the history. He also took us to see the Banksy art and Banksy Hotel. He was wonderful! Thank you Kamal!
Sep. 21, 2022
Olga was amazing. She is not only incredibly knowledgeable but also warm, energetic and always smiling. We couldn't have asked for a better experience. Also thank you for the frequent emails and alerts to get us ready for the day. It was very helpful. Here's what you could improve: recognize loyalty a bit better. We have taken context trips for over a decade. Did you know that? If you knew it, then tell me you know me :) somehow acknowledge it. It helps put a smile on your loyal customers face.
Feb. 17, 2020