Tour Details
Tour Description
Nothing captures the urban pulse of Berlin like Kreuzberg. Once a forgotten corner of West Berlin, this neighborhood has transformed itself into an energetic hub of counterculture and creativity—but there's much more to this alternative quarter than just buzzing nightlife. On this three-hour alternative tour of Berlin—a Kreuzberg tour with a local historian—we'll encounter the ever-changing identity of this area and exploring how the city battles to stay off-beat in the face of gentrification.
Kreuzberg Tour: Immigrant Roots, Bohemian Haven
When arriving in Kreuzberg, the international character of the area is immediately obvious. We'll begin the walk by discussing the immigrant workers who were invited to fill the void in Berlin's work force after the end of World War II, and who create the multi-cultural ambience felt in the neighborhood to this day. Walking along the canal banks of the Maybachufer, site of the popular Turkish market, we'll see vividly how that community has planted deep roots in the area over many decades.
Alternative Tour of Berlin
The other side of Kreuzberg's story is its strong connection with counterculture. The neighborhood has historically been home to a generation of '68 anti-war draft dodgers, poets, pop stars, and performance artists. Iggy Pop and David Bowie hung out here, Yoko Ono and Joseph Beuys held Fluxus happenings, and the area became a laboratory for hippie culture and alternative movements. We may visit the Regenbogenfabrik, an abandoned building now used as a cultural center, the famous food stands at Markthalle IX food market, and the Künstlerhaus Bethanien, a former hospital also reclaimed as an art hub. Along the way, we'll also step sideways into the courtyards and gathering places of Kreuzberg's diverse communities.
Looking Towards the Future
Kreuzberg finds itself smack in the middle of the German capital, trying to hold off gentrification and conformity. (For more on this check out our
History of Berlin Tour
.) As Berlin continues to evolve and grow, its counterculture is becoming more attractive to tourists—which poses a challenge for the alternative scene trying to stay true to its early values. Our visit to Kreuzberg focuses on introducing this vibrant neighborhood to visitors without resorting to voyeurism or sugarcoating. Instead, we'll come away with an understanding of what makes the city tick by going straight to the spots where Berlin's radical heart still beats.
FAQ
What's the best day of the week to take this tour?
The tour is available any day of the week. We find that Tuesdays and Fridays are the best options because the fantastic Turkish market on Maybachufer is open and can be included on the tour route.
Where You'll Start
Tour Experts
Christina is an East Berliner who was born in the GDR, a socialist republic that no longer exists. She danced on the Wall in 1989, and closely observed the restructuring of Germany and the frantic urban transformation of Berlin. At the European University Viadrina in Frankfurt (Oder) she earned an MA in cultural history and comparative social sciences, particularly the ideology-based history of the twentieth century. Her dissertation was on a more contemporary subject of "The Economic Impact of the Contemporary Art Scene on the city of Berlin." She now works as an arts administrator, manages urban development initiatives, and since 2006 routinely walks guests through the eclectic and varied political, cultural, and architectural histories of the German capital and beyond.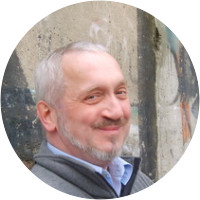 Heribert is a native Berliner whose family history can be traced as far back as the founding of the city. An expert in urban history, for more than twenty years he has been guiding interested crowds through the German capital and the surrounding Mark Brandenburg, letting the stone witnesses of passing time tell their stories while he enthusiastically revives old lifestyles and tastes. He studied sociology, history, and cultural anthropology at the Freie Universität Berlin. His professional experience is varied and far-ranging, including working as a freelance trainer for communication and intercultural education since 1982, and guiding tours since 1986. In the West Berlin borough of Wannsee he runs with his wife two fine cafés (including at the Max Liebermann Villa Museum) and a gourmet delicatessen, and he is well-versed in fine cuisine. With an anecdote for just about every historical detail, Heribert is the consummate companion for any and all learning adventures in this city.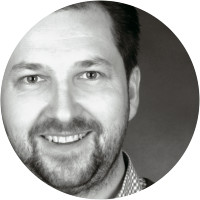 Robert grew up in East Berlin during the 1980s and went on to study at the University of Florence, Italy. He received his PhD in cultural studies from Humboldt University of Berlin where his dissertation focused on sexual violence in the Nazi concentration camps. He recently worked as a researcher for the BBC and as a historian for the Sachsenhausen and Ravensbrück concentration camp memorials. His interests range from the history of art and architecture to modern European history and WWII. Robert worked for Hampshire College and has given guest lectures at both Boston University and Brown University. He has been working as a tour guide for more than ten years.
Reviews can only be left by Context customers after they have completed a tour. For more information about our reviews, please see our FAQ.
Very energetic, enthusiastic and knowledgeable .No suggestions for improvement.
Apr. 15, 2022
All was excellent. It's all about the guide and their prep work and Lucia was spot on.
Mar. 12, 2022
This was not a known area at all to us. We had an illuminating insight into an area of Berlin that we would not otherwise have explored. From this tour we then explored some more and had a wonderful few days pottering around the streets and finding interesting nooks to visit. Our guide explained her interest in the area and her exceptional knowledge and enthusiasm were infectious.
Aug. 21, 2017