Tour Details
Tour Description
This 9-hour excursion visits key Christian sites in the heart of the West Bank, on a day trip from Jerusalem. Accompanied by a local Palestinian guide, we'll visit the Security Wall (with a viewing of Banksy's artwork), Shepherd's Fields and the Church of the Nativity in Bethlehem, the Mount of Temptation in Jericho, and the baptism site of Jesus in the Jordan River. Our day includes car travel between sites as well as a break for lunch and is an ideal excursion for those wishing to venture deeper into the geopolitical history of the region beyond Jerusalem and Tel Aviv.
Private Bethlehem Excursion
We'll transfer from the hotel to the meeting point in a taxi, where we will meet our guide and driver. We'll set off for the sacred Shepherd's Fields, discussing its reputed role in the Star of Nativity story as the location where angels appeared to the shepherds (as well as the ongoing debates around the veracity of that claim). We will continue to one of the oldest surviving churches in the area and the said birthplace of Christ, the Church of the Nativity. The antiquity of the Church stands in staunch juxtaposition with the nearby street art of the infamous Banksy, whose presence in the West Bank has increased since 2003.
Visit Key Sites in the West Bank of Israel
After a stop for lunch, our itinerary will continue to the Mount of Temptation monastery in Jericho, which we'll reach via cable car. Said to be the site where Jesus spent 40 days and 40 nights, and thrice thwarted the devil's temptations, we'll take in views of Jericho and the Jordan Valley while exploring the Greek Orthodox structure that stands there today. Our final excursion stop is the Jordanian river, where we'll have the opportunity to touch the very waters said to be the site of Jesus' baptism by John the Baptist.
We'll wrap up our time together on the drive back to the hotel, having seen firsthand many of the sites in Bethlehem and Jericho that were so integral to Jesus' life and history. We aim to leave one another with a more rounded view of what went on in this Holy Land and having laid the groundwork to better understand the discussions that still take place today.
Where You'll Start
Tour Experts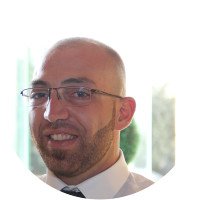 Kamal has been a licensed tour guide in the West Bank for the last 10 years. He studied Accounting at Bethlehem University, then studied in Ingolstadt, Germany, earning his MBA in International Project Management. Kamal then furthered his training in Boston, becoming a Certified Public Accountant. He worked at Bethlehem University as a lecturer and a project manager for a World Bank project focused on business incubation. He then changed his focus to tourism, driven by his experience lecturing about Israel's Christian community and religion in the Holy Land. He currently teaches a tour guide course. His primary interests are biblical geography, history of the land, and life in Palestine. He is married and a father of two girls and a boy. Kamal is also a basketball player in the Palestinian basketball league and coaches women and youth.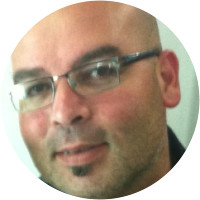 Husam is a Fulbright scholar who has been working as a tour guide for the past 17 years. He finished his master's degree in 2004 from the Eastern Mennonite University in Harrisonburg Virginia in Conflict Transformation and Peacebuilding. He combines his knowledge and skills to provide political and interfaith tours. He is one of the very few Palestinian guides to provide political and alternative tours. Besides his involvement in tourism, he serves as a representative in Palestine and Jordan for Synergos Institute. His main role is to locate social innovators in the two countries and work with them to develop their projects. He also the Director of Facilitation at the Hands Of Peace and American interfaith organization that works with Israeli and Palestinian kids through dialogue to create a better understanding between the two sides.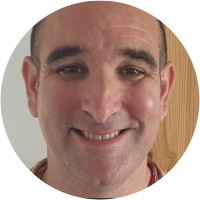 Hilik Wald has been a licensed tour guide since 2009. He has Bachelor's in Geography from Hebrew University and a Master's in Jewish Art from Schecter Institute in Jerusalem.Hilik is a Jewish educator that has worked with many Jewish teen tours, Birthright groups, and Temples tours. In the past, he trained many tour guides/tour educators in Birthright. Hilik was born and raised in Israel, and has a very strong cultural Jewish identity. He lives in Jerusalem with his wife and one-year-old baby girl Carmel .