Tour Details
Tour Description
A trip to Israel would be incomplete without exploring the heart of the gastronomic scene: Jerusalem's food markets. On this 6-hour tour, we'll start with a classic short tour of the Old City before we dive into an afternoon of culinary discovery, exploring the Arab market and the renowned food mecca of Machane Yehuda. During our time together, we'll taste a range of foods, drinks, and snacks which have survived thousands of years of religious and cultural transition, relishing Jerusalem's intermingling of Sephardic, Mizrahi, and Ashkenazi cuisines. This is a tour designed specifically for those wanting to combine some of Jerusalem's classic sites with a deep dive into the history and evolution of Jerusalem's cuisine (including a plethora of food tastings).
Jerusalem Market Tour
Our tour begins at Jaffa Gate, from where we'll spend a couple of hours exploring the Old City. We'll stroll through centuries of history as we cross through the Jewish, Christian, and Muslim Quarters, visiting sites like The Holy Sepulchre, the Roman Cardo, and the Hurva synagogue. Next, we'll move towards the gastronomic theme of our tour as we potter through the Arab market in the Old City. The sights, smells, and sounds surrounding us will carry us back centuries, as we see this bustling world of the marketplace unfurl before us. We'll see mountains of spices, taste fresh pita, hummus and shawarma (we may also taste some delicious Kebab and sweet baklava).
Private Food Tour in Jerusalem
As a contrast to this ancient market, we'll then walk through Jerusalem to Machne Yehuda for a more modern alternative. With the help of our expert guide, we'll learn about the history of this market and the range of colorful local produce on display. We'll see (and taste) firsthand the ingredients used in everyday Israeli cuisine, from fresh fruits to nuts to cakes and pastries to sodas and healing medicines. Along the way, we'll pop into some of our favorite local family-run restaurants and stalls to taste food such as Georgian Khachapuri, healthy pomegranate juice, and great Israeli beers.
By the end of our private food tour of Jerusalem, we'll have tasted a variety of local specialties and discussed the evolution of Israeli food over the centuries while exploring Jerusalem's Old City. We'll realize the influences of different ethnic and religious populations on the city's deliciously distinct gastronomy, a true melting pot of tastes and flavors.
FAQs

What is a private tour?
Our private tours are limited exclusively to travelers in your party. They are designed to provide a learning experience that is completely tailored to you and your traveling companions. Private tours give you more flexibility with scheduling (you decide when the walk best fits in your trip), the ability to tailor your itinerary (we'll work to match the itinerary to the interests and dynamics of your group), and more personalized time with your guide.
I would like to start later. Is this possible?
It is, although we recommend an earlier to make the most of cooler temperatures. Please let us know in your client notes if you'd like to start at an alternative time.


What's included in the tour?
The tour includes a range of tastings and your time with a private guide.

I have dietary restrictions. Can I take this tour?
We can happily adapt the tour to account for dietary restrictions. Please let us know in advance so we can tailor the tour to your needs. Please note that if you have severe allergies we cannot guarantee that the foods prepared in restaurant kitchens will not be subject to cross-contamination.

Is this tour possible for reduced mobility?
Yes, we can certainly adapt this tour for those with reduced mobility. Please let us know what your needs are in your client notes.


Where You'll Start
Tour Experts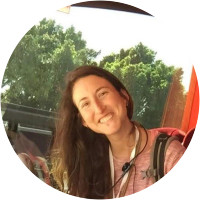 A native-born Israeli, Noga is a true expert on all things Tel Aviv, where she currently lives and works. With a background as a youth-movement teen leader, Noga served the IDF (Israel Defense Forces) in the education core, guiding soldiers on trips and tours throughout the country. After obtaining a BA with Honors in Education, Sociology, and Anthropology from the Hebrew University of Jerusalem, Noga gained additional experience as a preschool teacher and also as a mentor to underprivileged youth at a boarding school. In 2014, Noga decided to get a tour guide certification, a combination of two of her biggest passions: her love for people from all backgrounds, and her passion for her country's history, society, religious background, culture, and cuisine. A true Tel Avivian, Noga loves telling stories about the city's glorious past as well as its contemporary hustle and bustle. She guides in Hebrew, English, and Spanish, and divides her time guiding tours in her home city, as well as all over the country. When not working, Noga loves traveling the world herself and, of course, enjoys city life in Tel Aviv, where she goes to the beach way too often.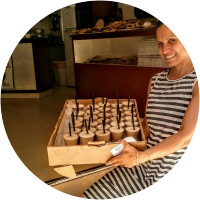 Orit was born and raised in Jerusalem. After spending years in different cities, she returned to her home. Orit earned her MA in Philosophy from Hebrew University in Philosophy, a background she brings into her guiding. After 15 years in the restaurant business as a manager and culinary consultant, Orit became a certified tour guide and now works to combine both of her loves: food and travel. Orit uses food to tell the story of Israel, past and present.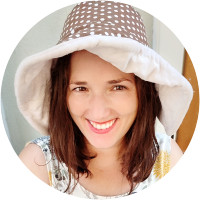 Michal is a native-born and raised Israeli. She grew up in Tel-Aviv - the cultural capital of Israel. She started guiding at the age of 21, right after finishing her army service as a Paramedic. Michal started guiding groups and individuals all over Israel while continuing her education. She graduated from Tel-Aviv University with a Bachelor's in Archaeology and a combined study of History, Art History, and Theology, followed by a Master's in Archaeology. Today she resides in Ramat Hasharon (Tel-Aviv region). She's a mother of two girls and a dog and, alongside guiding tours, she enjoys reading books, painting, and drawing, and practicing Pilates.