Tour Details
Tour Description
Led by a local expert with experience working with kids (especially those 12 and under), this 5-hour introduction to the Holy City explores some of the city's top sites and gives a glimpse into its history through family-friendly activities (including food tastings, always a hit with the younger set). This itinerary includes stops at buzzing markets, the Jewish Quarter, the Western Wall, and depending on the season the water tunnels in the City of David. This tour has been specifically designed to help you and your kids make sense of the layered historical and religious tapestry that is Jerusalem.
Private, Kid-Friendly Tour of Jerusalem
Please note this tour has seasonal itineraries due to the colder winters that make the City of David water tunnel unsuitable for kids.

From April - October:
We'll kick things off with a hands-on archeological visit to the City of David's ancient water tunnel. As the kids splash their feet through the ancient streams, we'll explore the water tunnels and learn about King Hezekiah's water protection system. From there, we'll move on to see one of Jerusalem's most iconic sites: the Western Wall. We'll discuss how people have journeyed over the years to this site, following in the footsteps of former pilgrims from thousands of years prior. As we travel through time, we'll learn about various battles and uprisings that have taken place within the City Walls, weaving tales of the heroes and villains associated with these events.

From November - March:
Our tour of historical explorations begins in the Old City at Jaffa Gate, one of the city's original gates from the Ottoman era, before you begin a deep dive into the incredible historic and holy sites found within, and finish with an archeological sifting experience. You'll traverse the Western Wall of the Temple Mount (also known as the "Jerusalem Wall") which is one of the most magnificent and significant remnants in Jerusalem from the days of the Second Temple, destroyed approximately 2,000 years ago.

The Western Wall stretches along almost half a kilometer, but today, the part visible to all at the Western Wall Plaza is a mere 70 meters of it. The tour of the Western Wall Tunnels allows visitors to reach the segments of the Wall hidden from view, and to touch the original and special western wall stones that tell the story of the Jewish nation. Visitors to the Western Wall Tunnels walk through ancient and fascinating subterranean spaces with exquisite archeological findings, such as large stone arches, water pits, an ancient water aqueduct that ends at the Strouthion Pool, and more.
Explore Jerusalem as a Family
After stopping for a local lunch, we may take some time to ogle (and sample) Israeli delicacies in the colorful souk, a feast for the eyes as well as the taste buds. From there, we'll continue our route through the Jewish quarter as we discuss the city's three intersecting religions of Christianity, Judaism, and Islam, learning about the distinct histories and practices of each, from the meaning behind various religious garments to their important traditions and holidays.
At the end of our Jerusalem for Kids tour, you and your family will have gained a more comprehensive insight into the Israeli capital through kid-friendly views of Jerusalem's fascinating archaeology, food, and history.
Where You'll Start
Tour Experts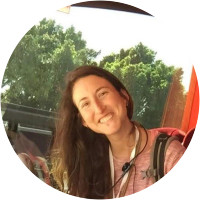 A native-born Israeli, Noga is a true expert on all things Tel Aviv, where she currently lives and works. With a background as a youth-movement teen leader, Noga served the IDF (Israel Defense Forces) in the education core, guiding soldiers on trips and tours throughout the country. After obtaining a BA with Honors in Education, Sociology, and Anthropology from the Hebrew University of Jerusalem, Noga gained additional experience as a preschool teacher and also as a mentor to underprivileged youth at a boarding school. In 2014, Noga decided to get a tour guide certification, a combination of two of her biggest passions: her love for people from all backgrounds, and her passion for her country's history, society, religious background, culture, and cuisine. A true Tel Avivian, Noga loves telling stories about the city's glorious past as well as its contemporary hustle and bustle. She guides in Hebrew, English, and Spanish, and divides her time guiding tours in her home city, as well as all over the country. When not working, Noga loves traveling the world herself and, of course, enjoys city life in Tel Aviv, where she goes to the beach way too often.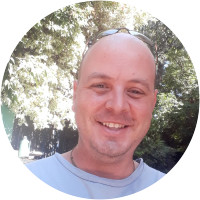 Ronen always loved traveling and the outdoors as he was growing up in Israel. After graduating high school, he volunteered on a kibbutz in the south of the country for a year. Once drafted into the IDF (Israel Defense Forces), he served in an airborne infantry unit; Ronen is still active in the reserves. A native-born Israeli, Ronen has always been passionate about the rich, complex history the country has to offer. He focused his education on Israel studies at Haifa University. Ronen has been working as a guide since 2006, with the exception of a six-month break for a solo backpacking trip across Southeast Asia. When he returned from his adventures, he realized that traveling and guiding were his true passions and decided to turn his hobbies into a career. To further his passion, he guides in eastern Europe as well. His primary interests, shaped by the region in which he grew up, are religion, geopolitics, history, agro-tech, and business. In his free time, he enjoys playing drums, cycling, and hiking.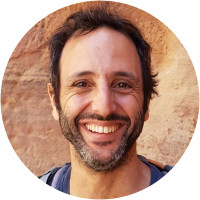 After completing military service, Elisha decided to pursue his passion for travel and backpacked around the world. He then lived for three years in Spain, where he learned Spanish. After coming back to Israel, he started his study of reflexology. Elisha has been working as a tour guide for the past four years all over Israel and his greatest passions are history, religions and politics. He currently lives in Israel with his two children.
Reviews can only be left by Context customers after they have completed a tour. For more information about our reviews, please see our FAQ.
Hilik was a great tour guide who engaged the kids, took us to the sites that we requested, and took breaks as needed. Took extra time to speak with us about military life.
Sep. 4, 2022
Booking was super easy. follow up emails and confirmations were great. Tour guide was great.
Apr. 4, 2022