Tour Details
Tour Description
Led by a local expert with experience working with kids (especially those 12 and under), this 6-hour introduction to the Holy City explores some of the city's top sites and gives a glimpse into its history through family-friendly activities (including food tastings, always a hit with the younger set). This itinerary includes stops at buzzing markets, the Jewish Quarter, the Western Wall, and the water tunnels in the City of David, and has been specifically designed to help you and your kids make sense of the layered historical and religious tapestry that is Jerusalem.
Private, Kid-Friendly Tour of Jerusalem
We'll kick things off with a hands-on archeological visit to the City of David's ancient water tunnel. As the kids splash their feet through the ancient streams, we'll explore the water tunnels and learn about King Hezekiah's water protection system. From there, we'll move on to one of Jerusalem's most iconic sites: the Western Wall. We'll discuss how people have journeyed over the years to this site, following in the footsteps of former pilgrims from thousands of years prior. As we travel through time, we'll learn about various battles and uprisings that have taken place within the City Walls, weaving tales of the heroes and villains associated with these events.
Explore Jerusalem as a Family
After stopping for a local lunch, we may take some time to ogle (and sample) Israeli delicacies in the colorful souk, a feast for the eyes as well as the taste buds. From there, we'll continue our route through the Jewish quarter as we discuss the city's three intersecting religions of Christianity, Judaism, and Islam, learning about the distinct histories and practices of each, from the meaning behind various religious garments to their important traditions and holidays.
At the end of our Jerusalem for Kids tour, you and your family will have gained a more comprehensive insight into the Israeli capital through kid-friendly views of Jerusalem's fascinating archaeology, food, and history.
*Please note that in winter, we will replace the water tunnels with an archaeological sifting experience.
Where You'll Start
Tour Experts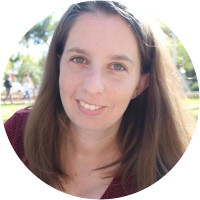 Reut has been guiding for over ten years, leading tours and educational programs for all age groups. After military service, she went on two volunteer trips overseas. She first spent a year in Melbourne, where she led activities and seminars at a school in a local Jewish community, serving students from first grade through university. When she came back to Israel, she participated in Ein Prat Midrasha, a program focused on Israeli and Jewish studies. She also graduated with a degree in Middle Eastern studies from Hebre University. Alongside her university studies, she completed tour guide courses and began guiding groups across the country. She specializes in Israel's archaeological sites and enjoys working with groups of all backgrounds to find individual connection points with Israel's religion, history, art, technology, or food.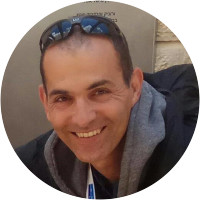 Segev was born in Jerusalem. After his army service, he explored South America and the Far East. His adventure didn't end when he came back. He walked all Israel by foot on his own. His "Israel Trail" journey led him to seek a better understanding of Israel's cultures, trails, and people. He became a social worker, and worked with various groups of people: he mentored Israeli at-risk youth, developed leadership and outdoor programs for army military commanders, and created programming for private organizations and special needs groups. Today, Segev is married with 3 children. In addition to being a certified tour guide since 2011, he continues his work as a social worker. He is also a licensed snake catcher and a marathoner.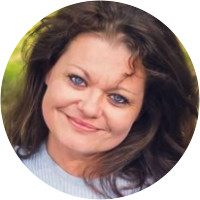 Olga received her MA in Ancient Near Eastern Studies from Moscow State University (the Center for Advanced Judaic Studies) and is now enrolled in PhD studies at the Hebrew University. For the last 16 year Olga has been teaching and guiding tours in Israel for clients ranging from large institutions to small groups with special interests and individuals. She tours at all major archaeological sites in Jerusalem, following the most current developments at the new excavations around the city, and keeping in touch with archaeologists in the field. he likes to give her clients a better feel for Jerusalem and Israel, bringing the complicated nature of the young country and the ancient land into clearer focus. Exploring Israel with clients, Olga loves to share her passion and offer an insider's knowledge of its people and places and an educator's eye for detail. Connecting religion, tradition, history, archaeology and the modern day geopolitical realities in a way that will provoke thought and discussion. She lives in Jerusalem with her family.