Tour Details
Tour Description
On our private Jewish tour of Jerusalem, we'll follow the 3000-year history of Jews in Israel as we walk through the Jewish Quarter and surrounding sites in the Old City. Together with a local expert guide, we will uncover the complex, intertwined narratives of the Jewish people and the ancient Holy City. We'll visit the Jewish Quarter, David's Tomb in Mount Zion, the Western Wall, and some notable synagogues. Over the course of our 5-hour itinerary, we will gain a deep understanding of Jewish heritage and the ancient and contemporary history of Jews in their ancestral and spiritual home.
For those looking for an examination of Christianity and Islam, please see our
Jerusalem in a Day
, please note the tour does overlap with this tour
Private Jewish Tour of Jerusalem
Our day begins at Jaffa Gate and our route may take a number of different directions depending on group interests. We may start with a scenic lookout over both the Old and New City from the David Citadel, a fitting point to set the scene for the day. Our route will take us to David's Tomb in Mount Zion, the burial place of King David, a sacred location for visitors. Our private tour will continue on to the Jewish Quarter, entering through the Zion Gate, which is riddled with bullet holes from the War of Independence in 1948. We'll discuss the important history of the gate, the site where Jewish residents were forced out by the Jordanians, and later where the IDF forces entered to reunite the Old City with West Jerusalem during the Six Day War. Once through the gate, we'll visit some Sephardic Synagogues, stopping to discuss the centers of religious life in the Jewish Quarter over the centuries before walking through the ancient Cardo. As our day draws to an end, we will visit one of the most important locations for Jews: the Western Wall. We'll discuss the significance of the site, including the stories of the Temple Mount. In the end, we will lead to the Davidson Center, which holds an extensive range of archaeological artifacts from the Second Temple to the Early Islamic periods.
After walking in the footsteps of former Jewish pilgrims and rabbis, we will emerge from the day with a comprehensive understanding of Jewish history and heritage in Jerusalem. We will have gained appreciation and insights into the waves of immigration in and out of the city, the stories of well-known Jewish figures, and current and past events in the holiest of cities.
FAQs About the Private Jewish Tour of Jerusalem

What is a private tour?
Our private tours are limited exclusively to travelers in your party. They are designed to provide a learning experience that is completely tailored to you and your traveling companions. Private tours give you more flexibility with scheduling (you decide when the walk best fits your trip), the ability to tailor your itinerary (we'll work to match the itinerary to the interests and dynamics of your group), and more personalized time with your guide.
What happens if it's raining?
Our tours happen rain or shine. Our guides are great at adapting their route during changes of weather. Please bring an umbrella.


I would like to start later. Is this possible?
It is, although we recommend an earlier start to make the most of cooler temperatures. Please let us know in your client notes when you would prefer to start.


What's included in the tour?
You are pre-paid for the entrance fees. Clients are expected to cover the cost of their own lunch.


Can you arrange a car service for the day?
No. We will be spending our time inside the Old City, which is mainly pedestrian.

Is this tour possible for reduced mobility?
Yes, we can certainly adapt this tour for those with reduced mobility. Please let us know what your needs are in your client notes.


Where You'll Start
Tour Experts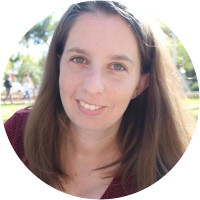 Reut has been guiding for over ten years, leading tours and educational programs for all age groups. After military service, she went on two volunteer trips overseas. She first spent a year in Melbourne, where she led activities and seminars at a school in a local Jewish community, serving students from first grade through university. When she came back to Israel, she participated in Ein Prat Midrasha, a program focused on Israeli and Jewish studies. She also graduated with a degree in Middle Eastern studies from Hebre University. Alongside her university studies, she completed tour guide courses and began guiding groups across the country. She specializes in Israel's archaeological sites and enjoys working with groups of all backgrounds to find individual connection points with Israel's religion, history, art, technology, or food.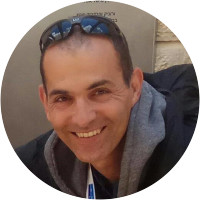 Segev was born in Jerusalem. After his army service, he explored South America and the Far East. His adventure didn't end when he came back. He walked all Israel by foot on his own. His "Israel Trail" journey led him to seek a better understanding of Israel's cultures, trails, and people. He became a social worker, and worked with various groups of people: he mentored Israeli at-risk youth, developed leadership and outdoor programs for army military commanders, and created programming for private organizations and special needs groups. Today, Segev is married with 3 children. In addition to being a certified tour guide since 2011, he continues his work as a social worker. He is also a licensed snake catcher and a marathoner.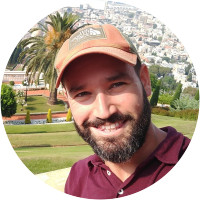 Asaf earned a BA in Jewish History and Archaeology from Hebrew University, and an MA in Middle Eastern Studies and Islam from Bar Ilan University. He has worked for over ten years for the Western Wall Heritage Foundation, and has led many missions and tours across the country. Asaf is passionate about sharing his love of Israel and its people through stories, personal experiences, and hands-on learning; he specializes in tours of Jerusalem and the Old City. Asaf has led many groups and individuals on exciting and educational tours throughout Israel (including heads of state, famous celebrities, and even Pope Francis). Asaf is married with 2 kids and lives in Jerusalem.
Reviews can only be left by Context customers after they have completed a tour. For more information about our reviews, please see our FAQ.
This tour was great and Segev was fantastic. Being local with links to all locals nationalities allowed him to put unique context to things we saw and discussed. He was a very good listener and adjusted things we would see accordingly. He is pleasant and knowledgeable. This was an exceptional experience.
Nov. 16, 2019