Tour Details
Tour Description
In this 3-hour Porto Maravilha Tour in the company of a local historian, we'll examine the history of slave trade, Afro-Brazilian culture, and current efforts to completely renew the area—a project that often collides with cultural preservation. Along the way we'll discover places of significance to Samba in Brazil as well as sites where the Rio Olympics have made an indelible imprint on the city, looking at the larger themes present in Rio's development, and Brazil generally, as the country lurches into the 21st century and redefines itself.
Porto Maravilha Tour - Two Sides of Urban Renewal
We will start our investigation at MAR, the Museum of Art of Rio de Janeiro, an important cultural centerpiece of the renewal plans. From the museum's rooftop we'll have the perfect vantage point to observe the cityscape, the historic port area and housing district in sharp contrast to the newly renovated Praça Mauá and Museum of Tomorrow, designed by Santiago Calatrava.


After this expansive view, we will set out to explore the neighborhood, one of the city's oldest districts. In this area we will identify architecture reflecting Rio's colonial times and the early days of slavery. We will spend some time at Pedra do Sal, an important site linked to the Afro-Brazilian heritage of Samba music, carnival, and the location of a Quilombo village. The area also bore witness to some of the first fights against gentrification, with local residents of squats engaging in urban revolts to try to stem the tide of forced displacements.
Samba to the Rio Olympics
From here we'll shift our focus to the area known as "Little Africa," the former Valongo pier and street, a slave trading port and market, and also the site of a mass-grave for slaves who did not survive the ocean passage. Both cultural landmarks, recently unearthed, are part of the renewal works and bring up questions and concerns about the project and Rio's approach to protecting its heritage.


From here, we will take the new cable car up Morro da Providencia, the world's first favela, now pacified, leading us in a discussion about how the changing city is affecting the daily life of its citizens. From its altitude we'll have the entire bay in front of us from which we can gain a full perspective of these profound interventions in urban space.
Take Aways
We will come away from this walk with an understanding of the tug-of-war being played between international pressures like the Olympics, city government, and citizens. Each has a valuable yet contested right to the area and we will dig to the bottom of this complex social, economic, and cultural moment in Rio's history. This walk is a perfect pair to follow our
History of Rio City Tour
which covers the earlier history of the city.
Where You'll Start
Tour Experts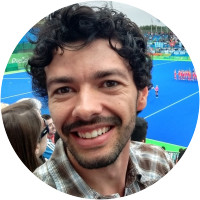 Carlos
Carlos is an urban planning and policy researcher at the Federal University, and an assistant professor at the Rural Federal University, both in Rio de Janeiro. He has an MA in juridical science with an emphasis on South American politics and fundamental rights. His main fields of interest are urban/regional planning and policies, architecture, and Brazilian history. He is a native of the northeastern city of Fortaleza, the region of the first modern-age settlements in Brazil. This area has a diverse culture and is the birthplace of many influential Brazilians who have shaped the city, thus giving Carlos the perfect background with which to introduce travelers to Rio's rich history.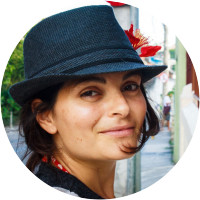 Amber Daniela
Amber is an architect, landscape architect, and author by trade, and an urban researcher, teacher, and adventurer by experience. She arrived in Rio de Janeiro and fell in love with the city after a thirteenth-month trek by truck, boat, and bicycle from San Francisco, CA, to Salvador da Bahia, Brazil, traveling alongside a seventy-year-old biking capoeira master. Her professional focus is on small-scale sustainable urban development for and by the public who will benefit from it. To these ends, she and renowned landscape architect Randolph T. Hester Jr. wrote <u>Inhabiting the Sacred</u>, a study of domestic spaces forthcoming from George Thompson Press. Today she calls Rio de Janeiro home, though she was literally born on the road: Rota, her birthplace on the Bahía de Cádiz, España, means in Portuguese 'route, circuit, walk.' Amber loves to share her knowledge of this incredible, beautiful, and interesting city.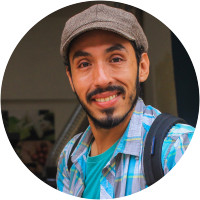 Juanjo
Juanjo is an atypical hybrid between an IT professional and a childhood development specialist. He is a dedicated capoeirista (one who practices capoeira, an afro-brazilian cultural expression) and a world-touring cyclist who has ridden from Mexico to Brazil researching and learning about music, dance, and many art forms that enrich the human essence. He believes that the key to sharing knowledge and experience is empathetic engagement with people, be they children or grown-ups. He settled in Rio where he is a freelance photographer and runs an Internet-related business while simultaneously immersing himself in the unique world of Brazil's music, culture, and people.
Reviews can only be left by Context customers after they have completed a tour. For more information about our reviews, please see our FAQ.
walk rated 6/6, docent rated 6/6
Mar. 1, 2018