Tour Details
Tour Description
One of the best ways for your family to understand Rio de Janeiro history is to experience its many cultural expressions first-hand: art, architecture, language, food, sport, and music. Let your family take a starring role as you discover the city's unique story and make its bohemian center your playground on this 3-hour Rio for Kids Tour, part of our special
family program
. Winding our way through Santa Teresa's endearing streets and homes, we'll look at the city in a new light, using creative games and activities to help its history come alive for the young and young-at-heart.
"Our Family walk through Santa Teresa was really a walk through Brazilian culture past, present and future. We were immersed in all of the great traditions -- from samba and capoeira to eating açaí and other local delicacies. We even got to learn some of the language and understand the rich traditions of art and architecture. Made all the better as we did a timeline of Brazilian history compared to American History. We weren't just participants in this walk but active agents and historians. All of these activities and history lessons were equally entertaining for parent and children - enough entertainment and engagement for all age groups. Santa Teresa is charming and romantic, reminiscent of Havana and Oaxaca."
Rio for Kids Tour
We begin our adventure in the Museu Casa de Benjamin Constant, the first house of the Republic. Here we learn about Brazilian family life during the important transition from Empire to Republic as we walk the perfectly preserved 19th century home of one of Brazil's most important founding fathers. We will see how Brazil has adapted Portuguese traditions and made them unique.
Trains, Language, and Açai
We continue our discovery with a short walk and language lesson so that willing children may ask for their own refreshing
açaí
, an amazon berry gelato of sorts. We may spot the famous yellow
bondinho
train (which we ride on our
Santa Teresa Tour
geared for adults) making it's circuit around the neighborhood as we visit an artisanal toyshop or a shop of handcraft souvenirs, all made by local artists. We'll stroll the colorful streets, stopping to appreciate the street art and maybe even finding a haunted house before sitting in a shady plaza famous for spontaneous afternoon music jam sessions. In proper Brazilian style, we'll pause here for our own mini samba class before finishing at Parque das Ruinas, home to famous Rio socialite Laurinda Santos Lobo. Here we'll learn about Brazil's unique artform capoiera and end with a climb to the viewing tower for the most stunning inner-city view of downtown.
Take Aways
The walk serves as a basic orientation to Brazilian culture. Material from the colonial period to the Republic and contemporary society will be covered. Depending on the age of the children, topics and activities will vary. The goal of this walk is to encourage active learning while introducing children to the city's history and artforms.


Need a nighttime getaway from the kids? We suggest our
Rio Nightlife Tour
, showing you the best the city has to offer with a local.
A note for parents: The designed tour includes a total of 1.25km walking, or about 20 minutes. If your children are of stroller age, you may want to consider a sling or wearable child carrier as the sidewalks are narrow or uneven and some stretches of road are cobblestone.
Getting To Know You
In order to plan the best possible experience for your children, it would be helpful for us know some background. Have they traveled to other countries in the past? If so, where? Have they studied any subjects in school that would relate to the walk? Are they interested in art, music, and food? The more you can tell us, the better.


Due to the very interactive nature of this program and given the educational environment our docents aim to create, we adhere to a maximum of 6 participants. Groups larger than 6 will need to book two separate walks that can run concurrently, but with an additional docent.


In addition to our family program walk, we may be able to adapt certain other tours to the needs of families, though please note such adaptations would not incorporate special activities. Please contact us at s-america@contexttravel.com for more details.
FAQ
What kind of activities will you be doing?
Depending on the children's learning styles we may do drawings, dance or play to music, and teach them a Poruguese word or phrase. Each docent is equipped with tools and techniques.


Is this walk appropriate for small children? Children in their early teens?
Yes, we designed this walk with children of various ages in mind. Though our family walks are primarily designed for children under the age of 13, it can also be tailored to a teenager audience. It is important to communicate the interests and ages of your children in the notes section when booking so the docent can prepare appropriate activities. For an adult perspective on Santa Teresa, check out our
From Belle Epoque to Bohemian: a Close-up of Santa Teresa Neighborhood
walk.
Is this tour stroller and wheelchair accessible?
The general route includes narrow sidewalks and cobblestoned streets; please contact us to discuss in more detail your mobility concerns so that we can best advise. It may be best to bring small children in a sling or other baby carrier if possible. We are always happy to design a
private, customized tour
for visitors with mobility concerns.
Where You'll Start
Tour Experts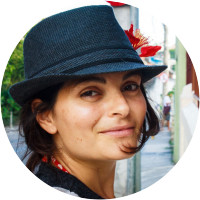 Amber Daniela
Amber is an architect, landscape architect, and author by trade, and an urban researcher, teacher, and adventurer by experience. She arrived in Rio de Janeiro and fell in love with the city after a thirteenth-month trek by truck, boat, and bicycle from San Francisco, CA, to Salvador da Bahia, Brazil, traveling alongside a seventy-year-old biking capoeira master. Her professional focus is on small-scale sustainable urban development for and by the public who will benefit from it. To these ends, she and renowned landscape architect Randolph T. Hester Jr. wrote <u>Inhabiting the Sacred</u>, a study of domestic spaces forthcoming from George Thompson Press. Today she calls Rio de Janeiro home, though she was literally born on the road: Rota, her birthplace on the Bahía de Cádiz, España, means in Portuguese 'route, circuit, walk.' Amber loves to share her knowledge of this incredible, beautiful, and interesting city.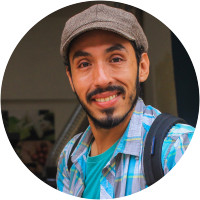 Juanjo
Juanjo is an atypical hybrid between an IT professional and a childhood development specialist. He is a dedicated capoeirista (one who practices capoeira, an afro-brazilian cultural expression) and a world-touring cyclist who has ridden from Mexico to Brazil researching and learning about music, dance, and many art forms that enrich the human essence. He believes that the key to sharing knowledge and experience is empathetic engagement with people, be they children or grown-ups. He settled in Rio where he is a freelance photographer and runs an Internet-related business while simultaneously immersing himself in the unique world of Brazil's music, culture, and people.
Reviews can only be left by Context customers after they have completed a tour. For more information about our reviews, please see our FAQ.
Our tour with Ynaie through Santa Teresa was the highlight of our trip to Rio. She was very friendly and well-prepared. With a 4-year-old and a 10-month-old in our group, the walk was perfect for our pace. Our guide provided a safe route through Santa Teresa as she pointed out some of the area's historic buildings and homes. There were great views of Rio's coast throughout the walk and lots of things to keep our kids' attention. She gave us the background on the art that lined the walls of the streets and had activates, like doll building and tile making, for our daughter that reflected the things we saw on the walk. There was even a stop a playground to give our youngest time to nurse. Overall it was a fantastic way to visit Santa Teresa.
Nov. 1, 2018