Tour Details
Tour Description
Salzburg's food scene is filled with sweet treats and fresh market goods, where tales and traditions abound. Discover more about the Austrian culinary scene in relation to this charming city in the company of a local insider. On this 3-hour Salzburg Food Tour, we'll explore the Old Town Market and nearby specialty food shops, tracing the history of the city's distinct culinary culture. We'll get an in-depth overview of regional Austrian gastronomy while tasting (and sipping on) local specialties, providing us with a fantastic opportunity to experience the sights, smells, and tastes of gastronomic Salzburg.
Salzburg Food Tour
We begin our Salzburg Food Tour in Mozart Square, facing the bronze Mozart statue, which commemorates the composer's tenure in the city in which he was born. We'll kick things off with a coffee in a local café as we introduce the tour and café culture in Salzburg, which is a major part of life for everyday locals. We'll peep into the likes of Café Tomaselli as we see ordinary Salzburgers sipping coffees over newspapers and ladies with giant cake trays gliding around the room serving their daily offerings.
The Mozart Chocolate Ball
We'll spend much of our Salzburg Food Tour popping into specialty shops to try such local delicacies as the renowned Mozart chocolate, or Mozartkugel. We'll learn more about this Austrian confectionary and the methods behind its creation, from family-run businesses which still exist in Salzburg, to industrial-sized creations churning out hundreds per day. We'll take some time to taste the marzipan, pistachio, nougat, and dark chocolate spheres which have quickly become the city's most famous confection. We may also pop to a local shop run by monks to try some exciting fruity blends of Schnapps such as marillen (apricot) or ginger.


From Markets to Bakeries to Strudel
Loosened up with a little liquor, we'll venture into the market where we will see (and taste) Austrian cheeses, cured meats, and fresh fruit. The Old Market remains a hub of activity and will give us a flavor of both bygone days and the city's current culinary landscape. We'll also stop at the city's oldest bakery, whose existence dates back to the 12th century. Way back when, a tunnel for the 'Almkanal' watercourse was knocked through Mönchsberg Hill in order to fill the city's water supply. At the base of the hill, the monastery built a flour mill which also served the bakery, which remains in the same spot today. We'll smell the fresh bread and maybe even peek at the bakers at work as we taste the current offerings on the day, from sweet to savory, while our expert guide shares the history of this long-standing local business. As we leave the wafting smell of bread behind, we will enter in the latter stage of our Salzburg Food Tour. We may end on a sweet or savory note, depending on the interests of the group. Perhaps we'll indulge in the sweet notes of an Apple strudel as our guide explains the history of this national dish, or we could alternatively savor some local dumplings and sauerkraut or homemade pasta. Please note, the food tastings vary from tour to tour according to the season, day of the week, and preferences of the group.
Take Aways
At the end of our Salzburg Food Tour, we should have an excellent foundation in the world of Salzburg cuisine and be better prepared to appreciate some of the finer points of the Austrian food scene for the remainder of our stay in the country. We'll leave sated and with a deeper appreciation of a rich, and oft-misunderstood, culinary tradition.
FAQ
Can I participate in your food tours if I have food allergies?
Yes. If you have any specific allergies/intolerances, please indicate these in the Travel Notes section during booking. Your guide will do his or her best to accommodate, though please note that some shops we visit do use wheat flour and nuts in the kitchen for other items. Again, please make note of any dietary issues. If you are booking privately, we can customize a route that will avoid such items, something that we cannot fully do on our small group walks.
Where You'll Start
Tour Experts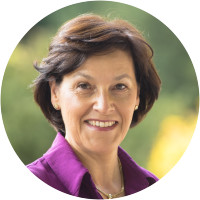 Michaela is a native Austrian living in Salzburg for more than 20 years and has spent several years in the tourism industry. She holds an Interior Design degree from the University of California, Los Angeles and worked as a Designer during her stay in the United States. After moving to Salzburg Michaela studied to become a certified Austria Guide. She has over 10 years of knowledge as a tourist guide and gained a great understanding in the culture, traditions, history and culinary life of Salzburg. She wants to convey a precise picture of Salzburg's unique history focusing on baroque architecture and modern urban artworks. She also enjoys sharing her enthusiasm for W.A. Mozart and loves to show known and unknown sites related to his life. For all food lovers Michaela created tours to introduce local specialties and to taste famous handmade chocolates, desserts, local produced drinks or traditional dishes. Her aim is to pass on insider knowledge about the local life style, introduce unique places to her guests and give them a great local experience.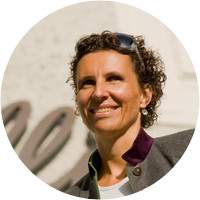 Astrid has been a guide in Salzburg since 2010, with a particular interest in private and specialised tours. A university degree in Business Administration, experience in the hotel business and event organisation has concluded in her current position as a tour guide. She speaks four foreign languages and her extensive travel has provoked an interest in local cultures and traditions. Her deep passion is food which means that she is often out and about tasting her way through Salzburg with her clients. She is also involved in biking, hiking and looking behind the local scenes-style experiences. She keeps discovering new perspectives in Salzburg which she revels in showing to her curious clients.