Tour Details
Tour Description
On this 3-hour San Francisco History Tour we'll join a local historian or expert to trace the history of San Francisco from its first days. We'll discuss the city's Ohlone indigenous past, its Spanish colonial days and then the evolution of this Gold Rush town to the modern technological power that we know today. In order to illustrate its varied history, we'll visit three main neighborhoods, each with its own important contributions to the birth of this iconic city. We'll walk in the footsteps of early settlers, Gold Rush heroes, Beat poets, and Chinese immigrants as we navigate the years of San Francisco's history. This is a great tour for first-time visitors who want to get their bearings in the city and learn more about its colorful history.
"[Our guide] weaved personalities, architecture, geography, and personal anecdotes, creating a vibrant picture of some of San Francisco's most interesting neighborhoods. As a San Francisco native, I appreciated his creative approach and I learned many new things about my home city. I would recommend his tour to anyone visiting or local."
San Francisco History Tour - From Native Cove to Colony
Our tour starts in Downtown as we address the story prior to the Gold Rush, a period which is often overlooked in the tale of 25,000 years of San Francisco's history. We'll discuss the Ohlone/Costanoan people and the dramatic effect of the Spanish colonial arrival in 1776 on these native populations. We'll further explore this important part of history as we move into the period of colonialism and beyond. On the site of a buried Gold Rush ship by the Transamerica Building, our guide will set the scene as we discuss the foundations of Yerba Buena Cove (now San Francisco) in the mid-nineteenth century. Our guide will recount tales relating to loan sharks and other hustlers from this city's sordid past and individuals such as Shanghai Kelly and Miss Piggot. From here, we'll continue this downtown journey to other notable locations relevant to early settler history and what was once small town Yerba Buena—for example, we may pop into the Wells Fargo History Museum, an 1852 bank opened to help increasingly rich gold miners store their swathes of cash.
Chinatown and Beyond
Our route will continue to Portsmouth Square as we enter Chinatown and discuss this element of the city's growth. Hoping to find gold, thousand of Chinese laborers ventured over to unknown lands from 1849 and set to make their fortunes. Our guide will discuss this notable history as we wander these Asian streets and touch on the immigration story and its impact on the city. We'll discuss the shock 1906 earthquake, which destroyed much of the city, including Chinatown, and the fear the city has of another natural disaster
North Beach
We'll leave Chinatown behind as our path continues to it's nearby cousin, North Beach. On the way, we will pop into the revered City Lights Bookstore, home of free speech and the Beats. Our guide will touch upon the importance of this literary shrine and the impact that it had on this city. Our route may take us to a number of literary haunts of the Beat Generation poets as we discuss this iconic movement. For a more specific literary look, try our
San Francisco Literary Tour.
Take Aways
By the end of the walk, we'll leave one another with an enriched understanding of San Francisco's history from the Gold Rush period to the modern day. We will also have navigated our way around downtown San Francisco and its environs which will orientate ourselves to the city for our following days wandering alone.
Where You'll Start
Tour Experts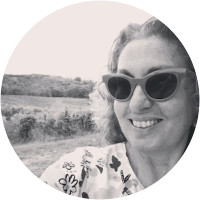 Sheila transplanted from New York to San Francisco in 1994. She was principal of her own historic preservation consulting firm for over 15 years. Recently she began a travel blog to inspire folks to discover lesser known San Francisco neighborhoods and take a fresh look at familiar landmarks. Sheila earned her Master Degree in Historic Preservation at the University of Pennsylvania. Sheila brings her unique background in historic preservation/architectural history, destination management and travel guide experience to provide discerning travelers with an insider's knowledge of San Francisco – her home of almost 23 years. She loves an adventure, whether around the world or around the corner.
Reviews can only be left by Context customers after they have completed a tour. For more information about our reviews, please see our FAQ.
Sheila is wonderful! Knowledgeable, flexible, and a pleasure to be with. We enjoyed her tour immensely and left the wiser for our time together.
Sep. 30, 2021
Everything Sheila has such a knowledge and passion for SF.
Mar. 1, 2019
We enjoyed our tour very much. John is an excellent guide, full of information and very easy to talk with. We have already recommended this tour to family and friends.
Sep. 14, 2017