Tour Details
Tour Description
What was it like for kids who lived in Venice during the Renaissance? And what is it like for kids today? Join our Daily Life in Venice Tour for Kids to explore everyday life in the city, both past and present. Taking place largely within an area of Venice that the average tourist rarely visits, we will pass between the neighborhoods of Santa Croce and San Polo to Dorsoduro. Our focus is on the lives of Venetian families, both rich and poor, and their relationship to public and private urban space. We will not only touch upon life for modern families and children, but also look at how families have functioned on the lagoon area throughout history. Costumes, games, processions, and traditions will be touched upon to compare and contrast our own lives with those of Venetian families.
Work and Play
Led by one of our
family-trained experts
, some stops during our time together may include a visit to Venetian palace, now a museum of costumes and furniture from the early modern period, where families have the opportunity to view original period costumes, as well as public squares where bull fights and other spectacles took place. We will discuss the way children and young people lived and studied, their activities and options, and in particular focus on the nature of work and play in the early modern city. Role playing, acting out stories, and visual observation are just some of the strategies that will be employed to create an interactive way for children to get a clearer picture of how families have lived in Venice.
Renaissance Venice Tour for Kids
Focusing on these recurring themes of work and play, costume and dress, public and private space, our guide will be able to construct a thoroughly engrossing dialogue with your children about this historic city. This engaging atmosphere will open our younger travelers to different daily activities that they may have never thought about before. By the end of our time together, we will have a clear idea of how families live their day to day lives in Venice, and will be able to better appreciate their explorations of the picturesque neighborhoods of the lagoon.
Please Note:
In order to plan the best possible experience for your children, it would be helpful for us know some background. Have they traveled to other countries in the past? If so, where? Have they studied any subjects in school that would relate to the walk? Are they interested in art, music, even food! The more you can tell us, the better.


FAQ
Is this tour wheelchair accessible?
Venice is a city that is built on a series of canals, crossed by bridges. If your group includes a member who uses a wheelchair, please reach out by email and we can discuss mobility options.
What costs will I need to cover on the day?
You are pre-paid for the tour, but you are responsible for any applicable entrance tickets, which could be up to €13 per person.
Where You'll Start
Tour Experts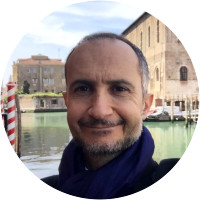 Originally from Venetian mainland, Matteo has lived in different countries, which sparked his interest in art history and archaeology. He holds a B.A. in Cultural Heritage Preservation and an M.A. in Archaeology - specializing in Islamic Archaeology - from the University Ca' Foscari, Venezia. Matteo chose to specialize in Islamic Archaeology, due to his personal passion and curiosity for the Islamic World: this particular interest was developed after several travels and stays in different Middle Eastern countries. He has worked as a freelance archaeologist following projects in different locations of the Veneto Region in Italy and in Cairo, Egypt. Matteo became a qualified tourist guide for the City of Venice in 2009, and he has been collaborating with Context since then.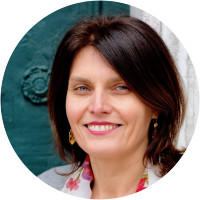 Nadia has a degree in art history from the Ca' Foscari University in Venice and wrote her thesis on the painter Francis Bacon. After various work experiences, both in public and private sectors, she collaborated in drafting the online magazine "Engramma," which dealt with the study of the classical tradition in Western culture and the mechanisms of transmitting ancient culture in our contemporary age. The magazine was created in conjunction with the Department of Architectural History at I.U.A.V University. Nadia has also spent time in France working at the "Les Abattoirs" center for contemporary art in Toulouse. In 2009 she obtained a guiding license, and through this work is able to share her passion and knowledge of art history, literature, and the history of Italian and Venice with others. Nadia enjoys approaching artworks as a lens through which to investigate and reconstruct historical contexts.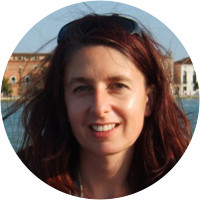 Monica was born in Venice. She earned her degree in Italian Literature and History from Art at Ca' Foscari University in Venice and she has developed a wide experience in the museums of the city. For many years she worked as a curator and archivist before moving into the field of museum education where she worked mainly with groups of children. She also worked at the Jewish Museum in Venice as a guide. She qualified as a guide for Venice and its province in 2009. Monica is continuing to study Venice and she often gives lectures on history and art for associations and public libraries. She is co-author of a series of guidebook for children and families about the Venetian churches.
Reviews can only be left by Context customers after they have completed a tour. For more information about our reviews, please see our FAQ.
Matteo was a great guide- knowledgeable, educated and great with kids. He shows us so much of his city through an incredible walk. We definitely enjoyed this tour with Matteo. Thank you very much, Matteo!
Apr. 16, 2023
Nadia was wonderful
Apr. 1, 2023
Matteo was a terrific guide for our day together in Venice. He was incredibly knowledgeable about all topics and made the topic of life in Venice for interesting and accessible for our whole family. His passion for the history of Venice really helped our kids develop a deeper appreciation and connection with the City.
Mar. 18, 2022