Venues

St. Paul's Cathedral, Guildhall, Leadenhall Market, and The 'Gherkin'
Audio Guide Details
Audio Guide Description
The City of London has been shaped by almost 2,000 years of history. On this walking tour with Context expert Dr. Alan Montgomery, – a London-based scholar, author, and guide who holds an MA in Art History and a PhD in Classical Civilization – you'll take in traces of its long-checkered story in the form of buildings both ancient and modern.


As you wind from St. Paul's Cathedral through London's Square Mile, you'll see several centuries-old landmarks designed by renowned architect, Christopher Wren. You'll hear how Wren, along with his team, helped rebuild the city in the aftermath of the Great Fire of 1666. You'll stroll through centuries of history on this tour, ending with modern skyscrapers like Norman Foster's Gherkin, Renzo Piano's Shard and Richard Rogers' Cheesegrater.


Along the way, you'll have a chance to:


• See how London's history is reflected in its built environment from the Roman Empire to the 21st Century
• Understand the impact of Baroque architect Christopher Wren on the modernization of London
• Learn about the contemporary architects whose unconventional work makes London's skyline so distinctive
• Walk through the only one of London's old city gates to survive
• Take in Watling Street, that runs the exact route of a Roman road that ran from the south coast of England and right through the Roman city of Londinium
• Pop by the George and Vulture, a pub frequented Charles Dickens, who mentions it several times in his famous novel The Pickwick Papers
• View London's skyline from a terrace above the city that many visitors miss
• Experience the bustling center of one of the world's most important financial and cultural capitals


By the end of this hour-long tour, you'll have a greater appreciation for the city's architecture and those who envisioned what it might look like in the future.
Meet Your Expert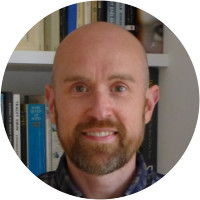 Alan was born and raised in Scotland but has spent most of his adult life in London. Having achieved an MA in Art History at Glasgow University, he worked for many years in the art world at both an international auction house and an antique dealer. He then returned to academia, achieving an MA in Classical Civilisation in 2011, and later completed a Ph.D. in which he analyzed eighteenth-century attitudes towards the ancient Roman world. Elected a Fellow of the Society of Antiquaries of Scotland in 2017, he published his first book 'Classical Caledonia' in 2020. His latest book, 'Walking the Antonine Wall', recounts his journey on foot along a Roman frontier in Scotland.