Venues

Place des Abbesses, Place du Tertre, Saint Pierre de Montmartre, Sacré-Coeur, and Bateau Lavoir
Audio Guide Details
Audio Guide Description
Embark on an unforgettable journey through the bohemian streets of Paris' Montmartre district where art, history, and culture intertwine. Art historian and Context Travel expert, Georgia Dearden, is your guide on this audio guide tour which follows in the footsteps of renowned artists like Pablo Picasso and Vincent Van Gogh, who called the area home. She'll transport you back in time to share some of the little-known stories behind this iconic Paris neighborhood.


The audio tour starts on Place des Abbesses, where Georgia will tell you about the neighborhood's transformation from a sleepy, religious, agricultural community to a battleground, before becoming a vibrant hub for artistic expression. From there, you'll wind your way through the hilly neighborhood, taking in the apartment of Vincent van Gogh and his brother Théo, Toulouse-Lautrec's house, Maison de Dalida where the French-Italian pop singer lived, and Erik Satie House. You'll follow in the footsteps of impressionists such as Pierre-August Renoir, Suzanne Valadon, and Pablo Picasso. Along the way, Georgia will point out the bronze Buste de Dalida which is believed to bring good fortune, and the Musée de Montmartre, once Suzanne Valadon's art studio. The audio guide tour concludes at the iconic Basilica of Sacré Cœur de Montmartre with its panoramic views of the city. 
On this Montmartre audio guide tour, you'll:
• Delve into the rich tapestry of Montmartre which birthed a revolution in artistic expression during the late 1800s and 1900s
• Discover the origins behind Pablo Picasso's blue period
• Quench your thirst at Montmartre's Wallace Fountain, one of many that brought free, clean drinking water to Parisians in the late 1800s
• See the residences, studios and workplaces of internationally renowned painters like Van Gogh, Toulouse-Lautrec, Pablo Picasso, Suzanne Valadon and Renoir, including the world-famous Bateau Lavoir
• Learn the history of Rue de l'Abreuvoir, one of the oldest roads in Montmartre dating back to the 1300s, and find out how it originally served as a watering hole
• Journey through time to Montmartre's transformation from a quiet community housing the city's poorest citizens to a vibrant center pulsating with creativity
• Take in Place du Tertre, a square frequented by modern street artists, Paroisse Saint-Pierre de Montmartre, a famous church, and Square Suzanne Buisson, known as the square with the statue of Saint Denis holding his head
• Retrace the steps of iconic artists like Pablo Picasso, Henri Toulouse-Lautrec and Vincent Van Gogh to their favorite hangouts
• Pop into famous (and historical) eateries like Le Grenier à Pain, Moulin de la Galette, and La Maison Rose
Unlock the secrets behind iconic landmarks and ancient streets that have witnessed Montmartre's evolution from a humble enclave for the city's impoverished to a thriving hub for artistic expression. By the end of this self-paced audio tour with Georgia, you'll have discovered ancient churches and breathtaking views of the city, and experienced the allure of this charming and historically significant neighborhood from a new vantage point.

If you'd like to indulge in a tasty snack along the tour, please know that Le Grenier à Pain is open from 7 AM to 7:30 Thursday-Sunday, and closed on Tuesday and Wednesday. Moulin de la Galette is open every day from 8 AM till midnight, and Le Maison Rose is open from noon till 10 PM on Wednesday-Sunday, but closed Monday and Tuesday. 
Meet Your Expert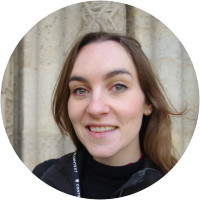 Georgia is a British art historian who has been living in Paris since 2017. She is a doctoral candidate in the history of art, and has worked as a visiting lecturer on anglophone art history programmes. She has worked for a number of art galleries and museums, is a published art historical writer, and has presented at a number of academic conferences. She has always been fascinated by the social and cultural context of history, and is passionate about sharing this with clients.
Does the audio guide include tickets to the Forum?
No, your purchase only includes the audio guide. Please book your entrance tickets directly from the venue
here
.
How do I access the audio guide and download it for offline use?
Once you complete your purchase, you will receive a voucher code for your Audio Guide. You must download the Voicemap app and enter the code. 
Install VoiceMap from the Apple App Store or Google Play
Create an account
Select Tour Codes from the menu, then select Enter Codes
Enter your Voucher Code
Select Download Now
Is closed captioning (i.e. subtitles) available?
Yes! All of our audio guides have the option to turn on closed captioning should you have difficulty hearing the expert.
How long does each event last?
Our recorded audio guides typically run for 75 minutes.
How can I share this audio guide with friends or family?
You are welcome to listen together with friends or family, but each person listening to the guide on their own device will need to purchase the audio guide individually.
How long does my access to the audio guide last?
Once you purchase an audio guide, you are welcome to listen to it as many times as you would like. Your access to a purchased audio guide does not expire.
What is your cancellation and refund policy?
Sales for recorded audio guides are final upon purchase. Please contact us at digital@contexttravel.com if you have any questions or concerns about your purchase.
Can I purchase a gift card for a friend who is traveling?
Absolutely! Gift cards can be
purchased here
. Gift cards are good for 365 days from the date of purchase.