Tour Details
About the Tour
Duration

From Half-Day to 6+ Days
Tour Description
Granada is the perfect city to explore with a personalized Context Travel tour, led by our expert guides. Filled with rich history, incredible food and wine, and ancient architecture, our guides can tailor your tour so you see your top sites during your stay.
Looking for a different experience in Spain? Take a look at our tour offerings in
Seville
or
Barcelona
.
How to Book
Whether you already have something in mind or want help crafting something entirely new, our dedicated planning specialists are on hand to make the most of your travels. Context planners, all travelers in their own right and experts in their dedicated territory, will partner with you to create an itinerary suited exactly to your needs and schedule.

When requesting a custom tour, it is useful to provide the following details in the form:
How many hours would you like the tour to last?
What are your main goals for the tour?
How long are you in town for? Do you have any flexibility with regards to the date/time of your tour?
Which sites, venues, or topics would you like to prioritize? Do you wish to include the Alhambra?
Do you have any mobility concerns?
Describe your group's interests and personality.
Once we receive your custom tour request, we'll review the details and follow up with you by email to refine your itinerary and give you final pricing. Don't worry, we will not be charging your card at this point. Your order will go into our system as pending.


Itinerary Inspiration
For those unsure of exactly what they'd like to do, here are some example Granada itineraries to awaken your curiosity:
Granada in a Day - Full Day option including Alhambra visit and historical orientation to the rest of the city
Beyond the Alhambra - explore the historic districts of the city such as the Albaícin
Architecture focused tours
Jewish Granada


FAQ

What is a private tour?
Our private tours are limited exclusively to travelers in your party. They are designed to provide a learning experience that is completely tailored to you and your traveling companions. Private tours give you more flexibility with scheduling (you decide when the walk best fits in your trip), the ability to tailor your itinerary (we'll work to match the itinerary to the interests and dynamics of your group), and more personalized time with your guide.

Where do we meet? Where does it end?
We often meet and end near the Alhambra, though we can adjust if needed. Your confirmation email will have the exact meeting point details along with a map, and 24-hour phone number for any last-minute issues.


Do your tours include the Alhambra?
It is possible to arrange a visit to the Alhambra with a Context expert. Please be aware that Alhambra tickets are difficult to get hold of especially in the peak season (May-October) so we encourage you to give us as much advance notice as possible if you wish to visit the Alhambra. In order to secure tickets, we also require the following information
Full names of each client
ages +
nationality & passport numbers
mailing address with the postal code (hotel name will do)


Last-minute requests are not impossible but may require more expensive tickets or certain flexibility with timings.

What if it's raining?
Tours operate rain or shine, but in the case of inclement weather, your expert will modify the tour so more time is spent indoors. It never hurts to be prepared; we encourage keeping an eye on the weather and bringing along an umbrella, sunscreen, water, or a hat as needed.

Is this suitable for children and / or travelers with mobility challenges?
Yes. We can adapt the route of our private tours based on the ages, needs, and interests of travelers in your party. Please share any specifics about your group's needs in the notes section of your order and we'll adjust your itinerary accordingly.
I know what I would like to do, but I don't see it in your regular offerings. Can you arrange it for me? Please contact custom@contexttravel.com with details of your request and we will be happy to look into the possibility.
Where You'll Start
Tour Experts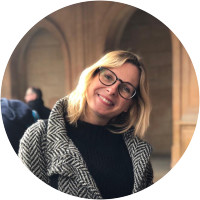 Blanca Espigares Rooney, an architect from the University of Seville (2003), specialising in heritage and urban studies, as well as Andalusi architecture. She has a Master's degree in Architecture and historic heritage (2006-2007) and a PhD from the University of Granada (2015). She has worked on restoration and value enhancement projects in the Alhambra and in historic cities, which have enabled her to acquire a deep knowledge regarding their structures and main elements. Besides this, she worked as a lecturer and researcher at the University of Granada and actively participates in the city with conferences and activities about architecture, urbanism and heritage.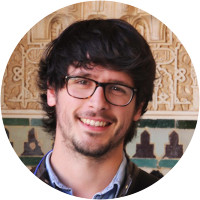 Manu is master architect by the University of Granada and master in historical construction technology by the Polytechnic University of Madrid. Born in a small town of La Mancha region, by 2008 he moved to Granada to study the architecture degree, where he also managed an urban photography course and worked as editor of an international arts and architecture magazine. After finishing in 2015 he did an overseas university program in the Yokohama National University in Japan. In 2016 he worked as architect in the architecture office of the University of Castilla La Mancha, doing several projects in cities as Toledo, Cuenca, Albacete and Ciudad Real until 2018. During this period he did a master course in historical construction technology in Madrid with a final thesis based on the islamic decorative technique of the "mocárabes". In May of 2018 he got his official guiding licence, working since then in the andalusian territory as architect and guide. He loves flamenco, traditional gastronomy, literature, history, writing essays and traditional spanish carpentry.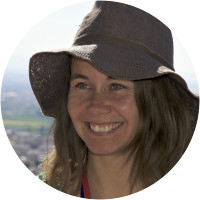 Marina González-Lamuño studied "Art History" at University of Granada, and she's specially interested in understanding the artistic techniques, the traditional building procedures and it's conservation; this led her to combine her university studies with a two years practical training in "Masonry for Heritage Conservation", finishing both studies in 2004. Then she decided to go to Italy to study Roman/Byzantine mosaic production and restoration at "Scuola del Mosaico" in Ravenna and, after coming back to Spain, she continued her postgraduate education with a Master's degree in "Architecture and historic heritage" (2008). While she was undertaking her studies, she started working as a Restoration Assistant, to later take the step towards working in Commercial Archaeology, not only in Spain, but also in the UK. She's passionate about continous learning: as a fellow of the European Leonardo Da Vinci Programme she was a Trainee in Paper and Photography Restoration in 2013; she has done several courses focusing on more specific fields as Conservation-Restoration in archaeological sites and Archaeology of Architecture. Also interested in knowing and practicing all kinds of crafts, she's now focussed on studying Ceramics, while preparing to become a Museum Curator.
Reviews can only be left by Context customers after they have completed a tour. For more information about our reviews, please see our FAQ.
Touring the Alhambra with an architect was the ideal way to understand the architecture and historical context of the great Moorish palace and fortress. Our guide, Manu, was outstanding: knowledgeable, patient and enlightened.
Jan. 21, 2020
We really enjoyed the tour and Blanca. She is delightful and well informed. We enjoyed her demonstrative aids as well.
Oct. 19, 2019