Tour Details
Tour Description
The narrow lanes and pleasant plazas of Cartagena's historic, walled center are dotted by stoic stone churches and colorful mansions—vestiges of the Colonial era that made Cartagena's Old City worthy of its title as UNESCO World Heritage Site. During this three-hour Cartagena Old City Tour, we'll dive into the heart of the city with a local historian to gain an overview of the layout and history of this place—from the Spanish colonial era to today's post-civil war awakening. Together, we'll delve into how the city's identity was informed by its unique blend of indigenous, Spanish, and African roots, its use as a major port and fortification, and what life is like today in this seaside city.
Founding the "Heroic" City
We'll begin our Cartagena Old City Tour in Plaza de Los Coches, where we'll begin by looking back to the city's founding by Pedro de Heredia in 1533. Very early on, Cartagena was chosen as the main port of South America for bringing goods to the colonies in the New World. When Spanish conquistadors arrived in Cartagena, they sought out the riches of the new world, but also to conquer the recently discovered continent—a goal made more complicated due to an indigenous settlement called Calamarí in the same location. Quickly enough, the Spanish found the riches they sought in the tombs of the Calamarí, letting them know they were not far from the mines that could make them rich.
The Dual History of Cartagena's Old City
With the discovery of gold, silver, and emeralds in their new world, the Spanish Crown grew needy for both a labor force to work the mines and protection from pirates who would be envious of the vast Spanish wealth.As we enter Plaza de Aduanas, we will discuss Cartagena's dark past as the base for the slave trade, where, ironically the UNESCO plaque is proudly displayed, declaring the city of "outstanding universal value." We continue this line of thought at the Santuary of San Pedro Claver, named after the priest known to be the "slave of the slaves" for his work defending the healthcare and spirituality of the newly arrived Aficans. We may then take a short walk along the old city wall, the ideal location to discuss how invasion attempts were thwarted by the city's excellent fortifications, known today as the eminent example of military architecture in Latin America. Gazing out to sea, we'll be able to assess the city's strategic geographical importance, as well as imagine those turbulent times.
From Inquisition to Independence
We now turn our attention on our Cartagena Old City Tour to the role of the church at Plaza Bolivar. We may take a brief look at the Gold Museum to understand the power plays between the indigenous, the Spanish Crown, and the Catholic Church. The discussion continues at the Inquisition Palace, a place of oppression and torture for the accused "non faithful," established in 1610 by the Crown and the Catholic Church as a result of their rising concerns that the African slaves and the new merchant class would start "contaminating" Catholicism in the area. After taking a look at the Cathedral, we'll bring our conversation to the topic of independence, which happened twice for the city of Cartagena. It was not until the arrival of great liberator of South America Simón Bolivar, for whom the plaza receives its name, did Cartagena maintain its liberty alongside the majority of the Colombian territory. The traders who benefitted from independence began building lavish mansions to exhibit their wealth and business exploits, which we can admire as we venture further into the city, as our conversation turns to the life and development of Colombian society. We bring our walk to a close with stops at the Adolfo Mejía Theater, Fernandez de Madrid Park, and finally Plaza San Diego to get a glimpse of modern daily life in Cartagena.


Take Aways
As we discover the city's history on our Cartagena Old City Tour, we'll also learn about its current life, culture, and traditions. We'll have an excellent grasp on the foundation, evolution, and independence of Cartagena, in addition to newfound insight into Afro-Caribbean culture in Colombia, providing a distinct lens with which to understand the city. We may stop in a museum with a small entry fee or sit for a locally brewed coffee to bring the narrative alive.
FAQ
Does this walk go inside any museums or other historic sites?
Depending on your group's interests, the guide may recommend to enter the Museum of Gold or the Inquisition Palace. Pease put any specific requests in the notes section when booking.


Why does the walk start at 8:30am or 3:30 PM?
Due to the severe heat of the city in the afternoon, we have found it to be best to run this walk in early morning or late afternoon. Other times may be available if booking a private walk.
Where You'll Start
Tour Experts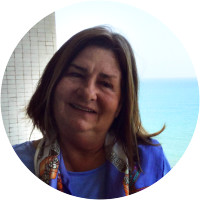 Claudia was born and raised in Cartagena and, with the exception of a few years spent in Spain and Bogotá, has lived most of her life in her native city. She has an intense love for history and culture, both of which helped shape an MA in history from the University of Cartagena. Claudia taught Columbian and world history at the University Jorde Tadeo Lozano for 7 years. She is passionate about her hometown and loves sharing her in-depth knowledge of the area with travelers as she welcomes them to Cartagena.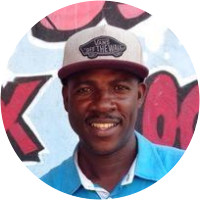 A Native of Cartagena, Alexander is a passionate community leader. Having grown up in the low-income San Francisco district, and seeing how education and learning English can improve a child's future, he founded the <a href="http://thealexrochayouthcenter.tumblr.com/">Alexander Rocha Youth Center</a> in 2012. Although a project very much in progress, the center is already making a difference in the community and is the focal point of our <a href="https://www.contexttravel.com/city/cartagena/walking-tour-details/the-barrio-visiting-and-volunteering-in-san-francisco">The Barrio visit.</a>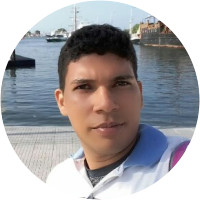 Andres enjoyed his studies in history and sharing that knowledge with others to a point that he decided to make a career of it. While doubling as a marketing manager for Cartagena tourism, he has gained a multi-dimensional view of his native culture. His unending curiosity converts to passion as he learns and teaches about different cultures, food, and music -- or as he calls it, life.
Reviews can only be left by Context customers after they have completed a tour. For more information about our reviews, please see our FAQ.
We really enjoyed our tour with Andres - he was very knowledgeable and friendly, and altered the standard tour to show us an area of town we were interested in! He finished our tour in just over 2 hours and your website says it is a 3 hour tour.
Feb. 17, 2020
Claudia is an excellent guide--great familiarity with the city, extensive knowledge, behind-the-scene stories, knowledge of lots of people in Cartagena.
Feb. 5, 2020
Our guide was friendly but he basically walked us around the town and provided very little history, context or insights unless we asked. At several points there were free tours going on and their guides were doing a much better job explaining the history of Cartagena and the relevance of each stop. He has decent information and perspective when you asked him, but as a history and context provider he was disappointing.
Jan. 2, 2020