Tour Details
Tour Description
Those looking for a distinct perspective from which to view Cartagena should consider that of one of its most illustrious residents, Nobel laureate Gabriel Garcia Marquez. Though he spent much of his adult life in Mexico, it was in Cartagena where he got his start as a writer and where he maintained his connection to Colombia through his holiday home—so much so that he's known for stating that all of his books are woven with 'loose threads' to Cartagena. But 'Gabo' is just one of Cartagena's illustrious residents. Cartagena is also home to surrealist painter Enrique Grau, and Colombian Pocahontas "Catalina," among others. On our 2.5-hour Magic and Myths in Cartagena Tour in the company of a cultural historian, we'll discover how Cartagena contributed to the magic of Gabo, Grau, and others' genesis and legacy as we follow the trails of magical realism throughout the city.
Love, Location, and Literature
Our walk begins in the Plaza San Diego, near Gabo's former home, providing a backdrop to his time in Cartagena, when the city was quite different to the cleaned-up historic area we see today. Starting to travel back in time, we will turn to the main feature in the square itself, the current Sofitel hotel, located in the former convent of Santa Clara and home to the El Coro bar, a favorite haunt of the author and the setting for his novella Of Love and Other Demons.


Back out on the street, we'll wind our way through the city center—an area also explored on our
Cartagena Old City Tour
—making our way to the offices of the
El Universal
newspaper where Gabo once worked. Here, we'll discuss how his journalism inspired his creative writing. Our pen's line will take us to the Portal de los Dulces, or "Arcade of the Scribes" from
Love in the Time of Cholera
, where character Florentino Ariza wrote love letters for the illiterate.
Pirates, Paintings and "Pocahontas"
As we go along, we will rethink some of the city's main sites, such as the cathedral, which influenced and was interpreted by Marquez, but was also bombed by Sir Francis Drake during a siege upon the city, (ironically, Cartagena was also his place of residence). We'll discuss many other interesting true or mythological stories of the city—for example, nearly 100 year after Drake's attack, Captain Henry Morgan attempted, and failed, to ransom the city. At the Contemporary Art museum of Cartagena, we'll have a chance to discuss surrealist artist Enrique Grau, who contributed to the creation of the museum through a donation of over 1,300 works of painting and sculpture. His illustrious career featured Afro-Colombian figures and led to to international recognition of Colombian artists of the 20th century. And in front of the Cartagena de Indias Film Festival office, we'll learn about Catalina, Colombia's "Pocahontas" figure, who is given out in statuettes for film festivals, much like the Oscars. At the Teatro Mejía, we may enter to see a beautiful restoration work recently completed, which includes the theater curtain and other interior elements painted by Grau, and even a seated Catalina atop the curtain as if orchestrating the theatrical performances personally.
Take Aways
By the end of our walk, like a good novel, we will have woven a narrative of not only Gabo's connections to Cartagena but also other famous characters that have contributed to the city's magic. We may stop for a local snack or enjoy some freshly squeezed juice as we ponder some of the city's street art, which will give us a firsthand taste of everyday life in this striking city.


Where You'll Start
Tour Experts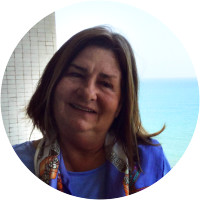 Claudia was born and raised in Cartagena and, with the exception of a few years spent in Spain and Bogotá, has lived most of her life in her native city. She has an intense love for history and culture, both of which helped shape an MA in history from the University of Cartagena. Claudia taught Columbian and world history at the University Jorde Tadeo Lozano for 7 years. She is passionate about her hometown and loves sharing her in-depth knowledge of the area with travelers as she welcomes them to Cartagena.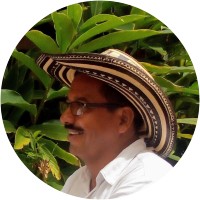 Julio has been a Gabriel García Márquez expert since birth. He was born in La Mojana, the region that inspired García Márquez (Gabo) to write "Big Mama's Funeral" and "Chronicle of a Death Foretold." He was inspired to research deeply on Colombia's history upon reading "One Hundred Years of Solitude," where he first heard of the injustices of the Banana Strike and military massacre of 1928. After earning his BA in Social Studies, he split time in Cartagena and the US to teach Spanish and Literature to young adults and visitors to his beloved city.
Reviews can only be left by Context customers after they have completed a tour. For more information about our reviews, please see our FAQ.
What went right: on-time information and regular reminders
Oct. 28, 2019
Claudia Vidal was extremely knowledgeable, offering many insights and anecdotes that even a person who knows a lot about the author will appreciate. We would highly recommend this experience to anyone visiting Cartagena.
Mar. 18, 2019
Claudia was a great tour guide. Her personal experiences with Gabo were amazing! Context tours never disappoint!
Feb. 2, 2019