Tour Details
Tour Description
Explore the stunning French Riviera on our 8-hour tour with a local expert or scholar. On this full-day tour, we will meet at your accommodation before setting off to discover there is more to the French Riviera than the glitz and glamour it is typically known for. From medieval towns to Monaco, our route will be filled with noteworthy views and discussions abound. This is an ideal tour for anyone wanting to get a deeper insight into the French Riviera region in a full-day.
Sites Visited
Nice
Eze
Monte Carlo Casino
Included
8-Hours with a PhD or MA-level guide
Private vehicle
Pick-up and drop-off
Itinerary Detail
Our day begins at your accommodation (in the French Riviera area), where we will meet our guide and set off in our private vehicle. We will then drive along the stunning coast of the French Riviera, eventually reaching the small medieval town of Eze. Known for its winding small streets, artisanal shops and perfume production, Eze is a gem along the French Riviera. After taking in the breathtaking views from the medieval village la Turbie above Eze, we will continue onto the microstate of Monaco.
Strolling through Monte Carlo's Old Town, we stop to admire the cathedral, Prince's Palace and the changing of the guard right before noon. Afterward, we visit the historical Casino, where you have the chance to try your luck at roulette and take in the glamour of this remarkable building (Please note: Entrance to the casino is €17 and your passport or ID will be required to enter). Following the world-renowned Formula-1 track, we stop by the beautiful Hotel de Paris while taking in Monte Carlo's intoxicating atmosphere and narrow alleyways. Your historian will explain the significance of the Monaco and Grimaldi Dynasty over a delicious lunch (at one's own expense). The afternoon will be filled with further exploration of the region before heading back to your accommodation.
To continue your explorations of the city with Context, we recommend our Nice Market Tour or are happy to assist in assembling a Custom & Multi-day French Riviera tour geared to your specific interests.
FAQ
What is a private tour?
Our private tours are limited exclusively to travelers in your party. They are designed to provide a learning experience that is completely tailored to you and your traveling companions. Private tours give you more flexibility with scheduling (you decide when the walk best fits in your trip), the ability to tailor your itinerary (we'll work to match the itinerary to the interests and dynamics of your group), and more personalized time with your guide.
Where do we meet? Where does it end?
We meet at your accommodation in the French Riviera. Your route may differ according to your guide. Your confirmation email will have the exact meeting point details along with a map, and 24-hour phone number for any last-minute issues.
What if it's raining?
Tours operate rain or shine, but in the case of inclement weather, your expert will modify the tour so more time is spent indoors. It never hurts to be prepared; we encourage keeping an eye on the weather and bringing along an umbrella, sunscreen, water, or a hat as needed.
Can children join this tour?
Yes, of course. We can adjust the timing and the content to be more appropriate for younger learners.
Is this tour walking intensive, and/or wheelchair accessible?
We spend much of the day in the vehicle but there will be times when we are exploring on foot so we recommend contacting us with any mobility questions; we will be happy to advise if the itinerary will be appropriate for you or propose modifications where necessary. Please feel free to contact us.
Tour Experts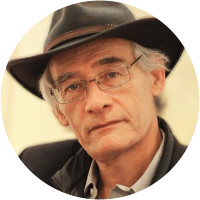 Jacques is a French Riviera specialist and a French government-licensed guide. He holds an art history degree from the École du Louvre in Paris. Jacques taught as an art history teacher at Nice University for many years and continues to teach at the Insitut International de Cannes. He also worked at the US embassy in Paris where he guided many VIP visitors around France. As a tourism professional of the French Riviera, Jacques has committed himself to a high level of service to ensure people continue to come to the region. Jacques is also a member of the French Riviera Cruise Club.