Tour Details
Tour Description
Intrigued by the archaeological splendor of Crete? We've drafted a special itinerary for those looking for a deep dive into the must-see archaeological destination in Crete: Knossos Palace. In the company of a local expert, we'll take our time exploring the majestic Bronze Age site of Knossos, the Archaeological Museum, and the charming city center of Heraklion. This tour is a wonderful introduction for those looking to explore Crete through an archaeological lens while getting a taste for the history and mythology of cultural Crete.
Sites Visited
Knossos Palace
Heraklion Archaeological Museum
Heraklion city center (St. Minas Cathedral, St. Titus Church, Lion Square)
Open-air market in Heraklion
Included
Private expert guide
Private vehicle and driver
Tickets
In the morning, we'll join our expert guide in Heraklion and take a short drive to the Palace of Knossos, a site that spans two ancient cultures: Minoan and Mycenaean. Centuries before Plato and Sophocles roamed Athens, an earlier culture thrived on Bronze Age Crete, Greece's largest island. As we explore and discuss this unique site, we will learn about its foundations, the society that supported it, the world of the Bronze Age Mediterranean in which it flourished, and the story behind the original throne of "Minos". Leaving Knossos behind, we will drive back to Heraklion to spend some time in one of the most important museums in Greece, the Heraklion Archaeological Museum. It houses representative artifacts from all the periods of Cretan prehistory and history, covering a chronological span of over 5,500 years from the Neolithic period to Roman times. The singularly important Minoan collection contains unique examples of Minoan art, many of them true masterpieces.
After a morning well-spent in and around Knossos, we'll take a break for lunch and a treat such as a Greek coffee and the renowned bougatsa pastry from Heraklion. Fueled by tasty Greek food, we'll spend the last part of our tour exploring the charming capital of Crete, Heraklion, and its numerous historical monuments. From the cathedral of St. Minas to the impressive church of St. Titus to Lion Square and the local open-air market, our expert guide will add color and context to this historical center and architecture dating from the Venetian period (14th-17th century).

At the end of our full-day Knossos and Heraklion itinerary, we will have stitched together an Ancient Minoan, and Greek historical narrative. After having ventured together across a number of sites relevant to the archaeological identity of Crete, our full-day tour will leave us with a deeper sense of the importance of this small Greek island.

NOTE: This tour includes a car service that will pick you up at your accommodation. We are able to accommodate tours starting from Heraklion, Chania or Elounda. Please tell us your hotel or apartment address in the 'Additional Details' box while adding the tour to your shopping cart and select the correct car service at check out.
FAQ
Is lunch included in this full-day tour?
Your expert guide will select a typical local restaurant for lunch but the cost of the meal is not included in the tour price.
What happens if it's raining?
Our tours happen rain or shine. Our guides are great at adapting their route during changes in weather.
Is this walk suitable for families?
Although it might be a long day for younger learners, we can adapt this day to be more geared towards families.
Where do we meet? Where does the tour end?
The tour starts and ends at your accommodation in Heraklion. Due to the geography of the island, please let us know where you are staying so we can arrange a transfer for you.
Our hotel is in Crete, but not in Heraklion, can we take this tour?
We are able to accommodate transportation from Heraklion, and Chania or Elounda for an extra cost. You can select the correct car service at check out and leave us a note about your hotel address.

If we are staying in Heraklion are we able to start this tour earlier?
Yes, from Heraklion we can start the tour at 9 am if you'd like to begin earlier. If you'd like to do the 9 am start time you can write it in your order details and we'll make that change noting you are staying in Heraklion.
Is this tour walking intensive, and/or wheelchair accessible?
This tour is accessible for wheelchairs and people with mobility issues with some adjustments. A part of the Knossos Palace Archeological Site is not accessible to wheelchairs, but the Archaeological Museum is completely accessible. If you have mobility concerns, please feel free to contact us after booking so we can coordinate with our guides to accommodate your needs.
What other tours do you offer in Crete?
Where You'll Start
Tour Experts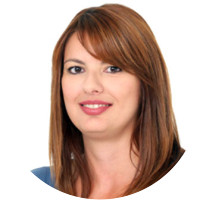 Dimitra is an archaeologist with a Master's degree focused on Minoan civilization. She is originally from Athens and moved to Crete to study it's wealth of history. She has been working both as a licensed guide and archaeologist for more than 15 years. She has excavated in sites all over Greece such as Akrotiri in Santorini, the Temple of Apollo in the Cyclades, Minoan settlements & tombs around Knossos & Phaistos, a Hellenistic town and a Roman cemetery in Crete, a Neolithic setllement in Northern Greece and Geometric & Roman finds in Athens. She represented the University of Athens in a post graduate seminar in the International Olympic Academy at Olympia where she gave a lecture on the Ancient Olympic Games to students from all over the world. As a tourist guide she has been giving tours to students from schools, colleges and universities from USA, Great Britain & Australia as well as individual travelers, families & VIPs including ambassadors & the Vice-president of China. She has appeared as a specialised Minoan archaeologist in two documentaries about the Minoan civilization on Travel Channel and History Channel.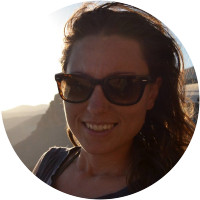 Tatiana is an archaeologist with a PhD focused on underwater archaeology. She moved from her native Athens to the island of Crete in order to pursue her studies and has never left! She works both as a licensed cultural guide and as a working archaeologist. She has excavated in numerous locations across the island.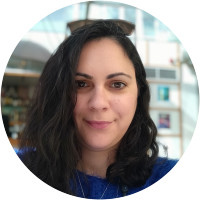 Antonia was born and raised on the island of Crete. As an undergraduate student, she majored in Archaeology at the National University of Athens. She received her Master's Degree in Archaeology from the Université Catholique de Louvain in Belgium, and is currently is working on her PhD at the National University of Athens. Her PhD specializes in the Minoan civilization. Antonia has participated in a great number of archaeological excavations in Crete, as well as on continental Greece. For the past few years Antonia has worked as a licensed tourist guide, leading guided tours on Crete, with a variety of topics and focuses, like history, archaeology, local traditions, and wine tastings. She is always willing to share her passion and expertise about her native island with her guests!
Reviews can only be left by Context customers after they have completed a tour. For more information about our reviews, please see our FAQ.
We had an incredible experience with Dimitra at Knossos Palace and the archaeological museum in Heraklion. She was friendly, spoke English exceptionally well, and had incomparable breadth and depth of historical knowledge. Dimitra taught us so much about ancient Minoan culture, art, and architecture, and tailored her tour specifically to our interests. She brought knowledge of the ancient civilization and the excavation process from her personal experience as an archaeologist, which provided us with a unique and thorough understanding of the site. Dimitra guided us smoothly and efficiently through the palace ruins and museum to focus on the most interesting and important features. She made our trip to Knossos and Heraklion incredible, and I would recommend this tour to everyone!
Apr. 20, 2023
Dmitra was wonderful and did a terrific job. There was a general strike and the museum was not open so she came up with several options for a Plan B and we had a great day. She was incredibly knowledgeable as well as energetic and interesting. We thoroughly enjoyed the palace of Knossos and she made it come to life. Yanni our driver was also great. This was a highlight of our trip to Greece
Mar. 16, 2023
Extremely knowledgeable and personable
Jun. 10, 2022