Tour Details
Tour Description
When looking at a map of Milan, the city's streets extend out like spider web from the Duomo, the center point of Milan. With its impressively adorned marble facade and thousands of statues and pinnacles scraping the sky, this Gothic cathedral is an incredible architectural and artistic feat. On this 2-hour Duomo rooftops terrace tour, we will visit three sections of the Duomo with a local art historian or expert. We'll potter on the rooftop, stroll through the main cathedral interior, and peep into the archaeological ruins underground. This tour is ideal for those with a keen interest in digging deeper into the history of this inspiring structure and peeling back the layers of the Duomo's history.
On Top of the Duomo
We'll begin our Duomo Rooftop Tour by heading to the top of the Duomo by elevator to admire Milan's panorama from over 150 feet up. In our small group, we will be able to tip-toe on top of centuries of history and work our way around the entirety of the marble rooftop. Our guide will explain the meanings behind the sculptures and gargoyles that are within touching distance. We'll meander our way around spires and through numerous ornate arches as we marvel at the sights around us; meanwhile, the elevation will allow for our guide to comment on the skyline surrounding us and place greater Milan in perspective. This is a highlight of any trip to Milan and we will be fortunate enough to have expert-led commentary throughout the terrace visit, which will ensure we leave Milan's skies knowing more than when we ascended the elevator together.
Exploring the Duomo Interior
Once we're back on solid ground, we'll proceed on our Duomo Rooftop Tour to the inside of the Duomo as we learn more about the (long) history behind this formidable structure. The project took nearly 600 years to complete with various architectural leaders managing this enormous project, leading to a variety of different styles and sensibilities being visible on its edifice. We'll explore the Duomo together, with our guide pointing out various architectural characteristics and design methods that could go unnoticed to the untrained eye. We may pop down under the Roman archaeological crypt of the cathedral to see the ruins that lay directly below this mighty structure.
Take Aways
At the end of our Duomo Rooftop Tour, we will leave one other with a heightened appreciation, both conceptual and physical, of the Duomo. We will gain a comprehensive understanding of the complicated craftship that went into the building of this giant structure. Our goal is for participants to come away with a more robust knowledge of Milan's most celebrated structure and enjoy the dynamic rooftop views.
Miscellany
Please Note: Due to ongoing repair work, elevators used for the descent from the terraces may be closed, in which case visitors will descend on foot.
FAQ
Where does it start and where does it end?
We start and end near the Duomo (including going inside).


I'm scared of heights. Would you recommend this tour?
If you have any sense of vertigo, we would not recommend this tour for you. We will spend over 45 minutes on the rooftop of the Duomo which is about 150 ft high.


Do we go in a lift or via the stairs to the rooftop?
We will go in a lift. There are two lifts which access the rooftop.


Is this tour walking intensive, and/or wheelchair accessible?
It is not a walking intensive tour however the rooftop has narrow passageways and would not be suitable for wheelchairs. Feel free to email us for other possible options.


Is this tour appropriate for children?
This walk is not a part of our official family program. That said, we may be able to arrange a visit with a family-friendly guide. Please contact us.


I've heard the lines are long for the Duomo. Can we skip them?
We purchase skip-the-line tickets however everyone must go through the same security procedures. This can sometimes take longer than expected however having skip-the-line tickets can speed the process up.


What if it's raining?
Tours operate rain or shine, but in the case of inclement weather, your guide will modify the tour so more time is spent indoors. It never hurts to have an umbrella on hand.
Where You'll Start
Tour Experts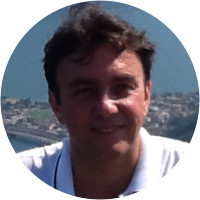 After obtaining a University Degree in Foreign Languages and Literatures in 1995, Mirko started leading tours in the Lombardy area. He enjoys guiding groups within the Milan city center and further afield, such as the Como region. Most recently, he enjoys taking guests to the new district of Porta Nuova and showing Milan's sustainable side and contemporary architects displaying their designs there. He speaks fluent English, Spanish and Portuguese.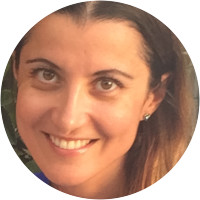 Giulia was born and raised in Milan, where she graduated in art history and post graduated in higher education at the Università Cattolica. She has experience in teaching, in cultural and leisure events and tourism and is a passionate traveler herself. She loves to meet people from all over the world and to make them experience the real atmosphere of her city in every aspect of it: from the old centre to the Porta Ticinese and Navigli district, to the charming narrow streets and shops of the glamorous Brera district, to the vibrant atmosphere of the new buildings in Porta Nuova and finally the traditional dishes to contemporary food creations. Her main goal is always the same: to make her clients feel Milanese for a day.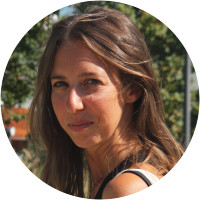 Veronica is an art history graduate from Milan. During her studies at university, she fell in love with the city, discovering hidden corners and unexpected treasures that lie within it. After becoming an official tour guide she decided to transform this passion into her full time job to show visitors inside the Italian and Milanese culture and art, history and traditions. She enjoys the secret gems and small details and focuses on entertaining stories to embellish her narrative, to live a unique experience in Milan.
Reviews can only be left by Context customers after they have completed a tour. For more information about our reviews, please see our FAQ.
Laura provided an amazing and in-depth tour can in the 2 hours we visited the Duomo's rooftop, the cathedral itself, and the underground excavations. She was incredible knowledgeable and we had a totally wonderful time!
Jul. 10, 2019
Katerina was a wonderful guide whom we would all highly recommend to all. As with our guide here in Athens who was very impressive, so was Katerina for our Duomo tour. Our 2 guides this trip with Context have been excellent. Thank you.
Jun. 28, 2019
Giulia was amazing! Her love of the city and its history really showed through during the tour. She took great pictures of us, and we had an incredible experience. Wish she could be our guide all the time!
May. 19, 2019