Tour Details
Tour Description
For centuries, people have been drawn to the tranquil beauty that Lake Como offers. First, prehistoric humans roamed Como's hills, followed by Roman settlers ordered by Caesar. During the Middle Ages and the rise of Christianity, mighty dynasties rose to domination in the area before Lake Como became the stomping grounds for poets and musicians in the 19th and 20th centuries. Today, while Como is known primarily as a luxurious getaway and home for high profile celebrities, the city has a rich history replete with a wide variety of architecture, from Gothic to rationalist. On this Half Day Lake Como Excursion —in the company of a local Como expert—we will delve into the historically rich past of this lush expanse over the course of about four hours, visiting Como town, walking along the lakeside, riding up to a scenic viewpoint by funicular, and stopping by any number of other charming locations relevant to the tale of Lake Como.
From Milan to Lake Como…
Meeting our guide at Milan's Cadorna train station, we'll take the train out to Como together and get started with a bit of background information about the region itself and how we will spend our Half Day Lake Como Excursion. We may introduce the Roman relationship with Lake Como as an extravagant natural setting in foothills of the Alps, the meteorology of the region (e.g. subtropical climate), its association with the silk trade, and, more so today, grand villas. We'll talk through our plan and logistics while we get to know each other on the hour ride to Lake Como.
Como and the Cathedral
Upon arrival in Como, we'll begin our Half Day Lake Como Excursion by taking some time to stroll through the quaint, charming streets of the city center. We'll pop into Como Cathedral as we discuss its construction and styling—it's sometimes described as the last Gothic cathedral built in Italy. We might stop at two attractive Piazze: Piazza Cavour and the lovely Piazza Volta (named in honor of the Como-born Alessandro Volta, the battery inventor). As we continue to walk through Como, we'll spend some time reviewing the city's medieval past, particularly as some of the fortification walls are still possible to view.
Admiring the Lake
The route of our Half Day Lake Como Excursion may take a couple of different directions at this point, both with an aim to admire Lake Como from an alternate viewpoint. We may decide to walk along the western lakeside towards some of Lake Como's well known villas, such as Villa Olmo and Villa Geno. As we stroll along the edge of the sparkling blue water, our guide might talk about the evolution of the region from its prehistoric routes to its glitzy, yet traditionally charming, current state. Alternatively, we may take the funicular up to Brunate, a small village overlooking Lake Como. From this outlook, our guide will be able to address the stunning views that lay before us, such as the old silk fields nestled in the Alps.
Take Aways
At the end of our 4 hours together, our guide will leave us to explore Como at our own leisure for the remainder of the day. We'll leave each other with a better understanding of the charming and iconic body of water that has played such a critical role in the region's history and identity, as well as an extensive overview of the historic city's development. With our itinerary of key sites, along with the freedom to keep exploring on your own after we leave one another, we're sure you'll be impressed with this lush setting.
FAQ
Where do we meet? Where does it end?
We meet at a train station in Milan. We end at Lake Como, so you can explore at your own leisure and find lunch after the tour. Your confirmation email will have the exact details.


How long is the train ride?
The train journey lasts about one hour each way.


Is the train included in the price?
No, you will need to purchase your tickets at the station. Your guide can help you.


Can we stay in Como at the end of our tour together?
Yes, we encourage you to do so.
Where You'll Start
Tour Experts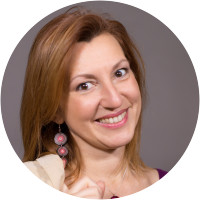 Originally from Bulgaria, Katerina has been living in Italy for 25 years now, 20 of which in Milan. Her degrees are MSc in Economics at the University of Economics of Varna (Bulgaria) followed by a BA in Linguistic and Cultural Mediation at UNIMI (University of Milan) several years later. After a short experience in finance, she changed work field following her true passion for languages, culture and communication and worked for about 10 years as an interpreter and translator. In the meanwhile she cultivated her multitude of interests in travelling, art, history, tradition, italian food and wine, which led her to new studies and eventually to a new profession. Now she is specialized in art and history tours in Milan with particular focus on Leonardo da Vinci and Italian Renaissance art. She offers also guided wine tastings, food tours -- not only in Milan, but also combined with truffle hunting in Piedmont -- and tours from Milan to the greater Italian lakes, including guided cruises mainly along the beautiful Lake Como,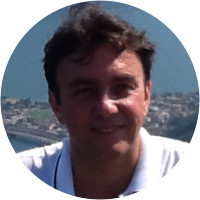 After obtaining a University Degree in Foreign Languages and Literatures in 1995, Mirko started leading tours in the Lombardy area. He enjoys guiding groups within the Milan city center and further afield, such as the Como region. Most recently, he enjoys taking guests to the new district of Porta Nuova and showing Milan's sustainable side and contemporary architects displaying their designs there. He speaks fluent English, Spanish and Portuguese.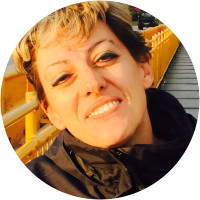 Laura was born in Turin, where she studied history of art, but moved to Milan in 2002. Since her graduation, she has accumulated a long experience as an art consultant and registrar in a few museums in Turin, as well as an expertise as a local Milan guide. She speaks both English and French and she loves to meet people from all over the world, loving mostly exchanges about art, but also about traditions, day by day life, cuisine and local recipes. She loves to be both an experienced and friendly local ambassador of Milan and Como area for her travellers.