Tour Details
Photos & Highlights
A scholarly day in Naples, or beyond, designed around your interests and your guide's expertise
Led by Fiorella, Art Historian
Pompeii Archaeological Site, Naples Archaeological Museum, Capodimonte Museum, Herculaneum Archaeological Site, Cappella Sansevero, Santa Chiara, and Oplontis Archaeological Site
Tour Description
Meet Fiorella, your guide to the art and history of Naples.
Fiorella was born and brought up surrounded by the art and history of her beloved city of Naples. Having obtained a Bachelor's degree in modern languages and art history from the Orientale University in Naples, she went on to do a post-graduate course in foreign language didactics from La Sapienza University in Rome, followed by courses on the history of art at the Italian Institute of Philosophical Studies in Naples.
Fiorella's love of meeting people and enthusiasm for her work has led her to collaborate with Progetto Museo association and found the cultural association Fine Arts. Fine Arts kept itself busy between 2002 and 2008 organizing cultural meetings and promoting events for foreign visitors in collaboration with the administrative councils of Naples, the Province of Naples, the Campania Region and the Councils of Marino (Rome) and Velletri (Rome). She also worked for ten years at the American Navy Base in Naples and has worked with the museums of Capodimonte, Duca di Martina, San Martino, Villa Pignatelli in Naples as a member of the Educational Section. Since 2005, she has been and still is the point of reference in Naples and Campania for the UK based Heritage Group Travel for the DFAS Societies, Benefactors and Patrons of the major museums in the UK, as well as the tour guide of choice for some of her favorite museums such as the Sansevero Chapel and is regularly called to lead private tours.
She has worked with Context ever since the company first introduced tours in Naples. Fiorella's in-depth knowledge of and passion for her native city's art, history and culture makes her a natural choice for personalized tours. Her particular favorites include the historical center with its underground city, the Sansevero Chapel, the Baroque churches and cloisters and San Martino Museum near her place of birth. She especially delights in showing visitors certain secret spots of intense beauty that only the locals know. Fiorella knows the history and archaeology of the region inside out and her tours of Pompeii, Herculaneum, Oplontis and the Archaeological Museum are in constant demand. For years she has been working with cultural associations within the city and creating tailor-made itineraries for private visits and showings. Having been a representative of the educational section of the main museums in Naples, she loves working with families and is a favorite with the children.
Fiorella holds a Tour Companion Licence for tours in English and Spanish in Europe plus a Tour Guide Licence for tours in English and Spanish. As an expert in Art History and Foreign Language Didactics, she led a two-year PON course at the Liceo Artistico S.S. Apostoli in Naples, which aimed to generate the students' interest in becoming English-speaking tour guides.
Although Fiorella has featured in various magazines and blogs and even some television programs, she far prefers to share her knowledge and passion for Naples in person rather than in front of a camera. She wrote the book "Naples in 3 Days, a Guide to Neapolitan Art and Architecture", which was published in 2012 by Creative Educational Press Ltd. She has also written for the Fodor's Travel Guides in various sections of the 6th, 7th, and 8th editions. On a more personal level, Fiorella adores the food and wine of the region and most of her itineraries will include at least a quick sampling of her favorite Neapolitan specialties.
When not showing people around her city, Fiorella spends her time traveling extensively and immersing herself in the cultural and artistic delights of the major cities of the world. She also adores swimming and relaxing on off-the-beaten-track beaches in exotic locations. As a lover of the Spanish language, Spanish speaking countries tend to be high on her list of favorite destinations.
Languages: Italian, English and Spanish
Itinerary Inspiration
For those unsure of exactly what they'd like to do (beyond exploring Pompeii!), below are a few examples of Fiorella's favorite spots in Naples, and beyond, to ignite your imagination.
The discovery of Naples starts at the top of the Vomero hill where the Carthusian monastery San Martino has been standing since the 14th century. Together with Fiorella, explore this stunning complex that dominates the Bay of Naples with its church, gardens, and cloisters. Redesigned in the 1600s under the genius of artists coming out of Italian Baroque and Naturalism movements, learn how it came to house one of the most important collections of Neapolitan nativity scenes in the world.
Explore the quiet sanctuary of the Cloister of Santa Chiara. Part of the royal monastery created on the orders of King Robert of Anjou and his wife to house the secluded Clare nuns, it stands out for its breathtaking majolica tiles created by D. A. Vaccaro in the 18th century.
Sansevero Chapel is a small, privately-owned museum housing some of the finest sculptural masterpieces of the Baroque period, including the Veiled Christ by Giuseppe Sanmartino. During your time at the Masonic temple, Fiorella will unravel the intricate symbolism of the space and works of art commission by the Prince of Sansevero, Raimondo di Sangro. In this family chapel, Raimondo expressed his many interests, including art, history, Freemasonry, esotericism as well as medicinal studies.
FAQ
What is included in a Private Guide itinerary?
Cost details will vary based on the exact itinerary, but all of our Private Guide itineraries include the cost of your time with your private guide. In many cases, vehicle/transportation costs, select meals, and site entrances may also be included. Your Context planning specialist will confirm exactly what is included in your personal itinerary before charging your credit card. Accommodation is not included.
What information do you need from me in order to build a Private Guide itinerary?
Our planning experts will be in touch to help you build your perfect itinerary, but in general, try to include the following pieces of information in your request form:
How many days would you like the itinerary to be?
Do you have specific goals for your trip?
Which sites and venues would you like to prioritize? Do you want to just pass by or explore inside as well?
Do you have any mobility concerns?
Who are you traveling with? What are their ages and interests?
How much does a Private Guide itinerary cost?
Pricing will vary by itinerary. Your planning expert will provide an itinerary and pricing proposal for your trip before confirming your itinerary and charging your credit card.
How does a Private Guide booking process work?
Once you submit your private guide request, we'll get in touch via email or phone to review your ideas and finalize an itinerary. We only charge your credit card once all details have been confirmed.
Is this suitable for children and / or travelers with mobility challenges?
Yes. We can adapt the itinerary based on the ages, needs, and interests of travelers in your party.
Where You'll Start
Tour Experts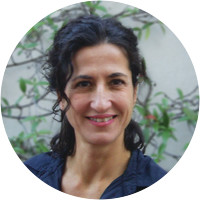 Fiorella holds a degree in modern languages and is a specialist in art history and Neapolitan culture and art. She works with the main museums of Naples as a member of the educational section. She also works closely with Friends of Museums from abroad. Fiorella is the president of the cultural association "Fine Arts", which organizes private viewings and themed routes in Naples and Campania, cocktails and visits to stately homes and private collections. She writes about Naples and Campania for a popular guide book and is the author of a guide to Neapolitan art and architecture called "Naples in 3 days".