Tour Details
Tour Description
Meet Fiorella, your Naples private guide to the art and history of this southern Italian city.


Fiorella was born and raised surrounded by the art and history of her beloved city of Naples. Having obtained a Bachelor's degree in modern languages and art history from the Orientale University in Naples, she went on to do a postgraduate study in both foreign languages and Art History in Rome and Naples. Her love of meeting people and sharing her passion for art lead her to become a museum educator and then a tour guide. She has been involved in several important cultural associations in Italy and has worked as part of the education department in notable museums including Capodimonte and San Martino in Naples, among others. She is the author of guidebooks and more recently, a children's book about life in Pompeii.
Fiorella has worked with Context ever since the company first introduced tours in Naples. Fiorella's in-depth knowledge of and passion for her native city's art, history, and culture makes her a natural choice for private tours. She especially delights in showing visitors certain secret spots of intense beauty known only to locals. Fiorella knows the history and archaeology of the region inside out and her tours of Pompeii, Herculaneum, Oplontis and the Archaeological Museum are in constant demand. She loves working with families and is a favorite with children and teens. A frequent contributor to guide books, magazines, and even television broadcasts, Fiorella prefers to share her knowledge in person on intimate tours of Naples. Fiorella adores the food and wine of the region and most of her itineraries will include at least a quick sampling of her favorite Neapolitan specialties.
Languages: Italian, English, and Spanish
An Inspired Itinerary - Beautiful Naples
Join Fiorella on her favorite route through Naples on this full-day exploration that starts in the bustling "centro storico" and ends with a drive through the panoramic neighborhoods of Naples with sweeping views of the bay and Vesuvius beyond, highlighted by a tour of the Sansevero Chapel, and of course, pizza for lunch!
With a full day ahead of us, we will meet Fiorella in the narrow streets of the historic district where evidence of Neapolis, the Greek city founded here in the middle of the 7th century BC, mixes with modern-day Italian life. Away from the busy streets, we will explore the quiet sanctuary of the Cloister of Santa Chiara. Part of the royal monastery created on the orders of King Robert of Anjou and his wife to house cloistered nuns, it stands out for its breathtaking majolica tiles created by D. A. Vaccaro in the 18th century.
Fueled by espresso and perhaps a tasty local pastry, we will continue our exploration at the Sansevero Chapel, a small, privately-owned museum housing some of the finest sculptural masterpieces of the Baroque period, including the Veiled Christ by Giuseppe Sanmartino. Fiorella will unravel the intricate symbolism of the space and works of art commissioned by the Prince of Sansevero, Raimondo di Sangro.
At lunchtime, Fiorella will share the history behind the famed Neapolitan Pizza with the option for a hands-on pizza-making experience in a local restaurant.

Before heading up to the hills above the city by car, we will first go underground beneath the church of San Lorenzo Maggiore. Here we will see the layers of history upon which contemporary Naples is built - from Greek to Roman constructions to ancient roads and city streets.
The afternoon will reward us with the views Naples is known for from atop Vomero hill where the Carthusian monastery San Martino has been standing since the 14th century. If time and schedules allow, we may go inside to explore the collections within, otherwise, we will enjoy the views from this vantage point over the Bay of Naples. We'll explore the elegant neighborhoods of Posillipo and Chiaia (made famous by Elena Ferrante's novels) with a stop for refreshments along the way. The day ends back in the center of Naples where we will come away with a deep understanding of the history of this unique city and an appreciation for life alongside the beautiful bay.
FAQ
What is included in the itinerary?
Naples Private Guide itineraries include the cost of your time with your private guide and usually include museum or monument entrance tickets. Lunch and refreshments are at your expense. Accommodation is not included. Private car service is included for the afternoon portion of the tour.
What if I want a different itinerary with this expert?
The published itinerary represents Fiorella's favorite way to visit Naples. If you are looking for something different, feel free to check out our other Naples offerings!
Is this suitable for children and/or travelers with mobility challenges?
Yes. We can adapt the itinerary based on the ages and levels of mobility in your party.
Where You'll Start
Tour Experts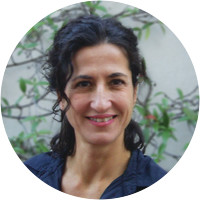 Fiorella Squillante holds a degree in modern languages and art history, a post-graduate course in education and didactics and a master-course in exhibition design. She is a specialist in art history and Neapolitan culture and art. She works with the main museums of Naples as a member of the education department. She also works closely with Friends of Museums from abroad. Fiorella is the president of the cultural association "Fine Arts", which organizes private viewings and themed routes in Naples and Campania, and visits to stately homes and private collections. She writes about Naples and Campania for a popular guide book and is the author of "Naples in 3 Days", a guide to Neapolitan art and architecture and a book for children and teenagers called "Pompeii is Cool!".
Reviews can only be left by Context customers after they have completed a tour. For more information about our reviews, please see our FAQ.
Fiorella showed me many treasures of Naples and it was a breathtakingly wonderful day.
Apr. 12, 2023
This tour was fantastic! Fiorella is a wonderful guide who is knowledgeable, friendly, and accommodating. We felt like family when with her and she showed us some amazing parts of Naples. We loved everything about this tour!
Jun. 28, 2022