Tour Details
Tour Description
Need help planning a trip to Osaka? We can work with you to create a custom tour to suit your interests, from an excursion to an alternative food tour, drawing on our network of expert Osaka tour guides. From a half-day to a full-day or longer, our planning specialists have your trip covered.
How to Book
Whether you already have something in mind or want help crafting something entirely new, our dedicated planning specialists are on hand to make the most of your travels. Context planners, all travelers in their own right and experts in their dedicated territory, will partner with you to create an itinerary suited exactly to your needs and schedule.
Fill out our
CUSTOM FORM
or email us at custom@contexttravel.com to get started.
Itinerary Inspiration
For those unsure of exactly what they'd like to do, below is a sampling of
example
Osaka itineraries to ignite your imagination. Another good place to start brainstorming is with a perusal of our other
Osaka tour options
:
Exploration of offbeat shrines and temples in and around Osaka, discussing religion and faith
Taste your way through Osaka's evening food and drink scene in various local haunts
Adventure through the hills just outside the city center on a more active excursion
FAQ
What is included in the Custom itinerary of Osaka?
Cost details will vary based on the exact itinerary, but all of our Custom itineraries include the cost of your private guide. In many cases, vehicle/transportation costs, select meals, and site entrances may also be included. Your Context planning specialist will confirm exactly what is included in your personal itinerary before charging your credit card. Accommodation is not included.
What information do you need from me in order to build a custom itinerary?
Our planning experts will be in touch to help you build your perfect tour, but in general, try to include the following pieces of information in your custom request form:
How many days would you like the tour to be?
Do you have specific goals for your trip?
Which sites and venues would you like to prioritize? Do you want to just pass by or explore inside as well?
Do you have any mobility concerns?
Who are you traveling with? What are their ages and interests?
How much does the Custom & Multi-Day tour cost?
Pricing will vary by itinerary. Your planning expert will provide an itinerary and pricing proposal for your trip before confirming your Context tour and charging your credit card.
How does the Custom & Multi-Day bookings process work?
Once you submit your custom request form (or contact us at
custom@contexttravel.com
), we'll get in touch via email or phone to review your ideas and finalize an itinerary. We only charge your credit card once all details have been confirmed.
Is this suitable for children and / or travelers with mobility challenges?
Yes. We can adapt the route based on the ages, needs, and interests of travelers in your party.
Is it okay to tip my docent in Japan?
Context clients generally tip anywhere from 10-25% of the purchase price of a personal service such as this, depending on the quality of the experience and their tipping habits.
Where You'll Start
Tour Experts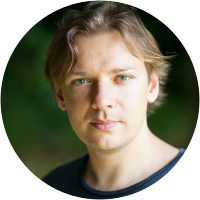 Marcin is a Ph.D. Candidate at Kyoto University, studying Folk culture in contemporary Japan. Marcin's Ph.D. studies are a continuation of his Master's thesis, which he also completed in Kyoto. His studies focus on the depictions of Japanese Otherworld and Buddhist Hell, but also usage of these traditional motifs in present-day Japan's culture and tourism. Marcin also has a Master's degree in Japanese studies from Warsaw University, Poland. There he specialized in Japanese folklore, ancient culture, religion and history. He published the book "Kaidan - Strange Tales of Edo period" (2011) in which he introduces Japanese ghosts, demons and goblins in 17th- &18th-century Japan. He also co-wrote "The Culture of Heian Imperial Court" (2008) about Japanese culture in the 9th and 10th Centuries. Marcin has a wide knowledge of Japan, starting from its history, folklore and religion, through its politics and post-war society, but also has an interest in its more recent pop culture and media. In his spare time, he enjoys walking through Kyoto's streets rediscovering its secrets. He also enjoys riding his Kawasaki motorcycle, seeking more remote and hidden places. Marcin has lived in Kyoto for 10 years.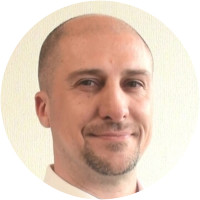 Marc enjoys sharing the understanding and the knowledge he gained over the years regarding traditional Japanese culture, Kyoto's historical patrimony and Japanese society. After earning a Ph.D. in Biology and an M.A. in Psychology in France, he originally came here to carry out postdoctoral research. Passionate about the history and culture of Japan since childhood, he decided to stay in order to learn and study it first-hand. He studied several crafts including pottery, as well as several traditional arts. After many years of study, Marc was granted a 2nd degree tea ceremony instructor certificate and obtained a 3rd Dan in iaido. He also became a connoisseur of Japanese antiquities which he has been collecting and restoring. Before settling in Kyoto, he lived all around the country, in the countryside as well as in large cities for more than 12 years; a rich experience providing him with a wide knowledge of Japan. Marc now lives in the heart of Kyoto with his family in a 100-year- old house he is currently restoring. He presently teaches foreign languages at university and instructs local Japanese guides.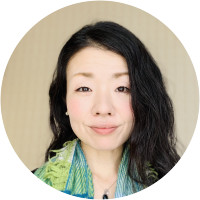 Kana holds a BA in English from Doshisha University, Kyoto, and another BA in Japanese Classical and Traditional Arts from Kyoto University of Arts and Design. She is also qualified as a tea master from Urasenke school of tea ceremony and is an experienced government-licensed guide. Kana has been studying and working in Kyoto since 2000. During her leisure time, she loves playing the shamisen, and she also performs Kyogen (Japanese 650-year-old UNESCO heritage theater). The Zen Buddhist philosophy, "live in the moment", has been always the core tenet of her life.