Tour Details
Tour Description
America's Gilded Age: a period of rapid economic growth, industrialization, economic, and social change spanning the decades between 1870 and 1900. A period characterized by the first Transcontinental Railway and the Titanic, prohibition, labor reform, and women's suffrage. A period during which the uppermost echelons of Philadelphia's society—the so-called Robber Barons and their wealthy peers—celebrated and promoted their financial success by building palatial residences, hospitals, museums, libraries, and even opera houses. On this three-hour Philadelphia Architecture Tour, we will explore the extravagant lifestyles of the period's elite through visits to some of the most magnificent
iconic architecture of Philadelphia
between Broad Street and Rittenhouse Square, touching on social, residential, and commercial buildings.
Philadelphia Architecture Tour
Beginning in the shadow of the marble façade of Girard Bank (now home to the Ritz Carlton Hotel) and the opulent exterior of City Hall, we will consider the classical roots of American 19th-century architecture and discuss how these forms reflected the social and political atmosphere of the day. We will also discuss how American architects like Frank Furness, George Hewitt, John Fraser, and Wilson Eyre looked to both antiquity and the French Renaissance in order to emulate the ideas of grandeur, perfection, and idealism promoted during both of those time periods. Depending on the interests of the group, other buildings may include The Union League, Wetherill Mansion (now the Philadelphia Art Alliance), and the Van Rensselaer Mansion (now Anthropologie's flagship store).
Collecting in the Gilded Age
No grand structure was complete without proper architectural ornament and interior decoration. While visiting these historic sites on our Gilded Age Philadelphia Architecture Tour, we'll consider the rise of some of America's most powerful and influential collectors of art. We'll also discuss Freeman's—America's oldest auction house, formed in 1805 – and the development of the art market in 19th century America.
Changing Times
In addition to encountering historic sites, we'll consider how buildings like City Hall and the Union League defined the 19th-century urban framework of Philadelphia's Center City and discuss how that development is reflected today. Given that many of these sites have been bought and sold over the years, we will also consider the evolution of each and the functional role it plays in contemporary Philadelphian life. By the end of our Philadelphia Architecture Tour we will have a better understanding behind the commission of these extravagant buildings as well as their place within the city's architectural history.


Where You'll Start
Tour Experts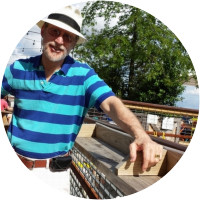 Reid
Reid Addis is a Registered Architect who has lived in the City of Philadelphia since 1978. While practicing architecture, he began teaching courses from 1980-1990 at Temple University, including a course on the History of Philadelphia Architecture. After taking a walking tour with famed City Planner Ed Bacon, Reid was inspired to give his students similar tours of the city. Currently residing in the Old City area of Philadelphia, Reid would love to introduce you to his city.
Reviews can only be left by Context customers after they have completed a tour. For more information about our reviews, please see our FAQ.
He was just a pleasure!
Mar. 31, 2017