Tour Details
Tour Description
The salty air and tropical flora let us know we've arrived at one of Mexico's must-see landmarks. Our full day together begins from your hotel in Cancun and encompasses the beautiful Mayan ruins of Tulum, Mexico. We've taken care of all the details so that you can enjoy the highlights to the fullest.

NOTE: This tour includes a car service that will pick you up at your accommodation. Please tell us your hotel or apartment address in the 'Additional Details' box while adding the tour to your shopping cart.
At A Glance
Convenient pickup from your hotel in Cancun
Guided tour of beautiful Tulum Archaeological Ruins
Lunch at a local restaurant
An afternoon swim in a local cenote
Departure for the drive back to Cancun
Full-day driver and Context guide included
Itinerary Details
Our two-hour car ride to Las Ruinas de Tulum provides us the opportunity to enjoy an orientation to Mayan history. Once we arrive onsite we will learn about the social, religious, and astrological significance these ancient monuments hold. As we take a closer look at each temple, we might also be watched by one of the many iguanas who inhabit the ruins. During our exploration of the complex, our guide will share with you some of the known and unknown stories of the Maya civilizations–one of the most advanced and sophisticated cultures that the world has ever known.
After our tour of the ruins, we will pause mid-day for lunch at a restaurant favored by locals. Following lunch, we enjoy a quick car ride to the nearby cenote – one of the many sacred pools of water throughout the Yucatan. These deep bodies of water flow through caves and connect to the Mayan underworld of Xibabla. These stunning natural water holes served not only as a critical source of drinking water but as sacred spaces to hold many religious ceremonies.
To dive deeper into Maya Civilization and visit a different style of Cenote we recommend
Chichén Itzá Full Day Excursion
. If you are looking for something off the beaten path, we recommend our
Ek-Balam & Valladolid Full Day Excursion.
Disclaimer: Due to our limited guide supply in the Riviera Maya region, you may see limited availability for 2023 tour dates. We appreciate your understanding and can assure you we're working to rectify this issue.
FAQ
Does this excursion include transportation to and from our hotel?
Yes! Full-day private car service from your Cancun hotel and admission to all sites are included in the tour cost.

What time will we need to depart from Cancun?
In order to make the most of our day together, we will need to depart together promptly at 7:00 AM. This will allow us to arrive on-site by approximately 9:00 AM.

Does this tour include lunch?
Lunch isn't included but we will make a reservation at a local Mexican restaurant where you will find a variety of dishes to chose from.
Can we climb and touch the pyramids in Tulum? No, it is not possible to climb the pyramids at this time.

How many participants does this excursion accommodate?
Standard pricing will accommodate 6 guests in the vehicle. If there are additional travelers in need of transportation, please send us an email so that we can discuss pricing and availability
What kind of clothes should I wear and bring?
Bring comfortable shoes, a hat and sunglasses, and layers. You will be warm while on your ruins tour and it gets cooler in the evening. Bring a swimming suit, a towel, and water shoes if desired.
Would I be able to leave my things somewhere while swimming?
Yes, there will be facilities with lockers to be able to leave your things while at the cenote.
Would I be able to join if I can't swim?
Yes, there will be a safety vest for swimming available at no extra cost.
Where do we meet? Where does it end?
We usually meet near your hotel, though your route may differ slightly according to traffic. Your confirmation email will have the exact meeting point details along with a map, and a 24-hour phone number for any last-minute issues.
Is this suitable for children?
Yes! It will be a great experience for people of all ages. However, we do recommend that children be able to swim independently.
Where You'll Start
Tour Experts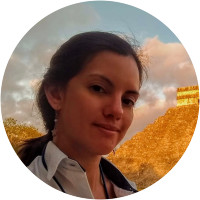 Born in Mexico city, Jazmín is interested in the investigation of pre-Colonial art and worldview through an interdisciplinary approach. Her passion for the ancient Mexican cultures led her to pursue a degree in archeology at the National School of Anthropology and History (ENAH). After conducting research on the Huasteca cosmovision and participating in different symposia, in 2018 she obtained a Master's Degree in Mesoamerican Studies at the National Autonomous University of Mexico (UNAM). Her fascination with the Mayan culture and her love for Mexico led her to pursue leading archaeological and adventure tours in the Riviera Maya. Her main objective is to promote interest and raise awareness about the importance of the historic, cultural and natural heritage of Mexico through the dissemination of the latest anthropological research and the practice of a sustainable tourism.