Tour Details
Tour Description
What was it like for kids who lived in Venice during the Renaissance? And what is it like for kids today? Join our Renaissance Venice Tour for Kids to explore everyday life in the city, both past and present. Taking place largely within an area of Venice that the average tourist rarely visits, we will pass between the neighborhoods of Santa Croce and San Polo to Dorsoduro. Our focus is on the lives of Venetian families, both rich and poor, and their relationship to public and private urban space. We will not only touch upon life for modern families and children, bit also look at how families have functioned on the lagoon area throughout history. Costumes, games, processions, and traditions will be touched upon to compare and contrast our own lives with those of Venetian families.
Work and Play
Led by one of our
family trained experts
, some stops during our time together may include a visit to Venetian palace, now a museum of costumes and furniture from the early modern period, where families have the opportunity to view original period costumes, as well as public squares where bull fights and other spectacles took place. We will discuss the way children and young people lived and studied, their activities and options, and in particular focus on the nature of work and play in the early modern city. Role playing, acting out stories, and visual observation are just some of the strategies that will be employed to create an interactive way for children to get a clearer picture of how families have lived in Venice.
Renaissance Venice Tour for Kids
Focusing on these recurring themes of work and play, costume and dress, public and private space, our guide will be able to construct a thoroughly engrossing dialogue with your children about this historic city. This engaging atmosphere will open our younger travelers' to different daily activities that they may have never thought about before. By the end of our time together, we will have a clear idea of how families live their day to day lives in Venice, and will be able to better appreciate their explorations of the picturesque neighborhoods of the lagoon.
About You
In order to plan the best possible experience for your children, it would be helpful for us know some background. Have they traveled to other countries in the past? If so, where? Have they studied any subjects in school that would relate to the walk? Are they interested in art, music, even food! The more you can tell us, the better.


Due to the very interactive nature of this program and given the educational environment our guide aim to evoke, we adhere to a very strict maximum of 6 participants. Groups larger than 6 will need to book two separate walks that can run concurrently, but with different guides.
Where You'll Start
Tour Experts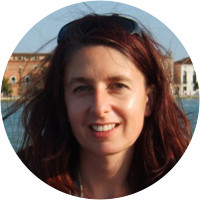 Monica was born in Venice. She earned her degree in Italian Literature and History from Art at Ca' Foscari University in Venice and she has developed a wide experience in the museums of the city. For many years she worked as a curator and archivist before moving into the field of museum education where she worked mainly with groups of children. She also worked at the Jewish Museum in Venice as a guide. She qualified as a guide for Venice and its province in 2009. Monica is continuing to study Venice and she often gives lectures on history and art for associations and public libraries. She is co-author of a series of guidebook for children and families about the Venetian churches.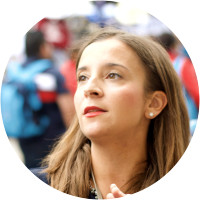 After her postgraduate studies in Art History at the Ca' Foscari University of Venice and at the University of Padua, Sara took up the charming road of restoration, getting her professional license at the Venetian Institute for Cultural Heritage (IVBC), again in Venice. This dual path between Art History and Art Conservation enabled her to deepen her expertise in the artistic techniques and the modern conservation methodologies of the cultural heritage. She owns a restoration laboratory where she operates on oil paintings on canvas and polychromed wood sculptures. The passion for her country and for the city of Venice has prompted her to research on particular themes, such as the Venetian painting of the XVIII century and the Venetian villas in the mainland countryside. She is authentically fond of museums and churches, too. Spending some time with her in Venice means getting to know the magnificent artistic heritage that is spread throughout the city. Guests are generally fascinated by her descriptions about how Venetians were able to mount a huge gilded ceiling, to stretch the largest paintings in the world, to move monumental columns from one side to the other of the Mediterranean Sea, to patiently position thousands of mosaic tiles. She is mother of two young children, and she does know that each family member has different needs. She boasts more than 10-year-long experience in museum education. Therefore, she accompanies with pleasure families that visit Venice, who are for her a stimulating challenge.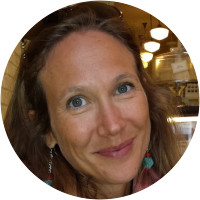 Tullia is a native of the Southern Venetian lagoon and graduated from the University of Padua with Majors in Art History of the Veneto region and in the Russian avant-garde. She has been leading tours since 2013. Tullia leads art history walks in Venice and in nearby Padua, the fascinating city of Giotto's frescos. Her approach to guiding tours is involve visitors in the narrative of the walk by engaging their natural curiosity about the place and the subject. She enjoys working with families and sharing Venice with children.
Reviews can only be left by Context customers after they have completed a tour. For more information about our reviews, please see our FAQ.
Our docent clearly knew her stuff. She was very knowledgeable and personable with the kids. The only negative thing is that we only visited one site. As well - the place she intended to take us was closed the day of our tour - something she should have planned on.
Jul. 5, 2017
Matteo was absolutely fantastic with both the adults and kids. Outstanding. The best of many great guides we have used in our time within the Veneto.
May. 14, 2017
Our docent was truly exceptional! She was wonderful and thoughtful with the children. Her knowledge of Venice and background made her overqualified for the tour but made the experience unparalleled. Was definitely our favorite tour of all!! Thank you!
Apr. 2, 2017