Tour Details
Tour Description
How did Galileo find his way to Venice and what was his business with the Grand Duke? Find out on our Doge's Palace Tour for Kids, designed especially for families! Parents will learn about this historic Gothic architectural masterpiece—which was the seat of the Venetian Republic—while kids take part in an interactive treasure hunt to find the clues that explain Galileo's reasons to be in Venice in 1609. Our guide, trained to work with travelers of all ages, will keep the whole family engaged.
Galileo's Greatest Invention
Venice in the 17th century was at its peak as a powerful Republic. Galileo, renowned scholar and astronomer, came to Venice to present his greatest invention yet: the telescope. The Doge, leader of The Venetian Republic, welcomed Galileo and his invention in hopes of employing it to defend against enemies and maritime invaders. Galileo hoped to further his study of the stars from the Bell Tower of St Mark's Basilica and continue his investigation of the heavens.
Doge's Palace Tour for Kids
The magnificent Doge's Palace is the most important historic monument in Venice and includes many references to Galileo's time in the Republic. Kids will enjoy finding traces of the great astronomer's life while parents (and grandparents!) will get their fill of the history of Venice and an in-depth look at the art and architecture of the Palazzo.
Take in the View
Our time together ends with skip-the-line access to the Bell Tower in St Mark's Square (weather and season permitting) where we will see the view over the entire city and lagoon, just as Galileo would have been able to 400 years ago.
If your travels take you to Florence, you may enjoy our
Galileo in Florence Tour
and a visit to the Science Museum dedicated to him there.
FAQ
What is a private tour?
Our private tours are limited exclusively to travelers in your party. They are designed to provide a learning experience that is completely tailored to you and your traveling companions. Private tours give you more flexibility with scheduling (you decide when the walk best fits in your trip), the ability to tailor your itinerary (we'll work to match the itinerary to the interests and dynamics of your group), and more personalized time with your guide.
Do you purchase skip-the-line tickets?
We purchase skip-the-line tickets for the Bell Tower, but there are no skip-the-line tickets available for the Doge's Palace itself.


Does this tour include the Bridge of Sighs and prison area?
Yes, this tour will include both the Bridge of Sighs and the prison area.


Where You'll Start
Tour Experts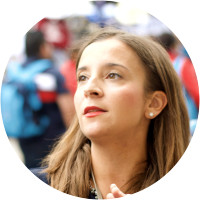 After her postgraduate studies in Art History at the Ca' Foscari University of Venice and at the University of Padua, Sara took up the charming road of restoration, getting her professional license at the Venetian Institute for Cultural Heritage (IVBC), again in Venice. This dual path between Art History and Art Conservation enabled her to deepen her expertise in the artistic techniques and the modern conservation methodologies of the cultural heritage. She owns a restoration laboratory where she operates on oil paintings on canvas and polychromed wood sculptures. The passion for her country and for the city of Venice has prompted her to research on particular themes, such as the Venetian painting of the XVIII century and the Venetian villas in the mainland countryside. She is authentically fond of museums and churches, too. Spending some time with her in Venice means getting to know the magnificent artistic heritage that is spread throughout the city. Guests are generally fascinated by her descriptions about how Venetians were able to mount a huge gilded ceiling, to stretch the largest paintings in the world, to move monumental columns from one side to the other of the Mediterranean Sea, to patiently position thousands of mosaic tiles. She is mother of two young children, and she does know that each family member has different needs. She boasts more than 10-year-long experience in museum education. Therefore, she accompanies with pleasure families that visit Venice, who are for her a stimulating challenge.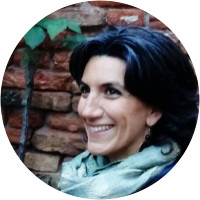 Paola has been a Venice tourist guide since 2012. After her MA in Foreign Languages and Cultures, with honors, Paola has spent time in different European countries, such as France, Austria, Germany, Greece and Norway. Every such experience has been the occasion to increase her linguistic skills and, above all, to make the acquaintance of other cultures and points of view. In Greece and Norway, Paola worked as a tour leader and tourist guide, an experience that made her discover her vocation for tourism as a form of mediation between places and cultures. When back in Venice, where she has been living for seven years now, she started a new university degree in Cultural Anthropology, with a specialization in Anthropology of tourism. Meanwhile, she obtained her license to operate as Official Specialized Guide in Venice. In her opinion, curiosity, enthusiasm, and competence are the three key words to approach not only the city, its monuments and works of art, but also its people and traditions.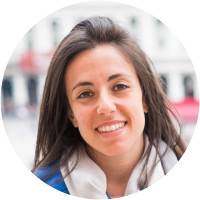 Elena was born in Milan and moved to Venice in 2000 to study Oriental Languages at Ca' Foscari University. After graduation she spent a year in Barcelona, Spain, to study East Asian Cinema. Back in Venice, she had her first experiences as a guide leading visits of the historical buildings of the University of Venice. That's how she decided she wanted to become a professional tour guide. She got her official license in 2012 and she has been working and living in Venice since!
Reviews can only be left by Context customers after they have completed a tour. For more information about our reviews, please see our FAQ.