Duration

1 hour and 25 minutes
Lecture Details
Photos & Highlights
Presented by the same world-class experts as our walking tours, Context Lectures highlight must-see attractions, reveal hidden landmarks, and explore the best things to do during your trip so you don't miss a thing.
Dive into Athens' 5,000-year history with a local expert, during this lecture exploring its diverse culture, landmarks, art, and gastronomy.
Lecture Description
Athens is a modern metropolis with a unique past. This lecture offers an introductory exploration of this fascinating city as we touch on its past, and focus on its modern-day life and charming local neighborhoods. Join a local expert as we discover this majestic Greek capital.
Meet Your Expert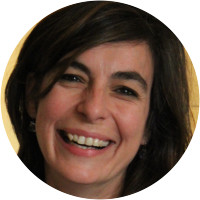 Smaro was born in Piraeus, lives in Athens, and has family roots in Greek Macedonia. As an undergraduate she majored in sociology and later studied at the School for Professional Tourist Guides and finally went on to complete her MA in Cultural Heritage Studies at University College London. She has been guiding all around Greece since 1998. Fluent in Greek, English, and Italian, Smaro has also lead tours for Stanford, Harvard, Yale and other Ivy League Alumni groups; Swan Hellenic; Abercrombie & Kent; the British Museum; the National Geographic and Lindblad Expeditions; the American Institute of Archaeology; the Biblical Archaeology Society; the Smithsonian Institution and several universities. She enjoys reading, traveling, trekking, scuba diving, building in stone using traditional methods, teaching and – still - studying!
Athens is a modern, vibrant urban landscape with 5,000 years of history. After a very brief overview of the city's ancient beginnings, we will travel through the vibrant contemporary city. We will dive into the puzzle pieces that make Athens so diverse: from the Acropolis area that impressed men like Lord Byron and Sigmund Freud, to historic churches and mosques; from the picturesque backstreets of the Plaka district and Greek food culture to the local markets where Athenians shop and eat; from the overwhelming street graffiti and political or historic landmarks to the must-see art museums and venues; to the Central food market, eateries and gastronomy, cozy neighborhoods and busy squares where life happens, ancient and modern, in the many pockets of the city. We'll also share tips for things to do in and around Athens.


Led by a local expert, Smaro Touloupa, this lecture will explore the city of Athens. Designed to inform curiosity as well as future travels, participants will come away with a deeper appreciation for the city, its roots, and its contemporary culture.
"Smaro was an excellent presenter. Clear logical and really well illustrated with lots of maps. It was a great introduction to Athens for anyone who hadn't visited yet, and for us, who've been there many times and going back next year, Smaro pointed out so many off-the-beaten-track places to visit including some museums we'd missed. She was clear easy to follow and charming. Thank you." 
– E.P., viewing from Sydney, AU
"What a wonderful, wonderful presentation! Can I give more than 5 stars? Smaro Touloupa did a marvelous job of combining ancient Athens's history and sites, with more recent history and the current sites, neighborhoods, and lifestyles. She shared so much information and ideas constantly, with many photographs (old and new), paintings, and helpful maps. How I would love for Smaro to guide me around Athens and elsewhere in Greece!" 
– Larry L., viewing from Carmel-by-the-Sea, CA
How do I access the lecture?
Once you complete your purchase, you will receive an email with a link to stream the lecture on the Context Travel website. You can also access your past purchases anytime under
My Orders
. Please ensure you are logged into your account to open the streaming page. 
Is closed captioning (i.e. subtitles) available?
Yes! All of our lectures have the option to turn on closed captioning should you have difficulty hearing the expert.
How long does each event last?
Our recorded lectures typically run for 75 minutes.
How can I share this lecture with friends or family?
You are welcome to watch together with friends or family but each person viewing on their own device will need to purchase the lecture individually.
How long does my access to the lecture last?
Once you purchase a lecture, you are welcome to view it as many times as you like and your access does not expire.
What is your cancellation and refund policy?
Sales for recorded lectures are final upon purchase. Please contact us at
digital@contexttravel.com
if you have any questions or concerns about your purchase.
Can I purchase a gift card for a friend who is traveling?
Absolutely! Gift cards can be
purchased here
. Gift cards are good for 365 days from the date of purchase.
Reviews can only be left by Context customers after they have completed a tour. For more information about our reviews, please see our FAQ.
Excellent presentation- lots of great suggestions for visiting Athens which we plan to do in a couple of weeks.
Aug. 25, 2023
Covered a lot of territory- very thorough and interesting
Apr. 1, 2023
Great incorporation of history into the presentation.
Sep. 12, 2022