Duration

1 hour and 15 minutes
Lecture Details
Photos & Highlights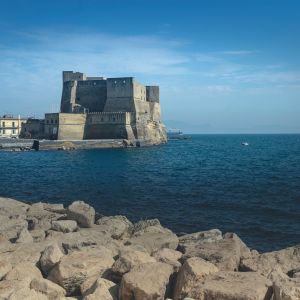 Presented by the same world-class experts as our walking tours, Context Lectures highlight must-see attractions, reveal hidden landmarks, and explore the best things to do during your trip so you don't miss a thing.
Author Danielle Oteri will explore how Naples' neighborhoods and language influence the narrative of novels like "My Brilliant Friend," providing viewers with a deeper understanding of the protagonists and Naples itself as a character shaping their lives.
Lecture Description
Elena Ferrante (a pseudonymous Italian novelist) has taken the literary world by storm in recent years, exposing stories of the female experience in postwar Italy up until today. Her depictions of friendship, violence, love, poverty, and determination have resounded among millions of readers while the vivid settings of her Neapolitan novels have caused a wave of Ferrante pilgrims visiting this characterful city. Join an expert in this field on a virtual visit to Naples inspired by Elena Ferrante's Neapolitan Quartet "My Brilliant Friend." 

Fair warning, there will be book spoilers! 
Meet Your Expert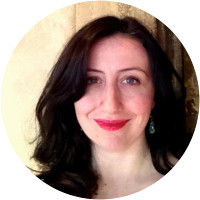 Danielle Oteri is an expert on Roman, medieval and Renaissance art. She was a Lecturer at the Met Cloisters for fifteen years and has been Program Director of the International Center of Medieval Art since 2008. Danielle has written about art, history, food and travel for Conde Nast Traveler, Gothamist, NPR and Roads & Kingdoms. She is the founder of Feast on History and Arthur Avenue Food Tours.
This lecture will use the novels to understand how the various neighborhoods–where the critical scenes are set–help to define the narrative. We'll visit the Rione Luzzati where the books are primarily set, as well as the Piazza Dei Martiri, the Retifilo, and the island of Ischia. We'll learn more about the culture of Naples in the 1950s to better understand the characters and their positions in life. Knowing this Neapolitan history will give readers deeper insight into the protagonists and stories. We'll also discuss how the Neapolitan language (described as dialect) and the Italian language each evolved and their social implications. 
Danielle Oteri is herself the author of Ferrante Fever: A Naples Guidebook Inspired by Elena Ferrante and is a true expert on this subject, along with other aspects of Naples and Southern Italy. This interactive lecture will focus on details from My Brilliant Friend that would be unfamiliar to non-Italian readers. Designed to inform curiosity as well as future travels, participants will come away with an increased understanding of how Naples is its own character that shapes the expectations and outcomes for Lila and Lenù.
How do I access the lecture?
Once you complete your purchase, you will receive an email with a link to stream the lecture on the Context Travel website. You can also access your past purchases anytime under
My Orders
. Please ensure you are logged into your account to open the streaming page. 
Is closed captioning (i.e. subtitles) available?
Yes! All of our lectures have the option to turn on closed captioning should you have difficulty hearing the expert.
How long does each event last?
Our recorded lectures typically run for 60 minutes.
How can I share this lecture with friends or family?
You are welcome to watch together with friends or family but each person viewing on their own device will need to purchase the lecture individually.
How long does my access to the lecture last?
Once you purchase a lecture, you are welcome to view it as many times as you like and your access does not expire.
What is your cancellation and refund policy?
Sales for recorded lectures are final upon purchase. Please contact us at
digital@contexttravel.com
if you have any questions or concerns about your purchase.
Can I purchase a gift card for a friend who is traveling?
Absolutely! Gift cards can be
purchased here
. Gift cards are good for 365 days from the date of purchase.
Reviews can only be left by Context customers after they have completed a tour. For more information about our reviews, please see our FAQ.
Even though I have been to Italy a dozen times, I have never been to Naples, so I learned so much from Danielle's lecture. I gained so much insight into the setting of Elena Ferrante's amazing Neapolitan Quartet novels.
Feb. 18, 2023
I enjoyed Danielle's session of Elena Ferrante's Naples as she covers so much material in a straightforward easy to understand manner. The back stories she tells give another layer of understanding to these fascinating novels and this fascinating city.
Jun. 24, 2022
So informative and interesting. It made the series "My Brilliant Friend" come alive!
Mar. 29, 2022