Duration

1 hour and 10 minutes
Lecture Details
Lecture Description
Filippo Brunelleschi transformed the cityscape of Florence with an architectural style inspired by a pagan world: the palaces, basilicas, and temples of Ancient Rome. Yet in the churches and chapels he designed for his native Florence and, above all, in the iconic cupola of the city's cathedral, his use of light, 'divine' ratios, and symbolic forms offered a glimpse of heaven.
Meet Your Expert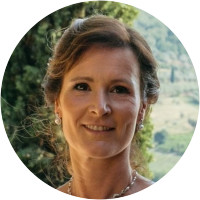 Kate (M.Phil.) lectures in Music & Cultural History at various prestigious institutions in Florence, including the British Institute, New York University and the Istituto Lorenzo de'Medici. She is also a licenced Italian tour guide. Before moving to Italy in 2007, she was Senior Producer for BBC Arts and Music and, for 10 years, she was Artistic Director of the Lufthansa Festival of Baroque Music in London. Her post-graduate thesis (1992) led her into the fascinating world of late medieval Florence, via the shadowy, poet-composer Don Paolo da Firenze, since when she has published extensively as an academic, a critic and a journalist.
Cultural historian Kate Bolton-Porciatti traces the formation of one of the most brilliant minds of the Renaissance: the architect and engineer Brunelleschi. He changed the physical landscape of Florence from a maze of medieval towers and fortress-like structures to a harmonious Renaissance city where balance, proportion, and geometry suggest the greater order of things.


We'll trace his early work as a goldsmith and sculptor in Tuscany, his formative experience in Rome as a 'treasure hunter' discovering ancient ruins, and his return to Florence where he masterminds some of the city's most majestic monuments: the Foundling Hospital, the churches of San Lorenzo and Santo Spirito, the Pazzi Chapel and the cupola of Florence's cathedral, which - when it was finished in the 1430s - was the greatest dome in the world: a vision of heaven on earth.


The lecture will also enhance a broader appreciation of the architecture and ideals of Renaissance Florence. Led by Kate Bolton-Porciatti, a cultural historian specializing in medieval and Renaissance Florence, this interactive lecture will explore Brunelleschi's monumental genius. Designed to inform curiosity as well as future travels, participants will come away with a deeper understanding of Florence's historic cityscape.

How do I access the lecture?
Once you complete your purchase, you will receive an email with a link to stream the lecture on the Context Travel website. You can also access your past purchases anytime under
My Orders
. Please ensure you are logged into your account to open the streaming page. 
Is closed captioning (i.e. subtitles) available?
Yes! All of our lectures have the option to turn on closed captioning should you have difficulty hearing the expert.
How long does each event last?
Our recorded lectures typically run for 75 minutes.
How can I share this lecture with friends or family?
You are welcome to watch together with friends or family but each person viewing on their own device will need to purchase the lecture individually.
How long does my access to the lecture last?
Once you purchase a lecture, you are welcome to view it as many times as you like and your access does not expire.
What is your cancellation and refund policy?
Sales for recorded lectures are final upon purchase. Please contact us at
digital@contexttravel.com
if you have any questions or concerns about your purchase.
Can I purchase a gift card for a friend who is traveling?
Absolutely! Gift cards can be
purchased here
. Gift cards are good for 365 days from the date of purchase.
"I have watched almost all of Kate Bolton-Porciatti's online courses and highly recommend them. She is a fantastic teacher and a great speaker. She is knowledgeable and passionate and conveys her ideas in beautiful English, full of rich images and poetic turns of phrases. I congratulate her profusely and can't wait for her next course." 
– E.R.B., viewing from Jaguariuna, BR
"Splendid coverage of Brunelleschi's incredible works, with just the right amount of detail. Kate brings Brunelleschi to life (we feel like we know him), and through her descriptions, she makes her audience feel as though they are on these incredible sites."
– Nancy G., viewing from Austin, TX
Reviews can only be left by Context customers after they have completed a tour. For more information about our reviews, please see our FAQ.
Guest did not leave comment
Nov. 26, 2022
Very informative
Nov. 23, 2022
Guest did not leave comment
Nov. 20, 2022