Lecture Details
Lecture Description
Few cities in the world charm travelers as well as Paris. With so many charismatic arrondissements, exquisite cuisines, and awe-inspiring cultural landmarks to experience, the capital of France is best when explored in the company of a local guide. 
Meet Your Expert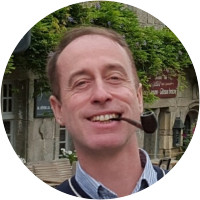 Even before getting his university degrees in Law and Business, Laurent was the youngest "guide-conférencier" to obtain his license in France at the age of 16. With an authentic passion for art and history, he had a previous career in international business and marketing before focusing entirely on his job as guide. An art collector himself, particularly fond of painting, he attended open courses at the Ecole du Louvre and graduated from IESA art school. His purpose, thanks to a very participative approach, is to make you see and understand art rather than just learn about it.
From underground Roman remains to the top of the Eiffel Tower, Parisian monuments convey more than 1,800 years of remarkable historical narratives for us to contextualize together. Beginning from the Roman baths, our guide will lead us through the Middle Ages to modern times. We'll travel back in time through the development of each distinct Parisian neighborhood and its interwoven origin stories. The grandeur of Louis XIVth's Invalides celebrates the past glories of the French military, while Sainte-Chapelle illustrates the faith of Saint Louis – who brought to Paris in 1239 Christ's most precious and symbolic relic (his crown of thorns). We'll also venture to Montmartre's Sacré-Cœur, where its surrounding village streets witnessed the daily life and mad parties of most famous artists such as Picasso, Renoir, Manet, Pissaro, and many more. 

Led by an expert on French art and culture, this lecture will look beyond Paris' most iconic sights to assist the sophisticated traveler with planning a picture-perfect itinerary. Designed to inspire future travels, participants will come away with a portfolio of suggestions in order to enjoy their time in Paris to the fullest.

How do I access the lecture?
Once you complete your purchase, you will receive an email with a link to stream the lecture on the Context Travel website. You can also access your past purchases anytime under
My Orders
. Please ensure you are logged into your account to open the streaming page. 
Is closed captioning (i.e. subtitles) available?
Yes! All of our lectures have the option to turn on closed captioning should you have difficulty hearing the expert.
How long does each event last?
Our recorded lectures typically run for 75 minutes.
How can I share this lecture with friends or family?
You are welcome to watch together with friends or family but each person viewing on their own device will need to purchase the lecture individually.
How long does my access to the lecture last?
Once you purchase a lecture, you are welcome to view it as many times as you like and your access does not expire.
What is your cancellation and refund policy?
Sales for recorded lectures are final upon purchase. Please contact us at
digital@contexttravel.com
if you have any questions or concerns about your purchase.
Can I purchase a gift card for a friend who is traveling?
Absolutely! Gift cards can be
purchased here
. Gift cards are good for 365 days from the date of purchase.
"If you are traveling to Paris for the first time, this course should be a prerequisite. I've been to all the sites mentioned but learned something new about each of them." 
– J.C., viewing from Piscataway, NJ
"This was a very good review. I have been doing a lot of reading in preparation for an upcoming trip to Paris and thought I was well prepared. However, after attending this course, I learned so much more! It was both informative and entertaining. Thank you for providing such a good review and good photos too."
– Anne F., viewing from New Orleans, LA
Reviews can only be left by Context customers after they have completed a tour. For more information about our reviews, please see our FAQ.
Very informative
Sep. 25, 2023
Excellent overview of some of the best known sites in Paris. Very well presented preview of sights most visitors will want to see when visiting Paris.
Sep. 17, 2023
The top ten places in Paris are all places I have visited or heard about or read about or had a tour guide talk about and yet this concise presentation gave me history and background I knew nothing about. The most astonishing was the actual layout of the IM Pei Pyramids in front of the Louvre. There was a wonderful aerial view photo showing the 5 pyramids within the massive paved area that comprised the new entrance to this historic museum. Glorious! Surprising! Stunning! They represent the human hand with its five fingers. The Mason's idea of knowledge being universal for all mankind. Did you know the Louvre was opened in 1793 during the French Revolution as a place of Universal knowledge? I hadn't a clue.The many photos alone were worth the lecture but the lecturer organized both oral and written information that informed and delighted the student. Had the seminar been in two parts I am sure we would have heard more stories and been given more information little known to the average tourist. Well done Very enjoyable.
May. 14, 2023