Duration

1 hour and 5 minutes

Venues

Catacombs of Santa Priscilla
Lecture Details
Photos & Highlights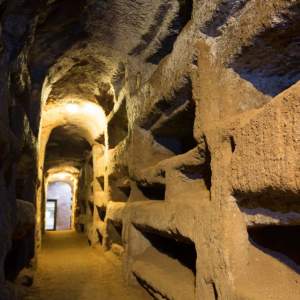 Presented by the same world-class experts as our walking tours, Context Lectures highlight must-see attractions, reveal hidden landmarks, and explore the best things to do during your trip so you don't miss a thing.
Lecture Description
Join archaeologist Livia Galante on a subterranean lecture beneath the streets of Rome, where we will explore the catacombs, or underground cemeteries, of the Eternal City. Rome is rightly famous for its catacombs—underground cemeteries of enormous size, filled with archaeological, artistic, and religious remains. These burial grounds contain an estimated 500,000 tombs in an intricate network of narrow and dark galleries. They are a vivid reminder of the transitory nature of human life and of how the ancients sought to come to grips with the reality of death. All of this explains why the catacombs have fascinated those who dare to descend into them. 
Meet Your Expert
Livia obtained a degree in Archaeology at the Sapienza University of Rome and has a Master's degree in the History and Conservation of Cultural Heritage from the University of Roma Tre. Her main field of interest is ancient Roman topography and early Christian architecture; however, she is an accomplished scholar whose teaching ability extends to the Renaissance and Baroque Rome. As a native Roman, Livia is very enthusiastic in sharing the deep love and knowledge she has for her hometown with clients.
Researchers have long debunked the myth that Christians used the catacombs as hiding places in times of persecution: in the past, too, their precise location was common knowledge. In this lecture, we will explore a few of the most beautiful Christian cemeteries: those of St. Sebastian, St. Callixtus, and Priscilla. As we go below ground, we will understand early Christian art's origins through colorful frescoes and sarcophagi depicting biblical scenes, particularly those relating to bodily and spiritual salvation. In addition to Christian cemeteries, archaeologists discovered Jewish catacombs in Rome, whose layout is similar to their early Christian counterparts. However, the artwork and the inscriptions are characteristically Jewish, often with the representation of the menorah in prominent positions.


Led by an expert on Ancient Roman topography, Livia Galante, this lecture will focus on Rome's underground cemeteries. Designed to inform curiosity and future travels, participants will come away with an increased understanding of how early Romans lived and worshiped in ancient Rome by looking at burial places and the art that decorated these sacred spaces.
How do I access the lecture?
Once you complete your purchase, you will receive an email with a link to stream the lecture on the Context Travel website. You can also access your past purchases anytime under
My Orders
. Please ensure you are logged into your account to open the streaming page. 
Is closed captioning (i.e. subtitles) available?
Yes! All of our lectures have the option to turn on closed captioning should you have difficulty hearing the expert.
How long does each event last?
Our recorded lectures typically run for 60 minutes.
How can I share this lecture with friends or family?
You are welcome to watch together with friends or family but each person viewing on their own device will need to purchase the lecture individually.
How long does my access to the lecture last?
Once you purchase a lecture, you are welcome to view it as many times as you like and your access does not expire.
What is your cancellation and refund policy?
Sales for recorded lectures are final upon purchase. Please contact us at
digital@contexttravel.com
if you have any questions or concerns about your purchase.
Can I purchase a gift card for a friend who is traveling?
Absolutely! Gift cards can be
purchased here
. Gift cards are good for 365 days from the date of purchase.
Reviews can only be left by Context customers after they have completed a tour. For more information about our reviews, please see our FAQ.
This was a wonderfully organized lecture, full of information to enhance my understanding of catacombs, their origins and differences.
Oct. 11, 2021
Guest did not leave comment
Oct. 10, 2021
Guest did not leave comment
Aug. 31, 2021