Venues

Praça do Comércio, Rossio Square, Church of São Roque, Santa Justa Lift, Rua Augusta Arch, Chiado Neighborhood, Alfama Neighborhood, and Miradouro das Portas do Sol
Audio Guide Details
Audio Guide Description
Prior to the devastating earthquake of 1755, Lisbon boasted a skyline adorned with Gothic architecture that captured the imagination. From elegant, detailed facades to soaring arches, every symbol of Lisbon's grandeur succumbed to the relentless tremors. On this self-paced audio guide tour created by architect and Context Travel expert, Bert De Muynck, you'll spot traces of the city's architectural past, and learn about its rebuilding. 
Our tour starts in front of Miradouro de São Pedro de Alcântara, the city's iconic observation point, where Bert will offer you insights into Lisbon's history and culture, and unravel the captivating tapestry of its architectural heritage. You'll learn about the 1755 earthquake, an event that shook the city to its core, and the period of transformation the city underwent as a result. You'll visit the city's commercial center and historic heart, Baixa, and hear how its grand squares, elegant grid layout, and beautifully restored buildings serve as a living testament to Lisbon's resilience and rich heritage. The audio guide tour ends in front of Casa dos Bicos, a cultural center, and one of the few landmarks to have survived the disastrous earthquake.

Travelers can take this tour at any time of the day and during any season. Both Manteigaria and A Brasiliera are open from 8 AM till midnight every day.
On this walking tour of Lisbon, you'll:
•  Discover Lisbon's most iconic architectural marvels, from ornate arches to charming squares
• See establishments that are woven into the city's cultural fabric, and relive its cultural awakening
• Try pastel de nata and hear how the Jerónimos Monastery invented the tasty treat 
• Take in stunning vistas of Lisbon's downtown, its distinctive neighborhoods, and the Tejo Estuary
• Stroll across grand historical squares like Praça Luís de Camões, Rossio Square (officially known as Praça Dom Pedro IV), Praça de Figueira, and Praça do Comércio
• Learn about the origin of Portuguese tiles, or azulejos, as ornamentation and how they became the symbol for Lisbon's rebirth during the post-earthquake recovery
• Find out how the disaster spurred a movement toward architectural simplicity and aesthetic rationality and decoration 
• Step into Café A Brasileira, the birthplace of brilliant ideas, passionate debates, and artistic inspiration during the 1900s
• Experience the city's architectural revolution from exquisite to deceptively simple churches, including the Church of Saint Roch, the Church of Saint Dominic, and the Church Nossa Senhora da Conceição Velha
• Gaze upon the building holding the Teatro Nacional Dona Maria II, which survived the 1755 earthquake, but was destroyed by a fire in 1836
• Spot the historical figures that adorn the Arco de Rua Augusta (Rua Augusta Arch)

If you want to truly understand how Lisbon rose from the ashes, transforming itself into the world's most modern 18th-century downtown area, join us on this captivating hour-long audio guide tour that will transport you through centuries of history, culture, and architectural wonder.


Meet Your Expert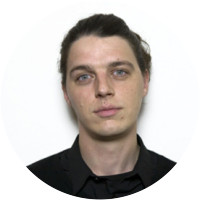 Bert is an Architect and Writer and holds a Master's Degree in Architectural Engineering and Cultural Sciences. He was born in Belgium and has lived and worked in Amsterdam, Beijing, and Shanghai before relocating to Lisbon in 2018. He established his career through many academic and writing-focused roles throughout his journey – also working as an Architectural consultant. He is the co-director of "MovingCities," an independent research organization investigating the role that architecture and urbanism play in shaping the contemporary city of Lisbon. Bert lived in China from 2006 to 2018, where he first began leading Context walks. He also has a great understanding of Lisbon's historic legacy, Jewish culture, and architectural style – fields of interest he has studied relentlessly since his first visit to the city in 2003.
How do I access the audio guide and download it for offline use?
Once you complete your purchase, you will receive a voucher code for your Audio Guide. You must download the Voicemap app and enter the code. 
Install VoiceMap from the Apple App Store or Google Play
Create an account
Select Tour Codes from the menu, then select Enter Codes
Enter your Voucher Code
Select Download Now
Is closed captioning (i.e. subtitles) available?
Yes! All of our audio guides have the option to turn on closed captioning should you have difficulty hearing the expert.
How long does each event last?
Our recorded audio guides typically run for 75 minutes.
How can I share this audio guide with friends or family?
You are welcome to listen together with friends or family, but each person listening to the guide on their own device will need to purchase the audio guide individually.
How long does my access to the audio guide last?
Once you purchase an audio guide, you are welcome to listen to it as many times as you would like. Your access to a purchased audio guide does not expire.
What is your cancellation and refund policy?
Sales for recorded audio guides are final upon purchase. Please contact us at digital@contexttravel.com if you have any questions or concerns about your purchase.
Can I purchase a gift card for a friend who is traveling?
Absolutely! Gift cards can be
purchased here
. Gift cards are good for 365 days from the date of purchase.