Duration

1 hour 15 minutes

Venues

Changing of the Guard, Buckingham Palace, and St James's Park
Audio Guide Details
Audio Guide Description
The changing of the guard ceremony in London is known around the world for its precision and spectacle. Most visitors view the event from Buckingham Palace, but on this walking tour with Context Travel and London-based scholar and royal expert, Sean Moran, you'll experience it from three less common vantage points.

For the best experience, we recommend starting the tour at 10:15am so you can synchronize your walk with the ceremonial movements.

Starting outside St. James' Park, you'll see the iconic guards in their bright red jackets and black bearskin helmets, supported by their regimental bands which provide a tuneful backdrop to your walk. As you witness the ceremony, you'll learn to identify the different guards, by looking at the feathers in their caps and the buttons on their jackets. You'll also walk in the footsteps of Charles I on his way to being executed, and see a statue of the famous French General, Charles De Gaulle, in the very square where he set up his government while in exile during World War II. The tour ends with a visit to the Household Cavalry where you'll be able to get up close to the guards and their stunning black horses. You'll also find out what the requirements are for a horse to join the cavalry!

Along the way, you'll:

• Hear about the centuries of history that unfolded in the heart of London
• View the movements of the royal guards up close
• Learn to spot and decipher differences between the uniforms
• Find out the best times to view the emblematic ceremony
• Stand on the Mall, where the world comes to get a grandstand view of royal events like weddings, coronations, and funerals
• Listen to the stories behind the George VI, Duke of York and National Police memorials
• Take in the impressive Buckingham Palace and St James's Palace

By the end of this hour-long tour, you'll have witnessed the Changing of the Guard from a different perspective, and gained a new appreciation for the ceremony. 


Meet Your Expert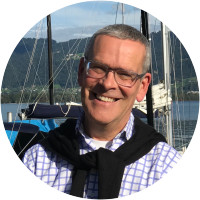 Since leaving university in 1982, Sean has lived and worked across the globe in a nearly 30-year career as a senior executive in financial services. He put his skills and knowledge to work in the Charity Sector in the UK for 7 years but decided life was too short to not focus entirely on his passions for people, history, art and architecture. When not guiding, Sean is restoring a Georgian House and serving as a Parish Councillor. He is a freeman of the City of London and a freeman of the City Livery company of Clockmakers. He lives in London and Wiltshire.
How do I access the audio guide?
Once you complete your purchase, you will receive an email with a link to stream the audio guide on the Context Travel website. You can also access your past purchases anytime under
My Orders
. Please ensure you are logged into your account to open the streaming page. 
Is closed captioning (i.e. subtitles) available?
Yes! All of our audio guides have the option to turn on closed captioning should you have difficulty hearing the expert.
How long does each event last?
Our recorded audio guides typically run for 75 minutes.
How can I share this audio guide with friends or family?
You are welcome to watch together with friends or family but each person viewing on their own device will need to purchase the audio guide individually.
How long does my access to the audio guide last?
Once you purchase a audio guide, you are welcome to listen it as many times as you like and your access does not expire.
What is your cancellation and refund policy?
Sales for recorded audio guides are final upon purchase. Please contact us at digital@contexttravel.com if you have any questions or concerns about your purchase.
Can I purchase a gift card for a friend who is traveling?
Absolutely! Gift cards can be
purchased here
. Gift cards are good for 365 days from the date of purchase.