Venues

Zócalo, Templo Mayor, Metropolitan Cathedral, and Bellas Artes Museum
Audio Guide Details
Audio Guide Description
Trace Mexico City's evolution from an Aztec settlement to a modern metropolis with over 20 million people. On this self-paced audio guide tour, artist, professor, and Context Travel expert Julio Pastor will share how the Aztecs left their homeland "Aztlán" for the area that would become Mexico, revealing the city's long history, and showing you its captivating sights.
Starting at the Templo Mayor de México Tenochtitlan ruins, once the religious center of the Aztec City known as Tenochtitlán, Julio will share prehispanic traditions and tell you how the War of Independence that changed Mexico forever was started. You'll see Plaza de la Constitución, the historic square known locally as Zocalo CDMX. There, you'll learn how the city was originally a lake that the Spanish decided to fill, eventually resulting in flooding and unstable ground that caused Mexico City Metropolitan Cathedral to sink for many years. As you make your way to Palacio de Bellas Artes where our tour ends, you'll dive deep into Mexico's turbulent war with the US, during which Mexicans lost half their territory. You'll also hear how Mexico City became its own autonomous state, how local artists are incorporating Aztec elements into their modern sculptures, and why there's a statue of the Spanish King Charles IV riding his horse in Plaza Manuel Tolsá (Manuel Tolsá Square). 
Along the way, you'll have a chance to:
• Learn about the 200-year-long construction of the Mexico City Cosmopolitan Cathedral and its many influences throughout its development
• Grasp the speed at which the Aztecs grew their new settlement on the lake into an empire that controlled the area connecting the Pacific Ocean to the Caribbean Sea
• Hear about Mexico's turbulent history in the 1800s from the War of Independence against Spain, to the war with the US and, finally, the Guerra de Reforma (Mexican Civil War)
• Discover the degree to which the ancient Aztec city of Tenochtitlan was destroyed after the Spanish won the War of Conquest over the Aztecs in 1521
• Journey back in time to 1325, the year of the foundation of Tenochtitlán and dive deep into the ancient culture and language of the Aztecs
• Get an idea of what Mexican identity looked like both before and after European culture was imposed
• Find out the historical meaning behind Cinco de Mayo
• Become familiar with estipite, a type of column that is one of the most distinguishable elements of the Churrigueresque style (a Spanish Baroque style of elaborate sculptural architecture)
• Appreciate the production of ceramics in colonial Mexico and how this was the first step to modern-day globalization
• See several historical palaces in different styles and from different eras, including Palacio Postal, Palacio de Iturbide, and Palacio de Mineria
By the end of this hour-long audio guide tour, you'll have a deeper understanding of Mexico City's ancient origins and residents, as well as how the city transformed as its rulers changed. 
Travelers will have the option to visit the Templo Mayor Museum, Mexico City Metropolitan Cathedral, Citibanamex Culture Palace and Palacio de Minería.
The Templo Mayor Museum is open from 9 AM to 5 PM every day except Monday, and the Metropolitan Cathedral is free to enter and open from 8 AM to 8 PM daily. The Citibanamex Culture Palace is open from 10 AM to 7 PM daily, and the Palacio de Minería is open from 10 AM to 5:30 PM every day.
You can also enjoy a drink or meal at La Opera, one of the most famous Cantinas in Mexico City, which is open from 1 PM to 11 PM daily.
Meet Your Expert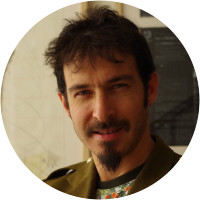 Born and raised in Mexico City, Julio Pastor is a proud pedestrian of his native city. He completed a BA in Fine Arts at UNAM. In 2008, he moved to the Netherlands where he completed his MFA, specializing in the Urban Landscape. After seven years, he returned to Mexico and turned the focus of his art production to the city that he roams every day. His art production is thoroughly inspired on what he encounters during his everyday walks, but also by a great deal of reading on topics related to architecture and urbanism. When not working at his art practice, Julio can be found teaching undergraduate drawing courses in the architecture department at the Universidad Iberoamericana, or enjoying the city with his wife and two children.
How do I access the audio guide and download it for offline use?
Once you complete your purchase, you will receive a voucher code for your Audio Guide. You must download the Voicemap app and enter the code. 
Install VoiceMap from the Apple App Store or Google Play
Create an account
Select Tour Codes from the menu, then select Enter Codes
Enter your Voucher Code
Select Download Now
Is closed captioning (i.e. subtitles) available?
Yes! All of our audio guides have the option to turn on closed captioning should you have difficulty hearing the expert.
How long does each event last?
Our recorded audio guides typically run for 75 minutes.
How can I share this audio guide with friends or family?
You are welcome to listen together with friends or family, but each person listening to the guide on their own device will need to purchase the audio guide individually.
How long does my access to the audio guide last?
Once you purchase an audio guide, you are welcome to listen to it as many times as you would like. Your access to a purchased audio guide does not expire.
What is your cancellation and refund policy?
Sales for recorded audio guides are final upon purchase. Please contact us at digital@contexttravel.com if you have any questions or concerns about your purchase.
Can I purchase a gift card for a friend who is traveling?
Absolutely! Gift cards can be
purchased here
. Gift cards are good for 365 days from the date of purchase.