Tour Details
Photos & Highlights
Explore the bedrooms and studios in which Kahlo was confined, and created several of her best works
Hosted by a local historian, you'll gain deeper insights into the artists' life and legacy as you explore their neighborhood in venues such as:
Casa Azul (Frida Kahlo Museum), Leon Trotsky Museum, and Coyoacán Neighborhood
Tour Description
Frida and Diego undoubtedly had one of the most tumultuous marriages in the canon of art history. Their work has impacted politics on the world stage and defined the Mexican Modernism movement. During your tour with a Context expert, you'll explore the house where their lives took many dramatic turns. After marveling at the exclusive paintings which adorn La Caza Azul, your expert will lead you through the nearby home of Leon Trotsky. Our time together will conclude with a walking tour of the Coyoacán neighborhood, weaving our way through street vendors to follow the footsteps
"Wow! This tour exceeded expectations due to our wonderfully informative guide. We were delighted to learn the little details of Frida and Diego's life that really gave us insight beyond what we have all read."
Museo Frida Kahlo | Tour Casa Azul
Your experience begins from the arched doorways into the Frida Kahlo Museum, where we'll pause in the lush courtyard to set the stage for the tour. From there, we proceed through the Caza Azul – which offers us the opportunity to explore gallery spaces as well as the kitchens, living spaces, and bedrooms once occupied by Frida, Diego, and their family. Many of the portraits and unique works hanging within Caza Azul have never gone on loan to museum exhibitions or left Mexico City.

Dozens of the artists' most iconic works were created within these deep blue walls, and today's galleries offer a glimpse into the studio equipment, clothes, and trinkets which brought her comfort. We'll contextualize the life she built with Diego, the affairs they each entertained, the influence of her childhood Polio case and a horrifying bus accident that occurred in 1925. From there, we explore a collection of Frida's most iconic fashion moments, curated by Vogue.
Leon Trotsky House Museum
Next we'll take a stroll through the Coyoacán neighborhood to reach the former home of exiled Marxist and theorist Leon Trotsky. Due to its historical preservation, it stands remarkably the same as it did when he was assassinated onsite in 1940. Our expert will contextualize the rocky political climate of the 1920-40s and how Mexican elite like Frida and Diego— devoted to communism and confidants of Trotsky— helped steer the governance of Mexico.
Coyoacán Neighborhood Tour
Occupying land once inhabited by Ancient Aztec communities, the musical and bohemian atmosphere which flows through Coyoacán's traditional Mexican Market and main plaza is not to be missed. If your group is interested, we will see the exteriors of homes that formerly belonged to important artists and writers throughout history. To name a few: Luis Buñuel, Jorge Ibargüengoitia, David Alfaro Siqueiros, Miguel Ángel de Quevedo, Dolores del Río, Emilio "Indio" Fernández, Manuel Álvarez Bravo and Octavio Paz - all once called Coyoacán home. We might pause for an elote or churro before proceeding towards the Callejón del Aguacate (a cobblestoned alley with beautiful street art & a shrine to the Virgin Mary), Jardín Centenario, and the Parroquia San Juan Bautista – a breathtaking cathedral.
Takeaways
By the tour's conclusion, we will have emerged with a better understanding of the life of famous lovers, artists, and activists. We'll have walked in their footsteps in the markets of Coyoacán, exploring the key sites that paint the colorful picture of these revered characters.
FAQ
Is there a lot of walking on this tour?
Yes, though this tour stays within the Coyoacán neighborhood, you will be walking to each stop with your expert. Please let us know in your order notes if you have any mobility concerns, and our expert can adapt the tour route for your needs as needed. The Coyoacán district is one of the most accessible areas of CDMX, so wheelchair users should have no issues on this tour. The Frida Kahlo Museum is wheelchair accessible as well.
Do we learn about Diego Riviera on this tour?
This tour delves deep into Frida and Diego's life together, though it focuses mainly on the art of Frida. To see more work by Diego we recommend you visit the Anahuacalli Museum after your tour, which is Diego Rivera's collection of pre-Columbian art and artifacts. You're also welcome to reserve your space on our
Introduction to Mexico City Tour.
Where You'll Start
Tour Experts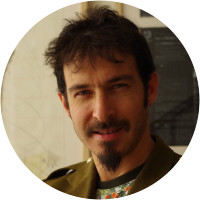 Born and raised in Mexico City, Julio Pastor is a proud pedestrian of his native city. He completed a BA in Fine Arts at UNAM. In 2008, he moved to the Netherlands where he completed his MFA, specializing in the Urban Landscape. After seven years, he returned to Mexico and turned the focus of his art production to the city that he roams every day. His art production is thoroughly inspired on what he encounters during his everyday walks, but also by a great deal of reading on topics related to architecture and urbanism. When not working at his art practice, Julio can be found teaching undergraduate drawing courses in the architecture department at the Universidad Iberoamericana, or enjoying the city with his wife and two children.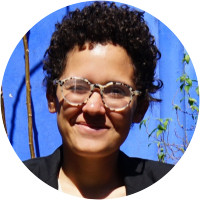 Natalia is from Rio de Janeiro, Brazil, but chose Mexico as her home and her field of research. During her 'Production and Patterns' degree at SENAI/Cetiqt in Rio, much of her studies focused on Mexican arts and costume to complement her research on Frida Kahlo's clothes. In 2014 she officially moved to CDMX after finishing her final project on the Tehuantepec dress. While in Mexico, Natalia has worked with fashion designers and has studied Mexican arts, history and literature. In 2021 she graduated with honors at the National Autonomous University of Mexico (UNAM) with an MA in Art History presenting a project about the clothing and the creative process of Georgia O'Keeffe. Alongside being an expert guide, she currently works with Alejandra de Coss, a Mexican fashion designer.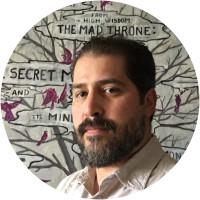 Rodrigo Farias is an artist born and raised in Mexico City, fluent in English and Spanish. He started painting from a very early age and then majored in Visual Arts at Mexico´s Escuela Nacional de Pintura, Escultura y Grabado "La Esmeralda" as well as Philosophy at the Universidad Nacional Autónoma de México. Although focused on painting he is also a musician and an essayist. He has long been a student and a fan of the popular traditions and culture of his country. In his work he renews representation and figurative painting by incorporating elements from Mexico´s rich Rotulista (signpainter) tradition, from the world of Comics and punk illustration (underground comics such as the Spanish La Comictiva and the Mexican El Gallito comics magazines being a particularly important influence on him) and from the Bad Painting movement. His work ponders the disappearance of the subject and the worrying emergence of a post-human world, as well as the complex relationship between word and image, and between what is known and what is unknowable.
Reviews can only be left by Context customers after they have completed a tour. For more information about our reviews, please see our FAQ.
Context's expert guides continue to be its strength. It's internal customer website listing registered tours needs work. Not at all intuitive friendly.
Mar. 9, 2023
We have taken many context tours. Natalia is far and away the best guide we've had…and the competition is fierce as they have all been top drawer
Mar. 1, 2023
Our guide was Luis Rodrigo. Five Stars! He was amazing! So informative, so kind, so patient. It was a highlight of our trip to Mexico. He's the best of the best. We are going to leave reviews wherever we can telling everyone how great our tour guide was. We were very lucky to have him.
Mar. 1, 2023