Tour Details
Tour Description
Discover the Historic Center of Mexico City with a local historian or architect on our 3-hour introductory tour. Perfect for first-time visitors, you'll see some of the city's most iconic sites as you learn all about its ancient history—it was once the center of the Aztec Empire—and how it became the modern metropolis that it is today; the largest city in North America!
Sites Visited
Templo Mayor (exterior)
Metropolitan Cathedral (interior and exterior)
Zócalo
Optional: Colegio de San Ildefonso
Palacio de Bellas Artes (interior and exterior)
Included
Tickets to Palacio de Bellas Artes
Itinerary Detail
You'll begin your tour at what is the chronological beginning of Mexico City's evolution: the incredible ruins of Templo Mayor, the former main temple of the Mexica people (aka the Aztecs) from the 14th to 16th centuries. Located in the heart of what is today Mexico City, this UNESCO World Heritage Site was only discovered and unburied in 1978. Your guide will discuss the importance of the site, the treasures that were uncovered during its excavation, and some of the ancient rituals that once took place here…including human sacrifice.
Steps away is the Metropolitan Cathedral, the largest cathedral in the Americas. You'll hear about its interesting architecture (Renaissance, Baroque, and Neo-Classical all coexist with one another) and enter to view its impressive organ and altar. From there, you will cross the Zócalo, stopping to view the National Palace. If you're especially keen on seeing Mexican art, ask your expert guide to also bring you to nearby San Ildefonso College, known as the birthplace of the country's muralist movement. It houses several pieces by José Clemente Orozco, as well as Rivera's first mural.
You'll continue your stroll down El Centro's pedestrian throughways, admiring the historic architecture and remarkable design of the surrounding buildings, before arriving at Palacio de Bellas Artes. A cultural center that hosts theatrical events, art exhibitions, and much more, Bellas Artes is a visual masterpiece inside and out. You'll discuss its commission and design before heading inside to end the tour with a viewing of its breathtaking murals.
FAQ
For more information about Context tours
, please visit
our FAQs
.
Book with confidence
— see Context's flexible cancellation policy
here
.

Where do we meet? Where does it end?
We meet a short walk from Templo Mayor and end at Bellas Artes. Your confirmation email will have the exact meeting point details along with a map, and a 24-hour phone number for any last-minute issues.

Is this a relatively long walk?
While the route can vary according to the interests of the clients, this walk does cover a substantial amount of ground. Please wear comfortable footwear and bring a hat–the Mexican sun can be bright!

Can I book this tour on a Sunday or Monday?
Technically yes, but it would be an outdoor tour only, without entrance to any of the sites. Museums in Mexico City are closed on Mondays, and locals receive free admission on Sundays, so it gets too crowded for us to enter. We encourage you to book Tuesday–Saturday to get the complete Introduction to Mexico City experience!

How much access will we have at Templo Mayor?
On this tour, guests will get to see and learn about the Templo Mayor ruins while standing just steps away! You are not allowed to enter or climb on the ruins. There is a wonderful museum on-site that guests are encouraged to visit after the tour for continued learning.

Does this tour include access to Diego Rivera's house and studio?
While we will see and discuss several of Rivera's murals, no, it does not. If you are particularly keen to learn about the work of Rivera and his contemporaries, let us know and we can customize the tour to go more in-depth. For an even deeper dive into the artist's life and work, book our
Frida Kahlo and Diego Rivera Art Tour
.

Is this tour wheelchair accessible?
Yes, it is, though we may adapt our itinerary slightly to ensure you have a more comfortable experience.
Where You'll Start
Tour Experts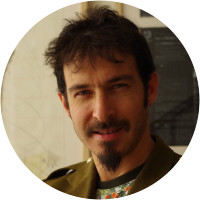 Born and raised in Mexico City, Julio Pastor is a proud pedestrian of his native city. He completed a BA in Fine Arts at UNAM. In 2008, he moved to the Netherlands where he completed his MFA, specializing in the Urban Landscape. After seven years, he returned to Mexico and turned the focus of his art production to the city that he roams every day. His art production is thoroughly inspired on what he encounters during his everyday walks, but also by a great deal of reading on topics related to architecture and urbanism. When not working at his art practice, Julio can be found teaching undergraduate drawing courses in the architecture department at the Universidad Iberoamericana, or enjoying the city with his wife and two children.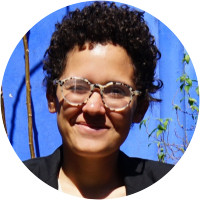 Natalia is from Rio de Janeiro, Brazil, but chose Mexico as her home and her field of research. During her 'Production and Patterns' degree at SENAI/Cetiqt in Rio, much of her studies focused on Mexican arts and costume to complement her research on Frida Kahlo's clothes. In 2014 she officially moved to CDMX after finishing her final project on the Tehuantepec dress. While in Mexico, Natalia has worked with fashion designers and has studied Mexican arts, history and literature. In 2021 she graduated with honors at the National Autonomous University of Mexico (UNAM) with an MA in Art History presenting a project about the clothing and the creative process of Georgia O'Keeffe. Alongside being an expert guide, she currently works with Alejandra de Coss, a Mexican fashion designer.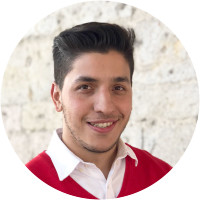 Diego is a Mexican architect born in Mexico City. He studied at the Universidad Iberoamericana and spent a year studying abroad in the Escuela Técnica Superior de Arquitectura de Madrid, where he focused on the History of Architecture and Bioclimatics. As his professional internship, he participated in the construction of Mexico City's highest skyscraper, Torre Reforma, as well as in the development and design of new areas in Bosque de Chapultepec. Currently, he divides his time between his work as a Context guide and as a member of one of the country's top architectural design firms. Diego is known to be an avid city explorer. He is street smart with a great knowledge of the different areas in town. He has a great passion for culture, history, art, architecture, and food and he hopes to answer questions and enhance the experience of Mexico City for visitors.
Reviews can only be left by Context customers after they have completed a tour. For more information about our reviews, please see our FAQ.
He was interesting and provided a lot of information. It was a top rate tour and he was a top rate tour guide.
Sep. 18, 2022
Diego was an excellent guide! He was very knowledgeable about the history of Mexico and really gave us a great overview of the historical area of the city. He answered all of our questions and was very conscientious of keeping us comfortable in the warm weather and taking a slower pace with my elderly parents on the tour. Highly recommended!
Aug. 14, 2022
My guide Julio was knowledgeable, kind, and helpful. This is such a great was to tour - with guides who know more than the standard information. Highly recommended!
Jul. 23, 2022
Discover Mexico City with Context
Get to know one of the architects leading this tour