Venues

St Mark's Bell Tower, Basilica San Marco, Doge's Palace, Bridge of Sighs, St. Mark's Square, and La Fenice Theatre
Audio Guide Details
Audio Guide Description
Dive into the history of Venice on this self-paced audio guide tour of Piazza San Marco (St. Mark's Square) and its surroundings with Context Travel expert Dr. Susan Steer, an art historian who specializes in Medieval and Renaissance Venice. 
Our audio guide starts at St. Mark's Square, "the most beautiful drawing room in the world" as Napoleon called it, and one of several historically significant landmarks you'll visit on this tour. You'll gain an understanding of the important role Venice played in merging the Eastern and Western worlds during the Medieval and Renaissance eras. Along the way, Dr. Susan Steer will share Venice's history while providing recommendations, context, and must-sees. You'll also discover off-the-beaten-path gems like Giardini Reali Park, where our audio tour ends.
On this audio guide tour of Venice, you'll:
Uncover Venice's Rise as a Merchant Powerhouse
Marvel at St. Mark's Square's Architectural Wonders – including the Clock Tower, Marciana Library, State Mint, and more
Discover 12 centuries of Venetian history
Explore the majestic exterior of Doge's Palace
Travel Back in time at Harry's Bar, one time a haven for literary greats such as Ernest Hemingway
Develop a deeper appreciation for Byzantine Art and its influence on Venice
By the end of this one-hour audio journey, you'll have gained a profound appreciation for Venice's remarkable history and its enduring allure. Join us as we unlock the captivating tales that have shaped this extraordinary city.

Please be aware that the tide levels in Venice are unpredictable. We ask that you take particular caution if the tide is high, as some areas of the tour may be difficult to access. If you'd like to check the tide, please consult the app "High Tide Venice."
Meet Your Expert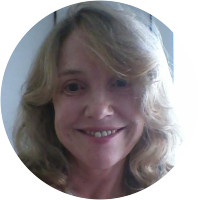 Susan has over twenty years experience teaching the History of Art for universities in the UK and Italy. She is also the Venice lead for the Venice in Peril Fund, which supports at-risk art and monuments in the city. After graduating in the History of Art and Italian in 1998, she took an M.A. concentrating on art and architecture in Venice, and in 2004 she completed her specialization with a Ph.D. on Venetian Renaissance altarpieces. As a post-doctoral researcher with the University of Glasgow and London's National Gallery, she worked as a researcher and editor on the National Inventory of European Painting, the on-line catalog of European paintings in British museums. Susan has also contributed articles to the Burlington Magazine and Artibus et Historiae. Susan met her Venetian husband Paolo in 1997; they have a young son and divide their time between homes in Italy and the UK.
How do I access the audio guide and download it for offline use?
Once you complete your purchase, you will receive a voucher code for your Audio Guide. You must download the Voicemap app and enter the code. 
Install VoiceMap from the Apple App Store or Google Play
Create an account
Select Tour Codes from the menu, then select Enter Codes
Enter your Voucher Code
Select Download Now
Is closed captioning (subtitles) available?
Yes, all our audio guides offer closed captioning. If you have difficulty hearing the expert, you can turn on subtitles.

How long does each event last?
Our recorded audio guides typically run for 75 minutes.

How can I share this audio guide with friends or family?
You are welcome to listen together with friends or family, but each person listening to the guide on their own device will need to purchase the audio guide individually.
How long does my access to the audio guide last?
Once you purchase an audio guide, you are welcome to listen to it as many times as you would like. Your access to a purchased audio guide does not expire.
What is your cancellation and refund policy?
Sales for recorded audio guides are final once you make the purchase. If you have questions or concerns about your purchase, please reach out to us at
digital@contexttravel.com
.
Can I purchase a gift card for a friend who is traveling?
Absolutely! You can buy
gift cards here
. Gift cards are valid for 365 days from the date of purchase.
Reviews can only be left by Context customers after they have completed a tour. For more information about our reviews, please see our FAQ.
The guide is excellent. Just be aware that in times of the "aqua alta" you may find the directions given impossible to follow and thus get off track.
Nov. 21, 2023