Tour Details
Tour Description
During this three-hour Venice art tour, we'll dive into the high Renaissance in the city and examine the work of Titian, Tintoretto, and other masters as they reflect this pivotal period in Venetian art. Along the way we'll visit two major monuments in Venice—the Scuola di San Rocco and the Basilica dei Frari. This is an excellent, in-depth tour for art lovers.
Venice Art Tour
Part of the beauty of Venice is its wealth of art still in-situ—in place—rather than displayed in a museum. This allows us the opportunity to more fully understand the role and purpose of original works, starting with the churches and scuole of the San Polo sestiere. The great scuole of Venice dominated public life, participating in lavish processions to proclaim the glory of the republic and decorate their meeting halls with works by Venetian masters. The Scuola of San Rocco is no exception, with over fifty canvases painted by the sixteenth century master Tintoretto. His distinct style, most notable for his dramatic use of light, sets him apart from many other Italian artists. We will spend a significant amount of time examining the art of Tintoretto, both in terms of style and in the context of the confraternity.

Not just satisfied to expound the glory of Venice through art, confraternities were also essential in performing charitable works, especially in times of plague. The Scuola of San Giovanni Evangelist, the second oldest confraternity in Venice, provides an architectural contrast to that of San Rocco, and one can still view a plaque describing the plague of 1348.
Commissioning Masterpieces
Proceeding just next door on our Venice art tour, the Chiesa dei Frari, built by the Franciscans, again reminds us of the importance of artistic commissions in the life of Renaissance Venetians and provides a microcosm of Venetian art and history from the fourteenth century onwards. The two important altarpieces by Titian contained in this church, The Assumption of Mary and the Madonna of Ca' Pesaro, would be reason enough to explore, but its further works by Bellini and Donatello only add to its value. Here we will be able to compare and contrast the work of Titian to his forefather, Giovanni Bellini, with his successor, keeping in mind the work of Tintoretto.


Take Aways
While focusing on the specific art viewed, we will also explore themes of social history, such as the role of the
scuole
in Venetian life, the effects of the plague, and the competition between artists for important commissions on our Venice Art Tour.
FAQs
Will you pre-purchase tickets for the venues visited on the tour?

Advanced tickets are not available at the venues we visit during the tour. Wait time to enter is not long at either venue.
Is this tour good for kids?
If you have children under 13, you may consider our specially designed family focused, interactive tour on art in Venice, our
Venice Art Tour for Kids
.
Is this tour suitable for visitors with mobility issues?

This is not a walking intensive tour as the two venues are very near each other. The Scuola of San Rocco is less accessible for wheelchair users (there is no elevator, but there is a wheelchair lift). The Basilica dei Frari is accessible for wheelchair users. If you have mobility issues, please contact us and we can design a tour which best suits your mobility.
Where You'll Start
Tour Experts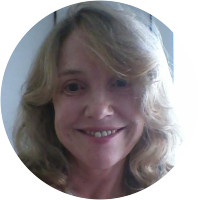 Susan has over ten years of experience teaching the History of Art for prestigious university programs in the UK and Italy. After graduating in the History of Art and Italian in 1998, she took an M.A. concentrating on art and architecture in Venice, and in 2004 she completed her specialization with a Ph.D. on Venetian Renaissance altarpieces. As a post-doctoral researcher with the University of Glasgow and London's National Gallery, she worked as a researcher and editor on the National Inventory of European Painting, the on-line catalog of European paintings in British museums. Susan has also contributed articles to the Burlington Magazine and Artibus et Historiae. Susan met her Venetian husband Paolo in 1997; they have a young son and divide their time between homes in Italy and the UK.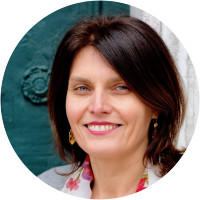 Nadia has a degree in art history from the Ca' Foscari University in Venice and wrote her thesis on the painter Francis Bacon. After various work experiences, both in public and private sectors, she collaborated in drafting the online magazine "Engramma," which dealt with the study of the classical tradition in Western culture and the mechanisms of transmitting ancient culture in our contemporary age. The magazine was created in conjunction with the Department of Architectural History at I.U.A.V University. Nadia has also spent time in France working at the "Les Abattoirs" center for contemporary art in Toulouse. In 2009 she obtained a guiding license, and through this work is able to share her passion and knowledge of art history, literature, and the history of Italian and Venice with others. Nadia enjoys approaching artworks as a lens through which to investigate and reconstruct historical contexts.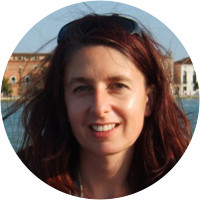 Monica was born in Venice. She earned her degree in Italian Literature and History from Art at Ca' Foscari University in Venice and she has developed a wide experience in the museums of the city. For many years she worked as a curator and archivist before moving into the field of museum education where she worked mainly with groups of children. She also worked at the Jewish Museum in Venice as a guide. She qualified as a guide for Venice and its province in 2009. Monica is continuing to study Venice and she often gives lectures on history and art for associations and public libraries. She is co-author of a series of guidebook for children and families about the Venetian churches.
Reviews can only be left by Context customers after they have completed a tour. For more information about our reviews, please see our FAQ.
Perfect tour. Susan is everything Context Tours should be. She is vastly and widely knowledgeable, she adapts to her current travelers, she is kind, warm, professional. Best tour guide experience of my life.
May. 13, 2023
Susan's extensive knowledge combined with a facility for explaining complicated historical periods and art provided an invaluable, fascinating and thought-provoking tour - a tour that sparked curiosity to learn more.
Mar. 10, 2023