Tour Details
Tour Description
On this seven-hour excursion by car, we will venture into the bucolic flatlands north of Amsterdam to discover how Holland came to be. Guided by a local expert on Dutch history, we will explore the villages around Edam and the Beemster polder (a UNESCO World Heritage Site) to find out how their residents came to live in an area below the water level. This initial question leads us directly to the famous Dutch windmills, which will feature prominently on our tour. We may also stop by at a cheese market or a clog-making workshop, to discuss the stories behind these other typical symbols of Dutch culture. Our excursion will leave us with a profound understanding not only of where these stereotypes come from, but how these facets of traditional life in Holland continue to influence Dutch economics, culture and society in modern times.
Starting out in a private vehicle at your accommodation, we'll leave the busy streets of the capital city behind in favour of the open landscape of the surrounding farmland. During the drive, our expert guide will begin to explain how the land beneath our wheels has been drained for centuries to enable people to live and work there. Our first stop will be in the historical town of Edam, and perhaps onto other smaller villages in the surrounding area. As we wander through these villages, taking in the charming scenery, our guide will discuss how they developed and what life is like for their residents. We may also get the chance to stop by at a cheese farm or market to learn about the age-old processes for making one of Holland's most famous exports.
From here we will continue to one of the highlights of our day, a visit to Schermermolen--a museum inside a still-functioning windmill. Here, we will see up close exactly how the windmill worked to transform marshland into a terrain fit for agriculture and industry. The windmill served as both workplace and home for the miller and his family, and our guide will bring their story to life as we explore its cosy interior. As our time together concludes, we will return to Amsterdam with a new appreciation of how and why this unique country functions as it does today.
FAQ
Will we visit the Zaanse Schans?
The excursion can be customized to include a stop at Zaanse Schans. Please request this in the notes section when placing your booking and we'll follow up with you further.

Can I book for a group larger than six?
Please contact us to book for a group larger than six. It is possible but we would need to adjust the pricing to account for a larger vehicle.

What costs will I need to cover on the day?
You will need to cover the cost of lunch.
Where You'll Start
Tour Experts
As a student of visual arts and art teaching in Amsterdam, expressing himself in imagery and defining the symbolism all around us is Thijs's daily business. Thijs lived part of his life on the Caribbean island of Curacao, a former colony of the Netherlands, experience that offers him a unique perspective on Dutch culture. Working with UNESCO world heritage on Curacao, Thijs assisted in public programming and co-created events. More recently, he teaches high school pupils in the subjects of crafts, art-history and drawing, developing skills in creating assignments and active learning. Thijs has also worked as a tour guide for the Amsterdam Monuments Association, indulging a profound interest in, and passion for, the buildings and architecture of Amsterdam, as well as city development from the 17th century until today. He is currently working towards an international Masters in Museology at the Reinwardt Academy, with a focus on community and ethical problems in the field of museums and cultural institutions.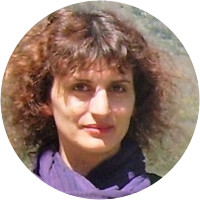 Eve is an art critic and writer. She comes from an interdisciplinary background (physics, fine art, literature, art history) and completed her Ph.D. at Leeds (2011) on conceptual art and experimental exhibition strategies. Her work examines art's social practices, multimodality, and social semiotics. Eve has worked as a lecturer in Europe and Latin America and has collaborated with art institutions as a curator, critic, and artist in residence. She has spent most of her life traveling and is intrigued by Amsterdam's multinational and transcultural community and vibrant artistic scene.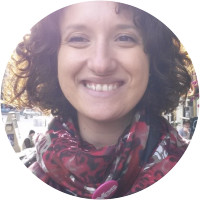 Belina is a freelance guide and art educator for several museums in Amsterdam. Prior to moving to Amsterdam, she lived for twenty-one years in Italy, where she achieved a Master's degree from the University Of Milan in History of Art and Critics. Her background includes experience in art history, cultural management, and art criticism. She is currently living in Haarlem.