Tour Details
Tour Description
Seville, capital of Andalusia and crucial riverport city, boasts a rich history. Our Introduction to Seville tour makes for a culturally rich experience for travelers looking to see more of Spain. From its beginnings as a Roman settlement, to its identity as Moorish territory, and eventually as a center for Christian rule, Seville has been molded by a variety of influences—including its strategic position along the Guadalquivir river—creating the dynamic city it is today. Our 3 hour Seville walking tour, guided by an historian, will provide an overview of the city's history, chronicling its storied origins by examining the highlights—Roman ruins, elaborate Mudéjar architecture, and immense monuments—of its historic core.
An Introduction to Seville Tour
We will meet our guide and commence our tour at the mammoth Metropol Parasol (Las Setas de la Encarnación), a monument that represents a fascinating juxtaposition of ancient and contemporary. The interwoven, waffle-like wooden structure was built to house the city's Roman artifacts, but grew to offer a variety of public services from restaurants below, to a terrace with sweeping, panoramic views above. Together, we will discuss this site as it pertains to the city's Roman origins and its influence on Seville's overall development. It is also here where we can see one of the most stunning archeological finds in the city, unearthed during construction in 2011. Viewing the ruins beneath Las Setas in the Antiquarium museum, we'll learn about Seville during the Roman period.


"We all agreed that our guide was classic Context - smart, funny, enthusiastic and highly educated about a broad range of subjects."
See Seville in a Day
Moving on, we will immerse ourselves in the narrow streets of the city's Alfalfa, El Arenal and Santa Cruz neighborhoods, weaving the story of the 8th century Muslim conquest and its indelible mark on the city with that of the Christian monarchs who succeeded it. We'll peek into hidden
Mudéjar-style
courtyards which reveal the Moorish legacy on the city's architecture. We'll discover a medieval shipyard, long in disuse, continuing our discussion of the importance of river trade on the city's development. We may even pass by the bust of Peter I of Castile, learning about the legend of this last monarch of Burgundy. We'll spend significant time at one of Seville's most magnificent baroque
churches,
constructed on the site of what was, in various points of history, a Roman courthouse, a Visigothic church, and a Mosque. It is an ideal example of the coming together of Seville's most significant cultures.
Seville with an Expert
Ending at the Archivo de Indias, itself a UNESCO world heritage site, we'll consider the exterior of two of Seville's most emblematic structures—the Royal Alcázar and the Cathedral. Both of these impressive buildings represent Seville's pivotal turning point from Muslim territory to the Christian reconquista. Please not that we do not tend to go inside these buildings on the tour but we encourage you to visit independently afterwards. As our time together comes to a close, we will depart armed with a now solid understanding of the many layers of this magnificent city. As we take on our own independent exploration of these sites, as well as the rest of the city, we will feel prepared to make connections among Seville's various influences.


Looking to explore more of Spain? Consider our day trip from Madrid to Toledo. Alternatively, you could look at Roman ruins at our day trip from Madrid to Segovia.
FAQ About the Introduction to Seville Tour
Does this tour include the Royal Alcázar and the Cathedral?
Our tour will end near these two structures with an introduction to their significance within the context of the themes of the walk. You are encouraged to enter on your own following the tour.
Where You'll Start
Tour Experts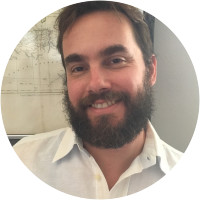 Dan Serradilla Avery received his undergraduate degree in History and Archaeology from Illinois State University, completing the archaeological internship in the underwater archaeology program at Florida State University's program at Dog Island, in the Caribbean Sea. He holds an M.A. in Atlantic historical diffusion from the University Pablo de Olavide and an M.Phil. in Medieval history from the University of St. Andrews. He also completed a graduate certificate in pedagogic skills at the University of Seville. Dan has been an university lecturer at the International Center of the University of Pablo de Olavide since 2009. His hobbies include walking through historical sites and spending as much time as possible underwater. His favorite fictional characters are Obelix & Mortadelo.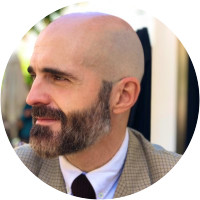 Rafael Ruiz Gil is MA Architect from the University of Seville, specialising in heritage and is completing his PhD thesis focused in architectural theory and contemporary vernacular architecture. He had a Master's degree in Architecture and historic heritage and has been invited researcher in the University of Porto (Portugal). He has been working in his own architecture office for more than eight years. He has been working also as curator, producer and designer in several exhibitions about architecture, theater and flamenco. Beside this he is involved in the cultural life of the city. He has been collaborating in organizing several exhibitions, conferences and festivals in the last years. He loves drawing, architecture, art, history and gastronomy.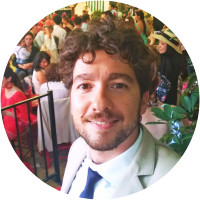 Vangelis Mósialos after concluding his graduate studies in Architecture, received a master degree on Architectural and Historical Heritage from the University of Seville in 2008. Coming from this background, with professional experience as an architect & historic buildings tutor, he is always fascinated to discover how artistic movements, cultures and social contexts have shaped our living environment. Since 2015 he is a full-time freelance Licensed Tourist Guide, experienced in guiding small private groups as well as larger mixed groups, in different languages (English, Spanish, and Greek) and mainly in the Andalusian urban landscape - among other locations in Spain. He is looking forward to meeting you in person in his adopted city and enjoy a tour with him!
Reviews can only be left by Context customers after they have completed a tour. For more information about our reviews, please see our FAQ.
Thank you Rafael for a wonderful tour. Fantastic explanation of the complex layers of history and some secret places we would never have found ourselves. Great knowledge of a beautiful city ¡Gracias!
Nov. 25, 2022
Rafael is a true expert and extremely friendly guide. We had a wonderful time!
Nov. 20, 2022
Dan was terrific! As with our other Context tours, we were impressed with the depth and breadth of knowledge of the tour guide. Great experience!
Nov. 13, 2022