Tour Details
Tour Description
As Europe began to rebuild following the wreckage of the Second World War, Berlin was instead cleaved in two: East Berlin, under Soviet control, and West Berlin, an "island of democracy" deep inside East German territory. On this 3-hour Berlin Cold War tour we will join a local architectural historian for an in-depth comparison of East and West. We'll focus mainly on buildings and landscapes to build a compelling picture of a divided city and fractured years.
A Model Project of Soviet Architecture
We begin our discussion in the east side of the city, at Frankfurter Tor on Karl-Marx-Allee. A striking example of
Berlin's boulevards
, this avenue reminds us that part of the history of the two Berlins is recorded in the naming and renaming of streets and sites. Stalinallee's immense boulevard was the primary focus of East Germany's post-war development project, attempting to reorganize Berlin's urban landscape and stressing the political and visual importance of the city center. In the shadows of the Frankfurter Tor's twin towers, we will discuss the 1950 decision by communist East German leadership to do away with the "cosmopolitan fantasies" of modernist, decentralized planning and to create instead a monumental architecture capable of embodying the promise of a new socialist society.
The West's Response: Democracy and Commerce
After uncovering the layers of meaning in the architecture of the former East, we will hop on Berlin's historic S-Bahn train line and cross to the West. Here, we will explore West Berlin's response to the communist model of Stalinallee: the reconstructed Hansa Quarter.


In this neighborhood, in ruins since the Second World War, a host of internationally prominent architects designed a series of individual, overtly modernist buildings scattered across the green, park-like area. We'll discuss how the spaces and structures embody Western principles of freedom, individuality, and the non-authoritarian order of democracy and the marketplace.
Berlin Cold War Tour
By the end of our time together we will have investigated how architecture and urban planning in Berlin were one of the main fronts in the political and ideological struggle of the Cold War. We'll also be newly equipped with an insightful perspective that will transform the way we see the city thereafter.


Where You'll Start
Tour Experts
Christina is an East Berliner who was born in the GDR, a socialist republic that no longer exists. She danced on the Wall in 1989, and closely observed the restructuring of Germany and the frantic urban transformation of Berlin. At the European University Viadrina in Frankfurt (Oder) she earned an MA in cultural history and comparative social sciences, particularly the ideology-based history of the twentieth century. Her dissertation was on a more contemporary subject of "The Economic Impact of the Contemporary Art Scene on the city of Berlin." She now works as an arts administrator, manages urban development initiatives, and since 2006 routinely walks guests through the eclectic and varied political, cultural, and architectural histories of the German capital and beyond.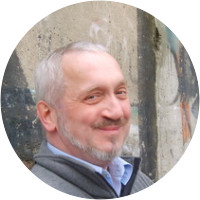 Heribert is a native Berliner whose family history can be traced as far back as the founding of the city. An expert in urban history, for more than twenty years he has been guiding interested crowds through the German capital and the surrounding Mark Brandenburg, letting the stone witnesses of passing time tell their stories while he enthusiastically revives old lifestyles and tastes. He studied sociology, history, and cultural anthropology at the Freie Universität Berlin. His professional experience is varied and far-ranging, including working as a freelance trainer for communication and intercultural education since 1982, and guiding tours since 1986. In the West Berlin borough of Wannsee he runs with his wife two fine cafés (including at the Max Liebermann Villa Museum) and a gourmet delicatessen, and he is well-versed in fine cuisine. With an anecdote for just about every historical detail, Heribert is the consummate companion for any and all learning adventures in this city.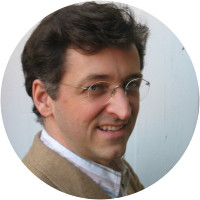 Raised in New York City, Jan graduated from Williams College in 1985 with honors in the history of ideas and later went to the Harvard University Graduate School of Design to receive his MA in architecture in 1990. He has worked as an architect in Berlin since 1994. He has been a regular contributor to a wide range of publications, including The New York Times, the Harvard Design Magazine, the International Herald Tribune, Places Magazine, and the Architectural Record, writing chiefly about European architecture and urbanism. He teaches urban studies and sustainability at the IES Berlin Metropolitan Studies Program, and has served as an invited guest critic or lecturer at the Technische Universität in Berlin, the University of Warsaw Architecture School, and the Architectural Association in London. Jan is the Academic Director of the Northeastern University School of Architecture Berlin Program, where he also teaches two required seminars.
Reviews can only be left by Context customers after they have completed a tour. For more information about our reviews, please see our FAQ.
This tour was perfect for our group. We have been to Berlin before, some of our group had been several times. All of the information we learned was new to us and fascinating. A wonderful exploration of a time in Berlin and areas in Berlin that we had not explored before. Would definitely recommend this tour especially to travelers who think they have seen it all in Berlin.
Sep. 27, 2021
Heribert (Harry) was great! We loved the tour and learned a lot. He gave just the right amount of detail and was engaging and thoughtful, answering all of our questions.
Aug. 26, 2019
We enjoyed the tour and Robert. Guess we didn't expect it to be entirely architecturally oriented. Interesting subject but perhaps not as historically oriented for our taste. But very worth our time.
Aug. 15, 2019