Tour Details
Tour Description
The rich Jewish history of Budapest is still felt throughout the city—nowhere more strongly than in hip bars and restaurants serving innovative Jewish-Hungarian fusion dishes. This hearty cuisine covers savory vegetables, salty fish, and decadent spreads, with a glass of local wine or home-distilled pálinka on the side and a slice of sweet cake to top it all off. We've teamed up with local experts Taste Hungary to create a full-day experience in the buzzing Jewish Quarter, incorporating a 3-hour Jewish tour with our expert followed by an annotated Jewish-Hungarian meal of seasonal delicacies hosted by the wife of a Rabbi in their home. The walk can begin at 10 am for lunch at around 1:30 pm, or 3 pm with dinner served at 6:30 pm.
Budapest Food Tour
The day begins with our
Budapest Jewish Tour
in the company of a local scholar. The walk visits the Great Synagogue and winds through the heart of 19th century Pest, exploring a time when the city was a major crossroads for intellectuals, artists and various immigrant groups across Europe. The tour also looks at the re-emergence of the 7th District as the heart of a cosmopolitan and contemporary capital, awash with ruin pubs and cutting-edge galleries
A Home-Cooked Feast
After working up an appetite walking through the storied streets of Budapest, we'll take you to the home of your hostess, where a glass or two of home-distilled pálinka will be served. Dinner will feature such Hungarian-Jewish dishes as foie gras, eggplant spread, roasted goose leg, roasted beef tongue with horseradish sauce, and seasonal dishes such as gefilte fish in the summer and fish aspic in the winter. There's also the chance to take a look around our hostess's classic apartment, which is filled with antiques and floor-to-ceiling shelves lined with religious books collected over the years. During the course of the dinner, a Taste Hungary guide will discuss the history, culture, and culinary traditions of Budapest's Jews—both past and present.


Please note: the price shown for a private walk is based on three participants or fewer. Due to the food and drink costs involved, there is an extra charge per additional person thereafter. For private parties of 6 to 8 participants, please contact us for a quote.
Where You'll Start
Tour Experts
Szonja is a research fellow at the Institute of Minority Studies at the Hungarian Academy of Sciences, and teaches at the Department of Assyriology and Hebrew at the ELTE University in Budapest. She lived and studied in Budapest, Oxford, Jerusalem and New York, holds MA degrees in English Studies and Jewish Studies from ELTE University in Budapest, and an MSt in Jewish Studies and a DPhil in Modern Languages / Yiddish from the University of Oxford. Her main field of research and interest is Hungarian Jewish history and cultural history, and she is especially intrigued by issues related to changes in national identity and language choice. She has lectured and published extensively in her field, in English, Hungarian, Hebrew and Yiddish. As a native of Budapest and as a tour guide, she is interested in the various layers of the city – historical, social and architectural alike.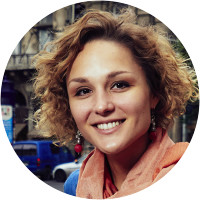 Gréta Süveges holds a BA from ELTE University in Budapest and has finished her MA studies in Jerusalem. Her main interest is in literature, art and cultural history, especially in the context of politics and ideology. She has lived and studied in many cities, including Budapest, Berlin, Saint Petersburg, Tel Aviv, and Jerusalem, and is deeply interested in discovering the urban-cultural context of cities. Gréta writes articles and reviews about museums, memory policy, architecture and urban experience, which are most often published in magazines with a focus on culture and museology. She is involved in teaching and various research projects at ELTE University in Budapest related to art, the influence of collective memory and politics on art and museums. Currently she works as a researcher at an architecture studio and starts her studies in urban sociology at the Central European University, Budapest.
Reviews can only be left by Context customers after they have completed a tour. For more information about our reviews, please see our FAQ.
It was a great experience. The food was fabulous and the host so warm and inviting
Nov. 22, 2018
This was a two part tour. The first part dealt with Jewish history in Budapest and Szonja was as great a docent as one could have. We walked and saw the main Synagogue in Budapest as well as other buildings. That alone is worth this tour. It is an incredible building that must be seen to understand the history of the period. Szonja, once again is extraordinarily knowledgeable and great to listen to. Her enthusiasm for the subject matter was contagious. We really had a great experience going around Budapest and seeing how real people are living, especially some young folks who visit some of the converted buildings that are now pubs and restaurants. At the end of the walking tour, we were supposed to have a Jewish Hungarian meal prepared by a Rabbi's wife We got to the appointed address and Szonja rang the bell. The folks here had no idea what was happening. Nothing was prepared and we were left on the street with no place to seat. Thankfully, Szonja didn't abandon us and tried, unsuccessfully to find a restaurant for us to go to. There was NOTHING available anywhere. Context did return that portion of our tour money, but quite frankly that is NOT sufficient for our failed expectations. I would not take the Taste of Hungary portion of this tour, which for us was a combined expectation. We NEVER got an explanation as to what logistical problems existed that caused this to not happen.
Oct. 25, 2018
Extremely well informed, pleasant and fun
May. 24, 2017