Tour Details
Tour Description
Burgundy produces some of the finest wines not just in France, but also the world. For visitors wanting to enjoy some of the best wines and estates in Burgundy, this tour fits the bill. Together with a local expert, we'll go through the "Champs-Elysées" of the Burgundy region. From Gevrey Chambertin to Chassagne Montrachet, follow the Grand Cru Trail and experience some of the most beautiful and famous wine villages, estates, and monuments. We'll learn more about the history of the region, whilst tasting its bounty. Our day includes visits to a number of exclusive wineries, and an extraordinary food and wine pairing experience at a renowned winery for lunch.
Sites Visited
Two Partner Estate Tasting Venues
Village of Vosne Romanée
Lunch Venue
Included
Transportation to/from Beaune hotel or accommodation
Wine tastings at wineries (Minimum 5 Grand Cru Tastings)
Lunch and wine pairing
Itinerary Detail
We will meet our guide in Beaune or Dijon at our accommodation or the train station before we begin our Grand Cru trail. Over the course of our day together, we will visit some of Burgundy's best wine estates in the Côtes de Beaune and Cotes de Nuits districts. We'll talk about wine production in villages such as Gevrey Chambertin, Morey Saint-Denis, Chambolle Musigny or Nuits Saint Georges: these villages which produce some of the world's most prestigious Pinot Noir wines. We will visit a vineyard and an estate, as we learn about and taste firsthand a Grand Cru wine. Around lunchtime, we will stop for a wine and food pairing (with explanations) and continue with our discussion on Burgundy's wine history whilst savoring some of France's gourmet goods.

After a delicious lunch, our day may also include a small tour of Vosne Romanée, home of the most famous Pinot Noir vineyards in the world: Romanée-Conti and La Tâche. Together, we'll learn about how and why these appellations have earned their place on the world wine stage. From here, we will move on to another esteemed wine commune in the Côte de Beaune, called Chassagne-Montrachet. We'll try some of its celebrated white wine and discuss the techniques and approaches with our local expert. As our day draws to a close, we'll be dropped off where we met in the morning, leaving our expert guide with both a deeper appreciation and knowledge of Burgundy's best grapes.


This luxury Burgundy wine tour shows off a side of the region for those with a keen palette for fine wines. For those looking for an introduction to Burgundy's wine, try our popular
Burgundy in a Day, Wine Tour
. Interested in more than just wine? Try our
Dijon Half Day tour.
FAQ
What is a private tour?
Our private tours are limited exclusively to travelers in your party. They are designed to provide a learning experience that is completely tailored to you and your traveling companions. Private tours give you more flexibility with scheduling (you decide when the walk best fits in your trip), the ability to tailor your itinerary (we'll work to match the itinerary to the interests and dynamics of your group), and more personalized time with your guide.

I'm coming from Paris. Can I still fit this tour in a day?
Absolutely. You can reach Burgundy in around 2 hours from Paris. Your guide will meet you at the station (Dijon or Beaune) and drop you off at the end of the day to get back to Paris by the evening.

Is it possible to book for a group of more than six people?
Our vehicles have a max of 7 people. Please contact us to enquire if your group is larger than 6.

How long is a visit to a wine estate?
A visit can last anywhere between 1-2 hours. This includes a tour of the estate, castle, and tastings.
Can we customize this itinerary?
If there are particular chateaux that you'd like to include, please let us know in your client notes and we will do our best to adapt the itinerary. If you are looking for something completely different, please feel free to email custom@contexttravel.com and we can customize according to your wishes.

Is this suitable for travelers with reduced mobility?
Please contact us with more details and we will try and adapt the route and choice of venues to suit the group.
Where You'll Start
Tour Experts
Stephen has been living in France since 1992. After 5 years of working in the perfume industry in Grasse, he moved into the wine industry in Provence taking charge of wine tourism development at the Chateau de Berne. Stephen then worked for a fine wine merchant as a Burgundy sourcing agent based in Dijon (Stephen has French family in Burgundy) and became a Burgundy wine broker from then on. He has a consummate knowledge of Burgundy from its long wine history, to the secrets of the terroir and long-standing friendships with the winemakers. Stephen is also a part-time lecturer at various burgundy business schools, runs a wine club and has been initiating wine-lovers into Burgundy since 2012 from novices to winemakers from around the world.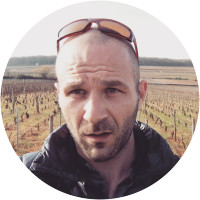 Born and raised in Dijon, the capital of Burgundy, Jeremie has been associated with Burgundy's wine secrets through his family and winemakers' friends for as long as he can remember. After a scholarship based on sports education, project management, tourism guidance, and hotel management, Jeremie has worked in different places in France and Europe as a guide, hotel manager and travel designer. Back in Burgundy since 2016, he has dedicated his activities to local wine tourism as a wine guide, a bike guide, a wines event manager and a photographer. Passionate about his region, its history, and its wines, Jeremie will ensure you discover the wonders and secrets of "his" Burgundy.
Michael was born in Glasgow in 1969, studied Business Administration and History at the University of Strathclyde and arrived in France in 1991 to learn French and experience French life. Two years of organizing clients on camping holidays in Burgundy was followed by 20 years working as a driver-guide for a specialist hotel barge company, based in Dijon, and various other hotel barge companies, providing guiding services off-board and sommelier services on board to high end generally American clients. Michael has worked in almost every region of France, for at least a year each, gaining a broad understanding of French history and culture throughout its diverse regions. Since 2013, Michael has been an independent guide associated with wine, historical walking, and cycling tours.