Tour Details
Tour Description
South African wine, once relegated to second-tier status behind French and Italian stalwarts, is having a moment. As more oenophiles embrace the distinct flavors of the nation's vintages, its vineyards, long beloved for their stunning beauty and sweeping views, have become revered as some of the most beautiful in the world. On this Cape Town Wine Tour, a full day excursion, we will visit the magnificent Stellenbosch and Franschhoek wine valleys in the company of a specialist wine guide or sommelier. We will discuss how winemaking began at the Cape, the unique terroir of the region, and why international critics are proclaiming South Africa among most exciting wine producing nations at the moment. Our route may vary on the day, but we will visit both Franschhoek and Stellenbosch, including tastings in each town. We will drive along the breathtaking Helshoogte Pass and stop for lunch at one of the top wineland restaurants to enjoy contemporary South African cuisine, exceptional wine, and dramatic scenery. After lunch we will venture deeper into further South African wine exploration and its most unique varietals.
Franschhoek Village and Wine Valley
Beginning our Cape Town Wine Tour with private car service at your hotel, our docent will join us on the trip up, providing background on the region, South African wines, and what to look out for during tastings. If we begin in Franschhoek, it is known for its French flair, surrounding mountains, and its reputation as the culinary capital of the Cape. Franschhoek, meaning French corner, was named after the influx of French Huguenots who settled in the area after fleeing religious persecution in their home country in the 17th century. Several vineyards have retained their original French names, and many of the locals are descendants of these French settlers. We might have a tour of a boutique vineyard for an interactive and informative tutored tasting and cellar tour. If time permits, we can also venture into the vineyard to explore some of the characteristics of the regional varietals. We might visit a cellar dedicated to the production of Methode Cap Classique (MCC)—sparkling wine made in the traditional, bottle fermented method of champagne. If so, we will discuss how it's made, as well as the similarities and differences between it and its more famous French cousin. Our docent will explain the history of Franschhoek Village as we soak up the atmosphere of its many sidewalk cafes, boutiques, and art galleries.
Cape Town Wine Tour: Fine Wining and Dining
Stellenbosch and Franschhoek are connected via the picturesque Helshoogte Pass, this also forms part of the Banhoek valley district of Stellenbosch, an area known for both its incredible beauty and its stellar wineries. We will travel along the Pass stopping to wine and dine at a tasty restaurant, such as Tokara or Delaire Graff, Both wineries both offer award winning wines, some of the most outstanding views in the winelands and are consistently voted amongst the top South African restaurants.


[Tokara has two dining options, a fine dining restaurant offering seasonal modern cuisine or a more casual deli selling platters, pizza's and salads. Delaire Graff restaurant offers delicious bistro cuisine with a South African influence, and the owners personal art collection, which is on display is a must see for any appreciator of the arts. Time permitting we can include a wine tasting at your chosen lunch venue. If South African cuisine inspires you, why not try our
Cape Town Food Tour
during your visit to the city].
Stellenbosch: The (Unofficial) Wine Capital
Stellenbosch is considered one of South Africa's most favored viticultural areas, boasting over 150 estates and producers; it's thought of by many as the nations unofficial wine capital. From the Banhoek Valley, our Cape Town Wine Tour continues to another small pocket of Stellenbosch called the Simonsberg-Stellenbosch District. Here, we will have the opportunity to visit another vineyard and experience a comparative tasting of South Africa's signature varietals—namely Pinotage and Chenin Blanc. Pinotage, which is a cross fertilization of Pinot Noir and Hermitage/Cinsaut, was created in South Africa in 1925, and most of the world's plantings are still in South Africa, where it is most suited to the climate. Chenin Blanc is the most widely planted varietal in the region and is making a resurgence in popularity as local winemakers are championing the grape's exciting styles and potential for elegant blends. During our tastings, we might discuss how to interpret a South African wine label so that you might feel more confident when buying or ordering South African wines in a restaurant.
Take Aways
Throughout our Cape Town Wine Tour, we'll consider the unique terroir of the wine valleys we visit and the various winemaking processes, traditions, and philosophies of the region. We will leave one another with a better understanding of South African wine regions and wine styles as well as a background in South Africa's history of winemaking and the transformation that has taken place in the industry in recent years. As our driver drops you back at your hotel, you will leave feeling more comfortable to further explore South African wine during the rest of your stay and beyond.
FAQ
I have specific requests for wines I'd like to try our wineries I would like to visit. Can I let you know?
Absolutely. We will send you a wine questionnaire in your confirmation email and via email so that we can get to know your tastes ahead of your tour.


Is this walk able to accommodate those with allergies or dietary restrictions?
We do our best to accommodate everyone as much as is possible. The best thing to do is let us know when you book if anyone in your party has allergies or dietary restrictions. We can warn your docent, so that they can make alternative arrangements.


Where do we meet? Where does it end?
The tour begins and ends at your hotel. You will have the car service at your disposal all day.
Where You'll Start
Tour Experts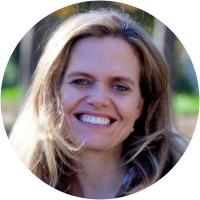 Melissa Sutherland describes herself as a global citizen, passionate Capetonian, wine tourism promoter, professional tour guide and entrepreneur. In the early years of South Africa's democracy she served as a Vice-Consul for Political and Cultural Affairs in New York before moving to Sydney to work for a publishing house. In 2008 she started her own company to share and connect people and opportunities around the wonderful worlds of wine, art and travel. Growing up in a wine family, she completed her Certificate Course through the Cape Wine Academy, qualifying as a Professional Tour Guide in 2011. Melissa wrote a book on the South African artist Frank Spears and enjoys painting in her free time. She lives in Cape Town and enjoys nothing more than sharing her love of South Africa and showcasing the best of what South Africa has to offer to well-travelled, seasoned and discerning visitors.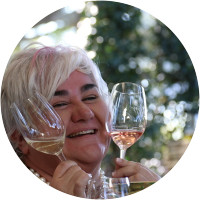 Katie has a love affair with wine and her effervessance is palpable as she waxes lyrical about the fruits of the vine. Katie is a registered Tourist Culture Guide for the Western and Eastern Cape with a speciality in the Cape Winelands. She has numerous qualifications in wine including a Sensory Evaluation Certificate from the Universtity of Stellenbosch and two Diplomas from the Cape Wine Academy to name a few. She is on a continuous journey for knowledge to educate her palate and travel the world through a wine glass. Katie is a professional wine taster, qualified to taste and judge for the South African Wine and Spirit Board and is highly sought after for tasting notes and general wine appreciation. She sits on various tasting panels and is recognised throughout the industry. When not in the Winelands, Katie is found conducting Educational Tastings and Service Training within the Hospitality Industry. She is insistent to demystify the wonders of wine and make it assessible to all whilst using humour and fun. From beginners to connoisseurs, you will be enchanted by her knowledge, wit and charm.
Reviews can only be left by Context customers after they have completed a tour. For more information about our reviews, please see our FAQ.
Kim was excellent. She and the driver had not worked together before and they were an excellent team.
Aug. 16, 2019
Beautiful wine region with stunning views. Melissa chose a series of wineries that were notable for the quality and variety of their wines as well as their architecture and ambience. Melissa was very personable, highly professional, and a wealth of information on a range of topics. The four of us could not be more pleased - all in all, an outstanding day,
Dec. 3, 2018